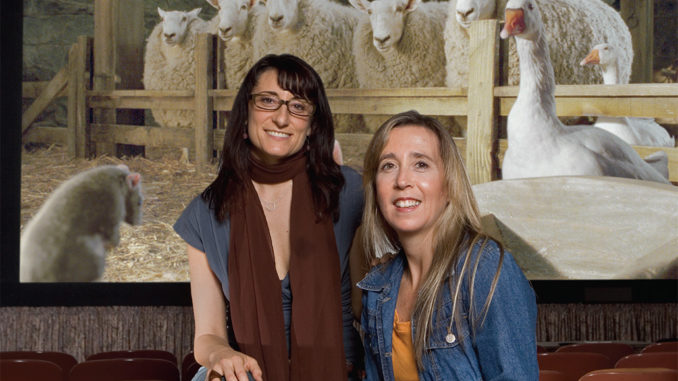 By Robin Rowe
In Charlotte's Web, the runty pig Wilbur, whose days in the barnyard may be numbered, is befriended by Charlotte, the heroic spider living in the rafters. The book Charlotte's Web, published by Harper Collins, written by E.B. White and illustrated by Garth Williams, is the best selling children's paperback of all time (45 million copies in 23 languages). While the story may be a folksy one, the technology and post-production magic required to bring this timeless tale to the big screen in the 21st century was a massive undertaking.
Paramount Pictures released this new Charlotte's Web (an earlier, all-animated version was produced in 1973) on December 15, just in time for the holidays. Directed by Gary Winick and edited by Susan Littenberg and Sabrina Plisco, the film seamlessly mixes live animals with photo-realistic animation and stars Dakota Fanning as Fern, the little girl who rescues Wilbur. The voices of the talking animals include Julia Roberts, Steve Buscemi, John Cleese, Oprah Winfrey, Cedric the Entertainer, Kathy Bates, Reba McEntire, Robert Redford, Thomas Haden Church, André Benjamin, Dominic Scott Kay and narrator Sam Shepard.
Pre-Production
Producer Jordan Kerner is known for such family films as Snow Dogs, Fried Green Tomatoes, George of the Jungle and Inspector Gadget. His favorite book as a child was Charlotte's Web. Kerner met with John Goldwyn, former president of Paramount Pictures (the studio held the domestic rights to the book), and over breakfast conveyed the idea of a new take on Charlotte. "This is a creature who is initially repulsive for what she looks like to the audience, like in My Left Foot or Mask or The Elephant Man," explains Kerner. "But once you get to know Charlotte, you completely fall in love with the character."
Kerner brought on writer Susannah Grant in the summer of 2002, who wrote several drafts of the screenplay. But when she became busy with In Her Shoes, it was handed off to Karey Kirkpatrick (Over the Hedge), who wrote a couple more drafts, punching up the humor and giving the animals individualized voices. Kerner brought in indie director Winick and Paramount gave the project the go-ahead.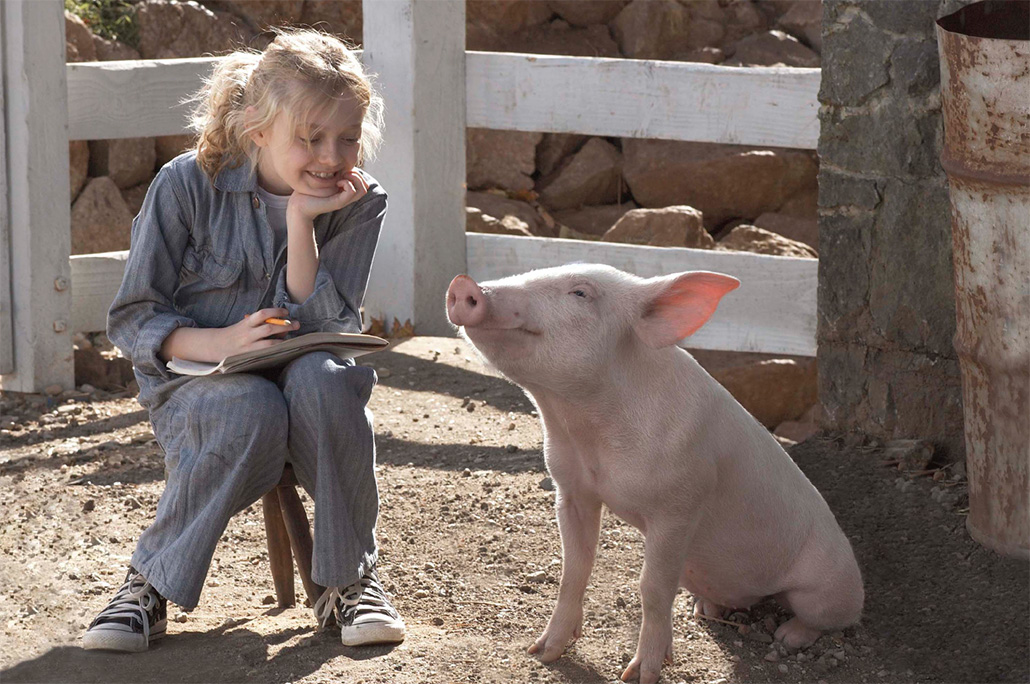 "I wanted complete photo-realism," says Kerner. "We photographed animals and used face replacement technology as we did on Snow Dogs in 2002. We were training 18 rats, but couldn't train a rat to act like the character of Templeton, and you can't train spiders at all, so we stopped. A photo-real spider hadn't been done yet in CG, so that's a first. The third creature is a pig. Pigs are smarter than dogs and can be trained to do almost anything." Principal photography began in the last week of January 2005 and ended the last week of May that year.
The Editors
The scope of visual effects in big-budget features (an estimated $75 million for Charlotte's Web) seems to be creating a trend of using two editors on features, as reported in recent CineMontage articles on Superman Returns and The Polar Express. "Charlotte's Web is much bigger than one editor," says Kerner. "It really needed two."
Littenberg came along with director Winick, with whom she previously worked on 13 Going on 30 (2004) and Tadpole (2002). Kerner brought in editor Plisco based on her experience with visual effects from Sky Captain and the World of Tomorrow (2004). "I worked on many films with Sabrina, including Fried Green Tomatoes (1991) and For Their Own Good (1993)," says Kerner. My ex-partner Jon Avnet had just finished Sky Captain; she handled the thousand-plus effects shots in that film."
"I feel fortunate that I came on the scene when film was still being used for editing, and then for conforming," says Littenberg. "I learned the Avid pretty early on, and executed some of the first film conforms on features. I do think of physical film but am glad to be cutting digitally." Plisco began her career working with film as well. "I was very interested early on in the versatility of digital editing," she relates. "I knew it would be the future of post-production, so I embraced it and can't imagine going back."
"There were unbelievable amounts of time spent in visual effects meetings," – Susan Littenberg
Shaping Charlotte
Charlotte's Web was primarily a live-action movie with animation added, according to Plisco. "Except that half of the movie didn't really exist without the animation!" she explains. The rough version of the movie, accompanied by a temp voice track, indicated the shot list for the non-human segments of the movie.
Just before production, all the voice actors recorded their dialogue, which was incorporated into the previsualization animatic/storyboard cut. The audio also became playback for some of the animatronic animals on set. Audio was chosen based on performance and got director approval in a very quick turnaround. "Over the course of this project, we ended up holding 138 ADR sessions," says Plisco, "a record for me." Audio for the animal performances was primarily cut animation-style, chosen in the cutting room as part of the editorial process with the director.
"We did a major rewrite of the animals' dialogue, with some overall restructuring, right around the time we submitted the director's cut," says Littenberg. "This film had the most radical changes without re-shooting that I've ever experienced! The flexibility in rewrites was tremendous since we shot live animals that we hadn't submitted for 'talking' to the visual effects houses yet. The editors worked directly with the writers, helping to rewrite the scenes to best serve the story as it was developing. "Rewrites would happen in ADR as well, and we would accommodate the new writing with new effects shots," she says.
Face replacement, a half-real, half-animated process in which the animal's face is covered or "replaced" with a 3-D CGI model to provide lip-sync for the mouth movements, was done later at Rhythm & Hues. Rising Sun, the post facility in Melbourne, created the CG Charlotte and Tippett Studios created the CG Templeton. In extreme situations, such as Wilbur doing a backflip or Ike the horse fainting, a digital double was used. "The spider and the rat are completely digital creatures," explains Littenberg. "For their scenes, we had to edit together empty plates with camera movement indicating where the real-looking animation would be added."
A movie like Charlotte's Web could not be made without the technology that exists today.
"This kind of movie takes a lot of patience," confesses Plisco. "We would get hours of footage for one shot and then it could take half a day to create that one shot. I think there was one setup where we had 127 takes! Needless to say, it was a test of patience for the director as well as the production crew, because the movie was coming together in such small pieces. I think we were a month into production before we had one complete scene put together. Not because we weren't keeping up with camera, but that was just the way the production and post process had to happen on this movie."
Teamwork
The structure of Charlotte's Web was split between human live-action scenes and sequences with the animals-only cast. "The animal scenes were much more difficult and time-consuming to construct," says Plisco. "Many of the scenes were rewritten with the writers joining us in the editing room. These scenes were in a constant state of change until we felt we had succeeded in balancing the story with character and humor. We exchanged ideas and swapped scenes––and when we worked together with the director, we would each take turns at the controls to support each other during the many long months of post production!"
Littenberg and Plisco's approach to editing Charlotte's Web was to split up scenes during the shoot, then swap back and forth and re-edit each other's scenes. "There was no possessiveness over scenes or reels," says Littenberg. "We both worked with Gary, sometimes on our own, or with all three of us in the room together. It was great to have a democratic process and another expert opinion on choices." Adds Plisco, "During production, as the crew became familiar with the animals' capabilities, the animatics were often simplified." Therefore, editorial had the challenge of continually updating the animatic cut as well as keeping up with dailies."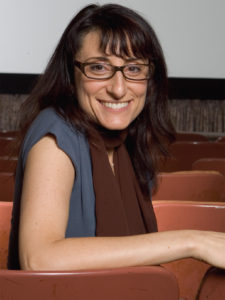 Logistics
"We ended up with a million and a half feet of film," reveals Plisco. "They shot for 75 days and after the first month added a second unit to handle the animal material. The last few weeks we also had a splinter unit so we had three crews shooting. We got from three to five hours of film a day. It became a massive job to manage all the material and we utilized everybody to keep up to camera." The editors would work with the director on weekends during production and also bring the second unit director in to review what he had shot each week and to prep him for the next week's shoot. "We knew that once we left Australia, it would be extremely difficult to get any animal re-shoots," she explains.
During production in Australia, editorial was set up at Rising Sun. Picture dailies were transferred to Digibeta and then digitized for the editors by the post house directly onto an Avid Unity at 14:1 compression. Assistants would arrive in the morning, sync up sound and then proceed to prep dailies to be cut.
"We used an Avid Adrenaline system, which ended up being extremely helpful with the complicated visual effects layers," says Plisco. "We would do our own comps in the Avid and even preview many this way before eventually handing them off to the visual effects vendors to perfect. During the height of post-production, we had eight Avids connected, and crews working around the clock to share them. Editorial and visual effects editorial were all connected to the one Unity and we worked in the same project, very carefully and with a lot of communication."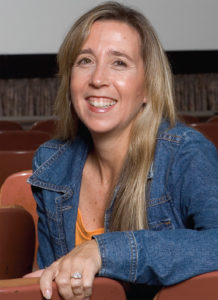 "There were unbelievable amounts of time spent in visual effects meetings," adds Littenberg. "I had never experienced this before. Gary was out of the editing room more than he was in it during many of the months we were cutting. It was difficult to get a consensus on the best way to handle many details of the shots."
Plisco was the liaison between the editorial and visual effects departments. "The biggest challenge for me personally was to maintain a handle on the status of visual effects while trying to be a part of the creative process with the director," she says. "I built a lot of the visual effects and reviewed each layer of each shot with the director before handing anything in. I attended all the visual effects meetings and watched each shot every step of the way to make sure the details were followed up. On the flip side of this, I had to separate myself from this attention to detail to be able look at the overall structure and story of the movie."
The Technology
A movie like Charlotte's Web could not be made without the technology that exists today, according to Plisco. "I spent many, many hours creating multiple-layered animal comps in the Avid so we could make editing decisions quickly," says. "During production, we had to be confident that we had the right pieces of animal action to support the script."
Littenberg and Plisco hired additional editor Patrick Gallagher to help with the initial editing set-up and the overall visual effects workload, as well as to perform complicated comps throughout the process. Gallagher had worked on Spider-Man, Joy Ride and For Love of the Game. "Patrick's experience on the Spider-Man films was a great asset in preparing the visual effects," says Littenberg. "And he was essential in the early stages of editing storyboards and previz before shooting." In addition, first assistant editor Ceci Hyoun and second assistant editor Bart Breve kept up communication between the editors and the visual effects team.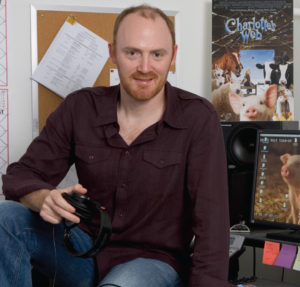 "All our editors, assistants and visual effects editors used Avid Adrenaline or Avid Xpress Pro in the cutting room," says Gallagher. "Our dailies were shared on a 4TB Avid Unity with fiber and Ethernet connections. We used up to eight Adrenalines and one Xpress Pro sharing media. While on location in Australia, we also used Avid Media Station to tie our telecine operators directly to our Unity. All workstations were Mac G5s running OS X."
Charlotte's Web chose the Adrenaline software because it supported intensive editing of visual effects and was faster for rendering, playing real-time effects and importing and exporting QT files. "The Avid effects palette was used extensively for building visual effects shots for screenings and for turning over correct counts to vendors," explains Gallagher. "Paint, Animatte and ChromaKey tools were used to composite visual effects layers together and remove animatronic wires and animal trainers––who were in practically every shot."
The Xpress Pro system was chosen for ease of use, simple set-up and portability. "During pre-production, the entire storyboard and previz edit could be contained on a single FireWire drive and laptop," adds Gallagher. "The director and I had the portability to bring the previz sequence to pre-production meetings and rehearsals on the stage." Edits were done at 14:1 SD offline resolution. Previews were screened of color-corrected Digibeta outputs. Visual effects and digital intermediate (DI) were at 2K resolution and the output was printed straight from the DI.
Do women editors bring a different viewpoint, approach or sensibility to editing a picture? "No," says Littenberg. "Every person has his or her own strengths and weaknesses." Plisco agrees: "There are a lot of wonderful women editors working today and our sensibilities are as varied as any male editor's might be. It's a huge responsibility to head an editorial department on a big-budget movie. I like proving the theory wrong that men make better leaders."