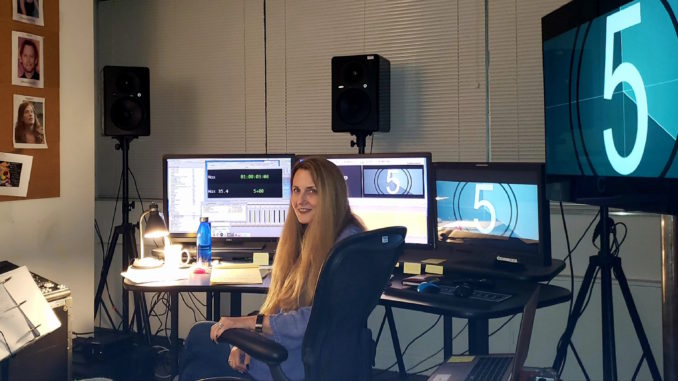 Where are you currently employed?
On location in Virginia Beach, VA. We are currently in director's cut. Our director, Derrick Borte, lives here.
Current Project?
The feature film "Unhinged" for Solstice Studios.
Describe Your Job.
I have worked for 25 years as a VFX Editor, which includes organizing shots and working with the artists/vendors to create shots the director and editor have envisioned. I've sat with VFX artists at effects houses and walked them through complicated line-ups of the film elements, which gives me another perspective on VFX workflow.
How did you first become interested in this line of work?
After I saw "Who Framed Roger Rabbit," I wanted to know more of the process of mixing live action with animation.
Who gave you your first break?
Robert Altman was filming where I grew up. I interned with his production sound mixer for school credit. Robert gave me complete access to go to set and watch dailies with the crew. Only thing I couldn't do was go to the bar at wrap with everyone. I was underage and, frankly, more interested in going to the local ice cream parlor. I think I'm still that way.
What was your first union job?
"Texasville," which turned union after it returned from shooting in Texas. I had met the editor Rick Fields and first assistant Ron Krehel when I was doing production sound in Florida on "Illegally Yours." They brought me on as an apprentice and helped me get in the union.
What credits or projects are you proudest of, and why?
On the film "Cobb," which was my first VFX Editing job, the producer entrusted me with a lot. I was responsible for every part of the VFXs: not just turnovers but supervising shot design (it's exciting to draw something on paper and then see it up on the screen), judging wedges for color, approving finals, and looking at bids and budgeting. When I wrapped, he and the director gave me a bonus check — and my first VFX Editor credit.
For the recently released "Gemini Man," there was a lot of prep for material to be used in reference monitors on the stage. I was set up on the sound stage with my Avid for motion control filming; there was a lot of it, as one of our characters was all CG. We watched dailies in 120fps/3D on location in Savannah and Budapest, and we had a "lab" group that traveled with us to process dailies, color-correct, and work with the 3D. Editor Tim Squyres joined us in Budapest so he and director Ang Lee could lock down sequences for VFX turnovers.
What was your biggest challenge in your job (or on a particular project) and how did you overcome/solve it?
Getting the crew to take lunch breaks and sit together is always a challenge. I list a lunch table and chairs on my equipment list. It reminds the producers that we will be taking lunch and gives the crew a place to gather.
What was the most fun you've had at work?
On "Cobb," I drew a title design for the "Movietone" newsreel, a black-and-white film shown within our film. Ron Shelton, the director, liked it and I met with the Pacific Title designer to have him create my art.
Jobwise, what do you hope to be doing five years from now?
Working with people I enjoy being around, who are reasonable and kind. In other words, more of the same of what I am grateful to have been a part of.
What are your outside activities, hobbies, passions?
I've always loved photography and my work has been published in several magazines. Traveling is another priority. I have been able to incorporate exploring the world and meeting the local people into both my career and down-time. I also need something creative in my life. Nothing better than having a paint brush in my hand and colors staining my fingers.
However, my passion without a doubt is my involvement with the Editors Guild Archives and Academy Oral History Projects. It's so rewarding when we interview people who are delighted to share their stories. I also love treasures from the past, so having a post-production "museum" at the MPEG Archive offices has fulfilled a dream. It helps share our history with our membership and students, and it's another fun way for members to share their memories of working in film and TV.
Favorite movie(s)? Why?
Like most kids my age "Star Wars," but I also loved "What's Up Doc" and films I worked on like "Stuart Little," "Aladdin," "The Time Machine," and "Men In Black 3."  I really like traveling through time, so "Somewhere in Time," "Back to the Future," "Groundhog Day," and "Midnight in Paris."
I also like to watch films about the film industry. Among many, one of my faves is "Ma Femme est une Actrice." Honestly, I just love movies. I have no problem watching three movies in a day.
Favorite TV program(s)? Why?
My tastes in TV shows are similar to films. Fun, quirky, visually creative shows hold my interest. I was a huge fan of "Jane the Virgin," "Pushing Daisies," and "Seinfeld." Recently, "Russian Doll" and "Outlander. Because of my love of personal histories, "Finding Your Roots," "Who Do You Think You Are," "Modern Love," and "Fosse/Verdon."
Do you have an industry mentor?
Yes, although I doubt they know I think of them as mentors. I joke that Carol Littleton is my gardening mentor but she is more than that. Donn Cambern mentored me into getting on the Guild's Board of Directors, for which I am so grateful.
What advice would you offer to someone interested in pursuing your line of work?
Go to every film-related event in your area. Try talking to at least three people at each event. Be brave, be kind, and gracious. Who you are and how you treat people makes you unique and someone people will want to collaborate with. Live within your means; if you get a raise, don't raise your standard of living. Save so you can wait for that job you really want to do.
Was there ever a circumstance when you had to rely on the Guild for help or assistance?
I am always asking for contract advice. If a member has a question, I call the Guild office on their behalf. As a board member, I keep it anonymous unless the member wants the inquiry to go further.
Is there anything you'd like to say to your fellow Guild members, some words of encouragement?
Take time off between jobs, if you can. Don't wait till you retire to do your passion projects. Most important, know we are a family, an industry family. No matter how challenging life gets, we are here for each other.
Compiled by David Bruskin
Editor's Note: To recommend a member (including yourself) to be featured on CineMontage.org and the home page of the Editors Guild website, please contact davidnbruskin@gmail.com