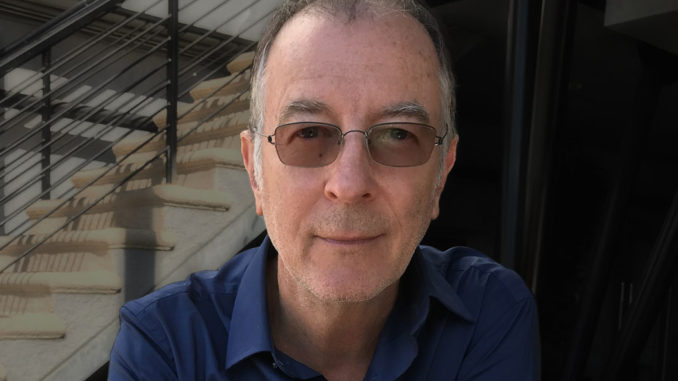 by Patrick Z. McGavin
Having worked in documentary features, cable television and features, picture editor Joe Klotz has demonstrated superb versatility and range.
He earned an Academy Award nomination for his work on Lee Daniels' "Precious" (2009). His newest project is Edward Norton's movie "Motherless Brooklyn," an adaption of the Jonathan Lethem 1999 crime novel that was awarded the National Book Critics Circle award for fiction.
Norton – who wrote, directed and plays the lead, Lionel Essrog – transposes the setting to 1950s New York. The story is about how a murder investigation opens a window on a broader picture of social corruption.
In an exclusive interview with CineMontage, Klotz talked about the particular challenges of transforming a detective novel into a stylish film noir.
CineMontage: What was your research like? Did you read the Jonathan Lethem novel the film is based on?
Joe Klotz: That was pretty much how I got onto the movie, because I was a huge fan of the book. I read it a long time ago, and I heard that Edward Norton bought the rights and was developing it.
I also live in the neighborhood that it was written about. I moved there in the early '90s, when the book was set.  I have a friend who is the producing partner of Edward Norton. I don't normally do this, but I badgered him into helping me get a meeting with Edward. He pulled through.
One day my wife was at home working and got a call from the location manager, who said there's a crew interested in looking at our brownstone for an early scene from the film. They came over, and it was Edward Norton to look for an apartment in one of the early scenes. They asked her how I was doing, she said, "Fine. He just finished a project and he's available."
Norton is the writer, director and lead actor. What was the creative dynamic between the two of you like?
As typically happens when you are working with a director for the first time, it was a constantly evolving collaboration. I got to understand the nuances and the layers of the story he was trying to tell.
Was he in the room with you?
As far as the process goes, something interesting that we didn't do is that we did not watch the assembly together. He was very protective of his first viewing and his initial reaction. We went through the film scene by scene. That kind of worked for me. I did watch the assembly to get the bigger perspective.
Working through it with him was good because we didn't get any time to talk while he was shooting. I saw the storyboards, and we talked a little bit after our first meeting. As they were shooting there was no conversation. He was producing, he had written it, he was directing it and he was acting in it. That was pretty all-consuming for him.
We watched a scene or two as I constructed them and we talked about it. He would clarify his intentions in a scene, what he liked and what didn't like in the first cut. He gave me some time to work on it and come back in. He's a busy guy, so he didn't sit in the room with me. He'd come in and we'd discuss stuff, and he'd go out and give me time to work on it and give him my opinion on what I was going to try. He had an office next door to me, and I'd call him and he came in to look at some stuff. We'd go over some scenes, and back and forth.
The movie has a lot of noir elements: the voiceover, the use of jazz, and a plot that echoes movies like "The Maltese Falcon."
We had different noir films that were our touchstones, like "Chinatown" (1974) in particular. Not that we were trying to emulate it, but elements from that and the style in particular. The internal monologue was a huge part of the development throughout the whole process. We'd record and change and refine. A lot of times your first half of the voiceover is just kind of a scratch, but with Edward being an actor, it was a lot about nuance and performance as well. That was fun and thrilling to help him place that.
It's a throwback movie as well, conjuring a New York that does not really exist anymore, with the juke joints and jazz clubs. Jazz is very important to the syntax. Are you a jazz aficionado?
I am not a huge jazz fan, but I certainly became one of the music in the film, and with what Wynton Marsalis and Daniel Pemberton did with the score. It was so much fun to cut the stuff in the club. There were different rhythms in there.
That was fun. Edward said just go crazy with the footage. I blew it up, I torqued it and I played with it, so that it is really frenetic and picking up in pace. It was very fragmented, cutting on the beat, cutting off the beat.
It is a private eye movie, and one of the striking things about it is the extent to which the characters are always under some kind of surveillance. How does the editing reinforce that notion throughout the film?
Lionel, Edward's character, is somebody who is constantly watching and processing information and clues. Some of it obvious, like when he is on the train watching [Gugu Mbatha-Raw's character] and they use a longer lens to see him look down the car and capture his perspective of her. That is just playing with perspective and going with your gut to see what feels right with the whole notion of watching.
To me the interesting thing is what he does with those images as he recalls in his fragmented, obsessive compulsive mind. That was interesting for me. There are these quiet moments when he is on his own, processing the information, and it's going fast-forward, rewinding, flipping on one thing and then another, and you feel what it is like to be Lionel and how he processes information.
There are certain visual motifs you return to throughout the film, like the shots of the Brooklyn Bridge. Was that a way to ground the film, or establish a sense of place?
We didn't really use any of those shots as establishing shots. The city is a character itself. That is the subject of the movie, the corruption and the building of the city. I think it was very organically integrated because you don't really see the bridge unless there is somebody significant moving from A to B across that.
One of the cool qualities of the film are the different acting styles on display. The character of Lionel, with his Tourette's, is very distinctive. You have contrasting styles, the more restrained style of Gugu Miata-Raw and the flamboyant work of Alec Baldwin or Bruce Willis. How do you go about preserving the different
qualities of the acting styles?
The individual scenes and characters push you in the direction. We are not necessarily trying to bring out the best qualities in the actors. We are trying to bring out the best qualities in the characters. Those actors really delivered on that. Somebody would be too strong or too quiet. Every register is nuanced.
It was interesting working with an actor and cutting Edward Norton's performance in front of him. He'd talk about Lionel in the third person. "I think he should do this," or "He should probably be more restrained here." The same goes with Alec Baldwin, Willem Dafoe and Gugu. It's really hard to put into words. When you are working a scene, it's a gut feeling. Where is the scene going, and what is this character trying to say and how is it moving the plot forward, and what is believable?
How did you become an editor?
I am originally from Philadelphia, but I have lived in New York since the early '80s. I went to film school at Syracuse. In school, I always loved editing. Afterwards, I edited everything. I came out of school with student loans and I edited everything. I cut news, I cut commercials, I cut music videos. I cut fashion videos. I always wanted to cut narrative features.
Did you have a professional mentor?
Not really. I fell into it through persistence and some work. I got some breaks and ran with it.
You've worked on a range of projects, with a lot of different directors and forms and formats. Would you say you have your own style and sensibility, or do you see your role as a conduit to the director?
I think it's a bit of both. Your past influences what you think works and what you think doesn't. For me, the editor always serves the film and the director. You bring your ideas and style to it as well. On "Motherless Brooklyn," I enjoy this film because you go into somebody's head. Whether it's drug-induced or fiction, it takes you to a place that is somewhere other.
When I was working with Lee Daniels on "Precious," the lead character (Gabourney Sidibe) had fantasies and she fell into weird ways of escaping the abuse. That freed you up to go anywhere. I love cutting a fight, an argument, in a really realistic way, but I also love going off on a tangent and playing.
I am there to achieve the vision of the director, but I bring a lot of background and my own sensibility and my gut.
What gives you the greatest satisfaction in your work?
This film was extremely satisfying because my reaction to getting the job and reading the script was pure excitement. When do you get offered a movie that has action, car chases, New York, knife fights on a fire escape, great dialogue and great actors like Willem Dafoe, Edward Norton and Gugu?
Patrick Z. McGavin is a Chicago film critic and cultural journalist.