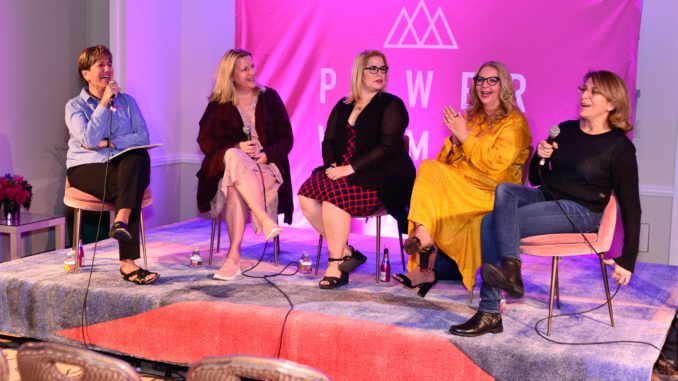 Maryann Brandon, ACE, recalls the day her agent told her she was no longer competitive.
"When I had my children, I did change my career a bit for them," Brandon told listeners at "Parity in Post," a panel last Friday at the Power Women Summit in Santa Monica sponsored by TheWrap. "I stopped going on location … I refused jobs because they weren't right for my family and my family situation." Her agent objected that her domestic needs were making it harder to find work.
But Brandon, a picture editor who's worked extensively with director J.J. Abrams, including on the upcoming "Star Wars: Episode IX, The Rise of Skywalker," was undeterred. "I did the best job I could do" in the edit bay, she said. "To my mind, that is what I had to offer."
The panel, moderated by Guild National Executive Director Cathy Repola, offered a front-line perspective on issues faced by women in post-production, with tips, personal stories and practical wisdom from four pros in the industry.
Besides Brandon, the panel included two-time Oscar-winning sound editor Karen Baker Landers, re-recording mixer Karol Urban, CAS, MPSE, and veteran TV editor Mary DeChambres, ACE.
DeChambres said that despite the broad variety of subjects covered by unscripted TV, women often still find themselves pigeonholed.
"Women tend to get hired on cooking shows and fashion shows far more than they're hired for action shows or action-oriented shows," she said.
She witnessed the phenomenon firsthand, when she tried to get a gig on the series "American Ninja Warrior."
"It took me like two years of kind of courting them to even get in the door for an interview," DeChambres remarked.
Landers, who sometimes works with a male partner, said that when she asks a question in the bay, sometimes she notices people answering while looking at her partner and not at her.
Early in her career, "they would always assume I was the dialogue or ADR editor," not the sound effects editor, she said. "I'm not putting that down, but it's a stereotype."
Urban said that she talked her way onto one show by playing up her street cred as a sci-fi nerd. She said at work she has been mistaken for client services many times and even asked to fetch coffee.
But she has definitely noticed some welcome changes in the past several years, with some producers specifically saying they are looking to hire women in post-production.
The panelists emphasized the importance of persistence and finding good mentors. And sometimes, it's also necessary to insist on playing by your own terms.
"I ended up working with people who really did understand my family situation," Brandon said. But "I also had interviews where the minute I mentioned I had children, the air went out of the room.
"I was like, 'OK, I'm outta here,'" she said. "What's the point of doing a job where every day you're worried about being yourself?"