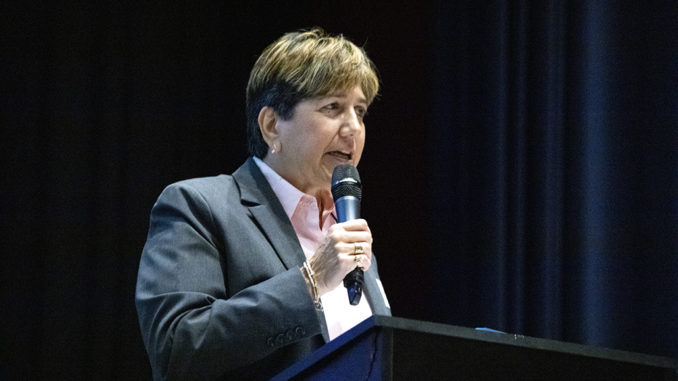 by A.J. Catoline
Marking a step forward for Hollywood's digital revolution, IATSE is entering into negotiations with Netflix that would mark the first national term agreement with a streaming service.
Most union deals with traditional television and film productions date back decades, so the upcoming talks represent a unique opportunity to set the ground rules for a labor contract in the streaming game.
"This is a watershed moment," said Editors Guild National Executive Director Cathy Repola, who has released a podcast discussing how "these negotiations will provide a unique opportunity to set the pattern for these types of agreements." Guild board member Scott Jacobs joins Repola on the podcast to talk through the issues.
The podcast, part of the "Post, Coast to Coast" series, has been released on the Editors Guild website at www.editorsguild.com/post-coast-to-coast.
The negotiation is being led by the International Alliance of Theatrical Stage Employees (IATSE) President Matt Loeb.
At the Editors Guild general member meeting on October 4, Repola told members that it is important for the IATSE to negotiate "new and enhanced residual streams necessary to secure a stable funding mechanism that protects and provides for the future of participants in this Motion Picture Industry Pension and Health Plan (MPI)."
Repola distinguished herself in the last contract negotiation in 2018 by standing up for members' concerns and questions about the pension plan, which remains under-funded and just treading above a critical funding status. The annual MPI report released in April disclosed that the pension funding percentage has ticked down to 66.8 percent — a drop of more than half a percentage point from the prior year.
At the IATSE District 2 annual meeting on June 8, Loeb addressed delegates from local unions across California, Nevada, Arizona and Hawaii, including members of Local 700 and sister locals representing production crafts in the so-called West Coast Bargaining Unit. Loeb spoke about plans for new contract negotiations in film, television and streaming.
"We've got Netflix now with almost 200 new projects," Loeb said. "Where the eyeballs for all this are I don't know, but keep them coming. Amazon, YouTube, and Hulu combined have another almost 200 productions slated. All this production means increased hours into our health and pension plans, more residual payments and, of course, jobs for our people."
As the 2018 Basic Agreement achieved neither an hourly funding increase on the pension side nor any new residuals in new media, Repola has consistently reported to members that "we need to continue to stay diligently focused" on the plan funding and to "secure additional funding from the producers to bolster revenue streams."
To hear more of her thoughts on the upcoming talks, check out the podcast.