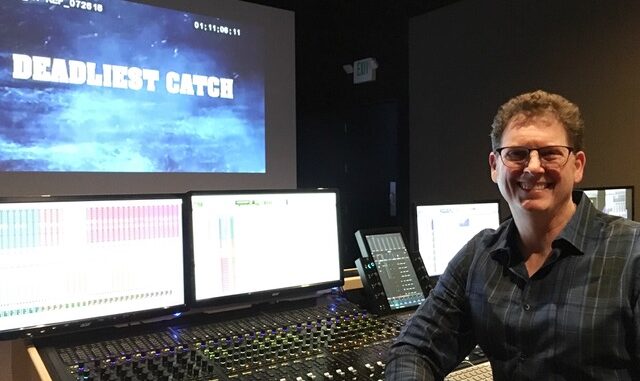 Sound designer and re-recording mixer Bob Bronow, CAS, MPSE, knows what a deadly catch sounds like.
For 14 seasons beginning in 2005, Bronow helped create the fearsome sonic world of Discovery Channel's"Deadliest Catch." The spectacle of crab fishermen contending with the volatile Bering Sea might seem compelling on its own, but Bronow's felicitous use of production audio — and subtle but impactful use of ominous sounds — contributes immeasurably to its appeal. Bronow was a multiple Primetime Emmy nominee for his work on the show and took home statuettes in 2010 and 2011. He also won four Cinema Audio Society Awards and a Golden Reel Award for the show.
Bronow remains as busy as ever — among his other shows are Netflix's "How to Become a Tyrant,""BET Presents: The Encore," and the Daytime Emmy Award-winning "Shelter Me: Soul Awakened" — and, during a period when he is more likely than not mixing from his home studio, he found that he needed to find a way to minimize the effect of his space on the sound mix. "They say, 'If you can't take the room out of the mix, you can't take the mix out of the room,'" Bronow said.
To achieve the sound he seeks, Bronow has come to depend on Dirac Live software. A microphone is used to measure different aspects of Bronow's room, such as reverberation, and with that data, the software smooths out and rectifies imperfections. Dirac Live helps Bronow keep his focus on what he's hearing in the mix — whether or not crashing waves in the Northern Pacific Ocean are part of it or not.
Bronow recently spoke with CineMontage about how the software has helped him.
CineMontage: Tell us about Dirac Live.
Bob Bronow: I got a call to do a Netflix show called "How to Become a Tyrant," a semi-scripted show. And I realized that basically it was a two-day mix. I wouldn't have any time to fix if something was wrong. I went on a personal quest to find a solution that could basically tune my room in 5.1. I found one that was free that you needed kind of an engineering degree to work with, and that wasn't me. Mike Thornton, of Production Expert, had written a review of a box that did that, and the software it used was Dirac. I found out, "Oh, the company that makes the software has a version that I can use in Pro Tools."

The first time I used it, it just sounded different to me. I started listening to it, and realized what I was hearing was definition and focus in the sound. It time-aligns all the different speakers, so when I turn it off, I hear all these smeary frequencies going on all over the place. Then, when I'd activate it, things would get really pinpointed and focused. I thought, "Ah, yes — this is good. This is very good." Every room has got some problems, certain frequencies bouncing off of different walls, and this is a way of addressing that. The room I had was the room I had, but this was able to compensate for a lot of those issues.
CineMontage: How does the software work?
Bronow: You move a measurement microphone around to a bunch of different places. It does the sweeps and it listens to the reverberation of the room. It listens to the different frequencies that it's hearing. Then it creates a curve to flatten that out.
CineMontage: How has it made your job easier?
Bronow: It's made it much smoother. For one, I'm not always obsessing about what's there. If I found myself cranking too much EQ, the first thing I thought was: Is this really something that I'm fixing, or am I trying to fix the room? Dirac takes that pressure off, which allows me to work much more quickly. I did a documentary called "The Mustangs: America's Wild Horses," which was about horses. I mixed that and I told the client, "We've got to final this in a great dub stage. I wouldn't feel good about sending this out to the festival circuit without at least playing it back in a great room." I found one of the very best-sounding rooms in Los Angeles, and I figured, "This is going to shine a light on all the issues of my skill." But there wasn't anything that was massively wrong. Dirac allowed me to make good mixing decisions.
CineMontage: What's your background in sound?
Bronow: I grew up in Los Angeles, and, like many of us in sound, I started as a guitarist in a band. My first experience in a recording studio was when I was 16. It wasn't long after that that I realized my high school had their own radio station. I could play records, I could do tape, I could basically be working in a studio. It was much more difficult than I thought. They had a test that determined whether or not you could be on the air. They would totally screw up the control room and you had a minute-and-a-half to be on the air. I really enjoyed that. I went to UCLA, and they had a radio station, KLA. I got on that, too. After I graduated, one of my friends who was the program director on KLA and another guy who I knew created a radio production company. They said, "Why don't you come work for us?" That's where I learned the craft of mixing.
CineMontage: When did you make the leap into film and television?
Bronow: In 1992, I decided, "I want to do sound for motion pictures." My brother-in-law at the time was working for a little start-up and he said, "You know, we've got this software that could revolutionize everything. It's called Pro Tools." So I went to Pro School. This was my first foray into disc-based, linear mixing and editing. At that point, I hung out my shingle and said, "I'm available for editorial and mixing work."
CineMontage: You've done a lot of reality series in your career. Is it different from mixing scripted shows?
Bronow: It's the same because we're still telling stories with sound. The difference is that, when I'm doing unscripted stuff, I'm a one-man operation. I'm usually doing all the editing and all the sound design, and then all the mixing. When I jump over to scripted episodic, the workflow is very different. You walk into a session, and the session in up on the computer, and you may have 100, 200 tracks of sound effects. I didn't lay a single one of them, and you're mixing with a partner.
CineMontage: You became part of a real phenomenon with "Deadliest Catch." When did you realize it was something special?
Bronow: I knew that very early on, when I was doing the first three-part miniseries. As I got into it, I felt myself getting very nervous. I'm looking at these huge waves and the things these people are going through. I thought, "If I can help tell this story by using sound, and if I can make people watching it nervous and just a little uncomfortable, that could be something really cool."
CineMontage: What did you do with the mix to make it work for viewers?
Bronow: I use very low-tone things, which you can find in a lot of horror movies. If you don't have a big subwoofer, you probably won't hear it, and even if you do, you shouldn't hear it. You feel it and it creates a sense of unease. The waves are huge, but some of them I had to build myself because some are caught on the deck cameras, which don't have any audio being sent to them. If a big wave goes over the ship in the middle of the night, that's the only footage we have. I wound up using a lot of distortion on the sound that I had, even if the sounds were pristine.
Over time, I started culling all sorts of great production effects from the cameras. If you go to your sound effects library and you type in, "I want a 900-pound crab pot falling on a wooden deck, you probably won't find that."