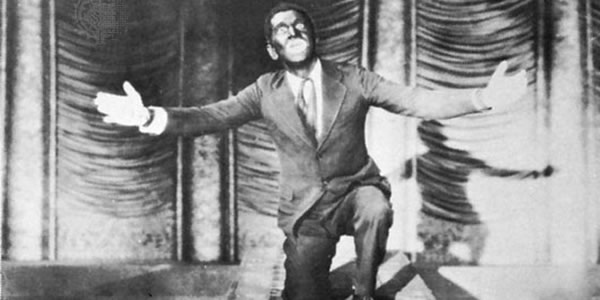 by Tomm Carroll
As the Motion Picture Editors Guild enters its 80th anniversary year, it's important to recognize that 2017 also marks the 90th anniversary of the commercial ascendance of motion pictures with synchronized sound, which were called "talkies." There were demonstrations of projected film with sound and sound shorts as far back as 1900, and the feature-length Don Juan, released by Warner Bros. and Vitaphone in 1926, contained a musical score. But the following year, those companies released The Jazz Singer, featuring Al Jolson crooning "Mammy" on film. It was the first feature film originally presented as a talkie, and eventually launched the sound-on-film era, which would soon put an end to silent movies.
Some 30 years or so after the debut of (silent) cinema, sound was quickly accepted — and honored. Sound was first celebrated by an Oscar for Best Sound Recording, first given at the third Academy Awards ceremony, honoring the films of 1929-30. (Curiously, the Academy did not award picture editing, which predated sound in motion pictures by more than two decades, until 1934.)
And sound editors, along with picture editors, assistant editors and librarians, were among the first classifications accepted into the Society of Motion Picture Film Editors — the predecessor of today's Guild — when it was established in May 1937. As sound solidly took hold in Hollywood, and more music was being used in movies, those sound editors who specialized in music became a separate entity: music editors.
Which brings us to our cover story on music editors Angie Rubin, MPSE, and Bill Abbott, who have re-teamed to create the soundtrack for the new Fifty Shades Darker, the sequel to Fifty Shades of Grey, which also featured their musical choices and edits on its hit soundtrack. Rubin and Abbott discuss with our writer Michael Goldman how overwhelmingly important an element the music, and especially the songs, was to the film, as well as the challenges of matching up songs to specific moments on the screen.
And speaking of history, R.J. Kizer, a sound editor who works mainly with ADR, found himself in the midst of a temp mix when his director asked him about the origins of Automated Dialogue Replacement. He did not know, but then set about researching the beginnings of his trade, as well as its acronym. That resulted in his article in this issue on the history of ADR. In addition, in accompanying sidebars, he investigates the roots of the term "dubbing" and looks at the depiction of post-synchronized dialogue replacement in the movies.
ADR, along with Foley, is also the specialty of re-recording mixer Jesse Dodd, CAS, MPSE, currently working at NBCUniversal's facility, mainly ADR mixing television shows for the Law & Order and Chicago franchises, as well as other series in addition to feature films. "I get my hands on a little bit of everything," she tells writer Mel Lambert.
Last but not least, Oscar-winning re-recording mixer Tom Fleischman, CAS, and his colleague, production mixer Chris Newman, CAS, traveled to the island nation of Cuba last December to lecture on post and production sound recording at the Escuela Internacional de Cine y Televisión (International School of Cinema and Television). Fleischman provides a first-hand report on their presentations, as well as his experiences, illustrated with photos by Ric Schnupp, a re-recording mixer who joined the pair as tech support.