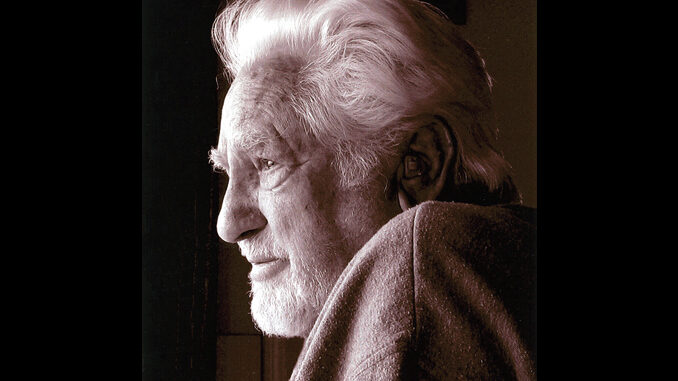 by Elmo Williams, A.C.E.
I was born on April 30, 1913, in Lone Wolf, Oklahoma. I'm 99 years old. I guess you'd say I'm old. Weightlifting for me is standing up… I'm so old they've discontinued my blood type… I can remember when the Dead Sea first got sick… Jokes, no matter their quality, should make you laugh. And laughter keeps you young. And I love to laugh.
When I was four years old, my family emigrated to New Mexico with part of the journey made in a covered wagon. My father homesteaded and started a farm, then was drafted for World War I, returning home in 1918. When I was 11, my father died and we moved to Oklahoma City. Then the bleak Depression hit. By 1930, I had lost both of my parents.
In high school, there was a competition to design linoleum (of all things), and I won second place so I decided that the field of textile design (flooring, wallpaper) was for me. My brother had hitchhiked to California and confirmed that UCLA had a good commercial art program. I graduated high school in 1931, earned money as a cook and, by 1933, took my $89 and drove a second-hand car for a dealer to California — just in time to experience the big Long Beach earthquake!
These were tough times: the big Depression, the Dust Bowl, FDR, the New Deal — you scratched out a living. I enrolled at UCLA and worked as a carhop at the Hi Ho Drive-In on the corner of Wilshire and Westwood Boulevards, which is where I met Merrill White — considered a grumpy, hard-to-please customer. The other carhops disliked serving him, but I was eager for any source of income and White started asking for me.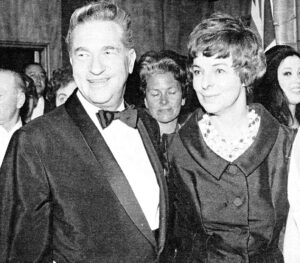 My waiting on him proved to be fortunate. White was a top editor at Paramount Studios; innovative, he edited musicals before there was sound mixing and was one of the first to edit three- strip Technicolor color film. White was married to motion pictures much like nuns were married to the Catholic Church. When he got assigned to edit a musical in London, he knew he'd need a "gopher" and, out of the blue, asked me if I'd like to be that gopher.
Nearing my 20th birthday, I found myself aboard the Empress of Britain — a 42,000-ton Canadian Line ship headed for England. I stood on Westminster Bridge for my 21st birthday. I did everything a gopher does — taking care of White's laundry, paying his bills, being his chauffeur. A lonely, homesick young man, I liked hanging around the studios watching White work. And that was seven days a week, 16 hours a day.
I was fascinated by the mechanics of frame-numbering machines, Bell & Howell splicers, synchronizers and the Moviola. When White was in the projection room or a production meeting, I made a hands-on acquaintance with his editing equipment. When White caught me, I expected a tongue-lashing. But he saw that I was keen to learn, so he became my teacher and my mentor. Under his tutelage, I edited my first film, To Be a Lady (1934).
Almost 75 years ago, in December 1937, I joined the new Society of Motion Picture Film Editors. Back then, it was a loose organization; if you had a job then you could join. I served on the negotiating committee as an editor in the 1930s, then negotiated for management in the 1960s. That's a lot of looking at both sides of unionism.
White and I became partners in an editorial services company in London. It was with White that I traveled to the lab in Rome and had my first lesson in handling negative. Sound was in its infancy. There were two systems for photographing sound waves: Westrex and RCA. We became apt at reading modulation. In those days, we did everything — timing the action for the composer, editing dialogue, music, sound effects and sometimes the negative. Fascinated, I hung around the special effects people to learn about the use of miniatures, split screen, rear projection and optical printing.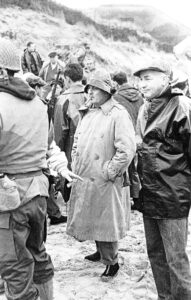 By the time Mussolini had subjugated Ethiopia, World War II was in the making. Returning to Hollywood in 1940, I fell in love and got married, bought a house and started working as a feature editor at RKO studios.
When World War II began, patriotism was high and everyone wanted to help. I was commissioned as a civilian to make training films for the US Army Signal Corps and the US Air Corps at Wright Field in Dayton, Ohio. Two years later, after producing, directing and editing dozens of training films, I was transferred back to Hollywood and assigned to work on propaganda films for Colonel Frank Capra. Lots of big Hollywood editors (who later became writers, producers and directors), including Merrill White, Bill Hornbeck, Bill Lyons, Des Marguett, Bill Claxton and others, were working in the Frank Capra Unit making public relations films under the jurisdiction of the State Department. I loved the art of "brainwashing" by film. I got teamed up with Major Theodore Geisel (Dr. Seuss) and we later worked together on the Academy Award-winning documentary Design for Death (1947).
At the end of the war, employers were required to hire back people who had been called into the armed services, so I resumed my career editing feature films at RKO studios. Independent companies began to share film production with the major studios and I became a freelance editor, working for United Artists, Universal and others.
About this time, the America Cinema Editors (ACE) was formed. I was at the first charter meeting in 1950 and worked with ACE to help establish editors as a creative group — as opposed to "cutters" with scissors just splicing ends together. I made seven prints of an action sequence and gave it to seven different editors and then we screened for a caucus of producers. It showed that when you turn editors loose, they create something quite different, proving that we were creative and not just "cutters."
Television took root by 1951. Lin Dunn and I set up a company to produce low-cost experimental films. I was fascinated by the new television medium and produced and directed several projects.
Carl Forman recruited me to the independent Stanley Kramer Company and I won an Oscar for editing High Noon (1952). After that, I directed my first feature film, The Tall Texan (1953) starring Lloyd Bridges, Marie Windsor and Lee J. Cobb. I continued to direct and edit features and television and received an Oscar nomination for editing 1954's 20,000 Leagues Under the Sea.
Back then, editing was the best place to find new directors. And why not? It's the perfect training ground for a director. David Lean got his training in the edit room and always gave credit to editors. I started specializing in directing second-unit action films. Darryl F. Zanuck sent me to Africa for The Big Gamble (1961). With that film began my long and trusted relationship with him.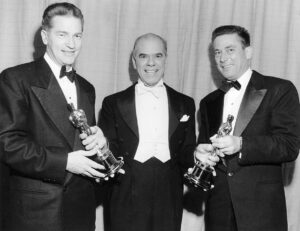 Zanuck had been ill and said he couldn't think straight so he paid me to read and evaluate several of his story properties. I thought that they were all lousy except The Longest Day (1962), which I helped him develop and then worked on as associate producer. Zanuck then sent me to 20th Century-Fox as head of Foreign Production. In that capacity, I served as executive producer of several films, including Zorba the Greek (1964), Those Magnificent Men in Their Flying Machines (1965) and The Blue Max (1966). I was next sent to California to produce Tora! Tora! Tora! (1970), the story of the bombing of Pearl Harbor. Zanuck then made me head of Worldwide Production for Fox to replace his son Richard. Among the eight feature films I supervised was The French Connection (1971), which won Best Picture at the Academy Awards.
After that, I started thinking about hanging it up. But the Iranian government decided I was just the man to set up a motion picture company for them. As President of Ibex films, I made Caravans (1978) for them before the Shah abdicated and Khomeini took over.
Before I could hang up my retirement hat, Ed Gaylord asked me to join him for lunch in Oklahoma City. Before we had our coffee, I had agreed to be President of Gaylord Productions. I set up a software company for Gaylord, produced several features and took over the Hee Haw TV series' production and sales for him. This finally wore me out. In 1986, I moved with my good wife of 66 years to the peace of the seaside town of Brookings, Oregon.
I've written three books, lectured at USC, UCLA, Orange Coast College and Redwood College, and taught a master course for film production at UCLA. I've been a featured speaker at all kinds of functions and have lectured about my experiences as a film editor, cameraman, director and executive producer. I worked in Asia, the South Seas and Europe for a total of 18 years. In my work, I've flown millions of miles and worked as an editor and second unit director in England, France, Italy, Yugoslavia, Greece, Japan, Tahiti, Bora Bora, Stockholm, Copenhagen and so on.
I've found that people all over the world are much the same. You really get to know them when you're fighting over budgets and schedules. I've learned that everything you experience or learn will some day be useful. Life is our teacher. It is as important to be honest and dependable as it is to be talented. You must work with people. How you handle relationships is the key to success.
I love life, I love people and, if I can keep laughing, I'll still be around to celebrate my centennial!