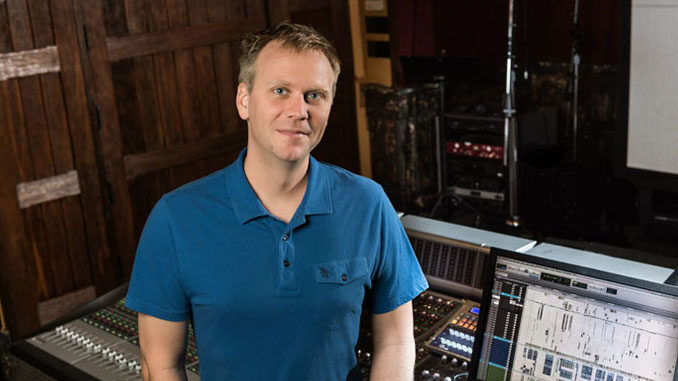 compiled by Edward Landler
Current Project?
I'm based in Austin, Texas, and am currently working as music editor for Song to Song, written and directed by Terrence Malick
Describe Your Job.
I mix and supervise feature films and episodic television. Since I live in a smaller market with limited union opportunities, I also work as a music editor on some movies. My job brings me to Los Angeles occasionally to do a final mix.
How did you first become interested in this line of work?
I have a music degree from Texas State, with an emphasis on recording. I wanted to be a rock star and ended up briefly making records. But to me, mixing a record was always the boring part. I loved recording the band and working with the talent. When I met re-recording mixers Sergio Reyes and Michael Semanick on Robert Rodriguez's Spy Kids 2: Island of Lost Dreams, I watched how creative and exciting a movie mix could be. I was totally hooked — it was like being in the band and recording the band all at once.
Who gave you your first break?
I was very fortunate to be given a huge shot by Robert Rodriguez when I was part of the team that built his dubbing room in Austin. I was working in the record industry using Pro Tools and Robert needed someone around to keep his personal Pro Tools system running. He decided that he wanted to mix Spy Kids 2 on Pro Tools and Sergio Reyes and I designed our own way to mix a movie completely in the box when very few people were doing that. During that time, Sergio let me ask questions and look over his shoulder. Over the years, Robert allowed me to learn on the job and has always been supportive of me and my career in the movie industry.
What was your first union job?
I had various titles on Robert's films but I was essentially a Pro Tools tech for him while I was mixing non-union pictures the rest of the time. I joined the Guild when I worked as dialogue editor and re-recording mixer on his feature Shorts, which starred William H. Macy and James Spader.
Which of your credits or projects have made you the most proud and why?
I am particularly proud of the mixes on Predators and Sin City: A Dame to Kill For. Both of these movies have particularly immersive mixes and had very challenging action sequences. We were fortunate on both to have excellent production dialogue from the sound mixer and brilliant sound effects from the sound team.
For Sin City: A Dame to Kill For, we used ambisonic recordings throughout the mix to extend the ambience beyond the walls of the theatre and make Old Town Austin come alive. I spent quite a few late nights collecting these recordings all over Austin and the surrounding areas. I really feel like we did a great job capturing the noir vibe of the movie, while adding a comic book flair to the action.
What was your biggest challenge in your job (or on a particular project) and how did you overcome/solve it?
Machete Kills was my first movie as a sound supervisor and re-recording mixer. We had a very small crew and the movie was just action sequence after action sequence. In addition, there were a lot of visual effects dropping in on the PrintMaster, many of which we didn't see until the day we had to work on them. It was trial by fire, and I'm not ashamed to admit that I got a little misty eyed when the credits rolled on the final layback.
What was the most fun you've had at work?
Sergio and I had a blast mixing Predators. It was a big crew and just a great team — from producer Robert Rodriguez to director Nimród Antal to picture editor Dan Zimmerman and everyone else. We laughed nearly the whole time.
Jobwise, what do you hope to be doing five years from now?
I've been very fortunate to work with great friends and I hope to be doing exactly what I'm doing now.
What are your outside activities, hobbies, passions?
I love watching my kids play soccer. I also play a little squash and enjoy cooking on the grill for my family.
Favorite movie(s)? Why?
The Hunt for Red October is a really well crafted film and it's one of the great films of its era.
The Thin Red Line — every time I watch it I feel something new or see something new. And The Lego Movie, which may the most well timed comedy that I've ever seen; I can watch it with my kids over and over and not get tired of it.
Favorite TV program(s)?  Why?
Battlestar Galactica — I think this is the greatest show ever; I just love everything about it.
Do you have an industry mentor?
Sergio Reyes took a lot of time and effort to teach me not just how to mix, but also what plays. I've learned so much from him.
What advice would you offer to someone interested in pursuing your line of work?
I think when you are starting out, the best thing you can do is try to learn as much as you can about everyone's job. When you know what the people around you are doing and the challenges they are facing, it makes you better at what you are doing and it makes you better at integrating the sound department into the larger production.
Is there anything you'd like to say to your fellow Guild members, some words of encouragement?
Stay cool. Movies always have a way of getting done. Every project I've ever worked on had some type of "How will we ever finish?" crisis, and we finished every one of them.
Editor's Note: To recommend a member (including yourself) to be featured on the home page of the Editors Guild website contact edlandler@roadrunner.com.