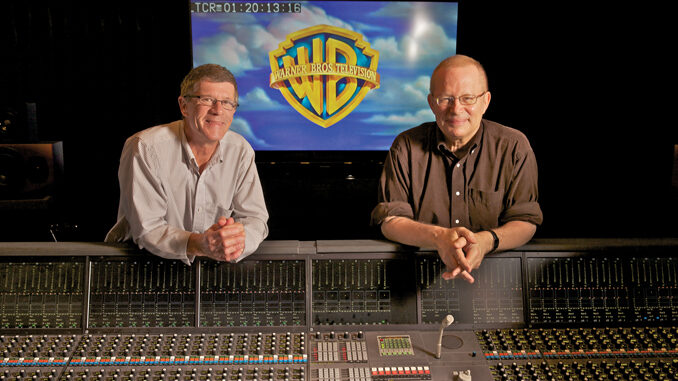 by Mel Lambert, portraits by Gregory Schwartz
In the time-critical world of half-hour TV sitcoms, the seasoned team of re-recording mixer Charlie McDaniel and sound editor Bob Bradford has lead the way for the past 18 years. As McDaniel explains, "We have four hours — maybe six for the busier shows — to mix and print master 22 minutes of surround sound, and then prep the room for the next session."
During their longtime stint together at Warner Bros. Studio Facilities' Dubbing Stage 8 on the Burbank lot, this talented duo has developed a workflow and philosophy that ensures a consistent, high-quality product for such popular sitcoms as Roseanne (1988- 97), In Living Color (1990-1994), Yes, Dear (2000-2006) and The New Adventures of Old Christine (2006-2010) as well as the still-on-air How I Met Your Mother, Rules of Engagement, The Big Bang Theory and Hot in Cleveland.
A New York Monitor Award winner for Seinfeld and multiple-Emmy nominee for Home Improvement, Coach, Seinfeld, That '70s Show, The Drew Carey Show, Friends and Two and a Half Men, McDaniel secured a well-de- served Emmy Award for Outstanding Multi- Camera Sound Mixing for a Series or Special in 2005 for his work on Two and a Half Men.
"When we first started working at Warner Bros., Bobby Bradford and I were working 18 hours a day, seven days a week, handling three mix and edit sessions per day for the nine months of the TV season," McDaniel recalls. "The late 1990s saw an across-the-board fall- off in the number of half-hour comedies on the air. But recently, that trend has reversed itself with a vengeance; this year promises to be the best on record."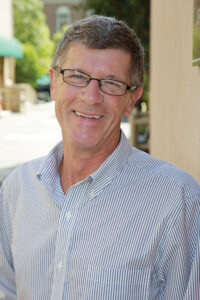 Another important recent change has been the advent of year-round TV production of scripted half-hour comedies, according to McDaniel. "That trend has been building for the past few years, but for the first time, our summer hiatus disappeared completely this year," he continues. Spearheading this trend have been cable and other outlets such as MTV Networks, Nickelodeon, the Disney channels, TV Land, TBS and BET.
"I've worked closely with Charlie for almost 20 years," Bradford confides. "Typically, in order to prep all of the Pro Tools mix elements, I arrive at least an hour prior to the mix roll time. After each mix session, it typically takes another half hour to back up everything to Warner Bros. Archiving department servers. This is where Pro Tools really helps us out. As well as greatly enhancing production tools and flexibility, DAWs are a great time saver."
"Normally, we have four hours for a half-hour show mix, even though the shows have become much more complex," McDaniel continues. "But How I Met Your Mother is a more complicated [six-hour] mix, as is The Big Bang Theory. They are more like Seinfeld, a show that changed the world of multi-camera production, since it had lots of quick cuts, scene changes and exteriors that required more sound design than previous sitcoms and, hence, a more complex sound mix. And it's become a ubiquitous network stipulation that we deliver everything in 5.1-channel surround sound."
For McDaniel, it is not unusual for certain scenes in sitcoms to approach the editorial and mix complexity of those from longer- form, single-camera shows. "In order to deal with that complexity, yet still get mixes done in virtually the same four- to six-hour time slot, we have devised an extremely flexible system," he says. "All of our mix source elements are replayed from dedicated, free-standing Pro Tools systems, meaning that any given unit — dialogue, music, effects, ADR — can be taken offline independently at any time, and then editorial work can be done without ever having to stop the mix. When editorial revisions are complete, that unit is then put back online, and I go back to that same place in the session to pick up the changes and continue the mix."
"As Charlie goes through his first pass of the mix, he flags things that need editorial tweaks or fixes," Bradford adds. "I then take that unit offline, do the fixes and signal Charlie when the unit is again available to go online. One particular system we have developed for dialogue fixes is that I have a parallel but completely separate Pro Tools system that duplicates Charlie's dialogue unit. If he needs a dialogue fix, I will execute that change on my dialogue unit, render the segment as a new, separate, time-stamped file, then insert that fixed segment directly back into his main dialogue unit, thereby preserving all of his EQ and other automation. This scheme has a great advantage; Charlie's dialogue unit never needs to go offline."
An operational key to success for the re-recording/sound editing team is Dubbing Stage 8's unique combination of a mix control room area and a separate, dedicated edit bay on an upper floor that work together simultaneously; Bradford has access to multiple Pro Tools units with individual keyboards, monitors and trackballs so that he can quickly move from system to system.
During their longtime stint together at Warner Bros. Studio Facilities' Dubbing Stage 8 on the Burbank lot, this talented duo has developed a workflow and philosophy that ensures a consistent, high-quality product.
McDaniel works at a 160-channel AMS Neve Gemini DFC digital console linked to multiple Avid Pro Tools playback systems and a master 32-channel Pro Tools recorder that receives multi- channel stems and the 5.1-channel print masters. "The DFC is not a standard TV board," he concedes. "But I grew up in film mixing and love the speed of working with a large film-style console and recording the mix film-style with multi-channel stems.
The mixer generates specific routing and effects templates on the DFC for dialogue, music and effects tracks for different shows. "Most shows follow the same templates, the only difference being the number of tracks, between 60 and 100 per show," McDaniel says. "Typically, I'll have up to 16 channels of dialogue, 48 tracks of sound effects — 24 stereo and 24 mono hard effects — and 16 tracks of music; I'll also have up to 32 extra tracks of ADR, Foley and crowd walla."
In terms of surround mixing, McDaniel places critical dialogue elements in the center channel, with music and effects across the front soundstage. "Normally, any ambiences are spread to be included in the surrounds, but it depends on the show," he explains. "Certain shows, like The Big Bang Theory for instance, have recurring hallmark effects that use the entire sound field."
Sitcoms are made by literally filming a live stage play, according to McDaniel. "Actors are mic'd with a combination of booms, plants and lavalieres," he says. "Concurrently with that live-stage performance, audience reactions are recorded with a series of overhead mics. Because the sound from PA speakers, over which the audience hears the actors, often leaks into the audience mics, I generally don't mix the audience channels into the surrounds. That PA leakage can cause distract- ing boominess and incidental sounds from the audience — infamously, crackling plastic water bottles — can be very distracting in the surrounds."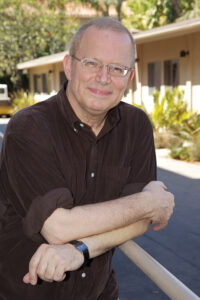 Emphasizing the creative possibilities of surround sound, McDaniel recalls, "The producers of Friends made a pioneering advance in sitcom sound on DVD with the release of the boxed sets. They wanted their DVD sound to place the viewer squarely among the audience, which meant conquering problems re- lated to keeping live audience mics open dur- ing a stage performance. They accomplished this through meticulous editorial preparation of the live-audience sound to remove extraneous, distracting noises, while preserving the audience reactions. Such reactions cannot be slipped or moved because they contain dialogue leakage from the stage, making sync shift immediately noticeable."
McDaniel finds that the time constraints of sitcom mixing, coupled with the need to be able to make speedy, efficient changes during executive playback, make it more practical to handle said changes — such as line-to-line level balance, overall music or background balance — on the Neve DFC console rather than on a workstation.
At the end of the first hour of a typical four-hour session, McDaniel will have a first pass of the 22-minute sitcom mix, completing scene-to-scene and set-to-set EQ, mixing and matching the dialogue and balancing it against the music and effects. "I use Pro Tools plug-ins to set scene-to-scene and line-to-line EQ for each track," he says. "I have Waves Gold as the basic plug-in package, used in con- junction with other selected plug-in package additions."
After the first mix pass, there generally follows a pass for the line producer to make mix corrections and changes, followed by a pass for the show's executives. "Then, as a final step and a double-check opportunity, I make the print master pass, during which the 32-channel mix stems are folded down into the 5.1-channel master and left-right stereo splits of dialogue, music and effects are made for use by the promo department," McDaniel explains. Like a film-style mix, any subsequent changes will need to be made across the discreet stems so that they are available later for an international language version. "The show is then sent off for laydown/layback and recorded onto the client's video master," McDaniel concludes.
In addition to the McDaniel/Bradford- helmed Dubbing Stage 8, Warner Bros. Studio Facilities also operates Dubbing Stage 7, where re-recording mixer Kathy Oldham and sound editor Eric Erickson handle a similar schedule of sitcoms and half-hour comedy shows.