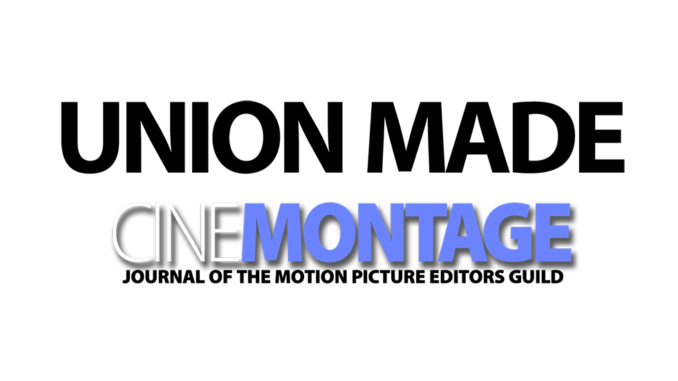 by Michael Olman, CAS
I am "imported from Detroit," as the catchphrase now says. I'm proud of my hometown, Motown. It has always been filled with music, film and television and, most of all, good, honest, hard-working people. We were all in the same boat, but we weren't about to let that city fade. People work their asses off in that city and they are proud of what they do.
I grew up in a union family. For a period in the 1930s, my grandfather and great uncle "worked the line."  My mother, father, aunt and uncles were all in the teachers union. I learned from an early age how unions can help us make our lives better.
Starting at age five, I took music lessons. I learned to play piano and saxophone fluently (all four saxes — Soprano, Alto, Tenor and Baritone) and I somehow learned a little guitar along the way. Music and, more importantly, sound were a big part of my life.
I played with several bands in the Detroit area, mostly on weekends while I was in high school. But by my first year in college, we were playing roughly 150 nights a year.
At the same time, I would spend days in a studio that my friend had built. We were writing partners and each day we would meet for a few hours and lay down some tracks, never knowing where it would lead. After realizing that the "live" music business wasn't for me, I found Michigan State University. Its audio program encompassed radio, live recording, television and film.  My world opened up.
In 1990, I left Detroit for Los Angeles. I knew that film and television was where I felt at home and wanted to build a career. When I moved to LA, I only knew one person in the industry. I had no idea how I would break in, but I wasn't about to take no for an answer. I took the Mix magazine studio issue and sent my resume to every single post-production studio in town. I followed up with a call to each one. I remember that out of the almost 100 resumes that I sent out, only three were willing to speak with me. Do you want to talk about a humbling moment?
My mother, father, aunt and uncles were all in the teachers union. I learned from an early age how unions can help us make our lives better.
Then I got a call that changed my life. Thank you, Marti Humphrey!
I was offered a job at Modern VideoFilm. It was non-union, but it was a start. I worked my tail off there in laydown/layback and sound transfer and assisted the telecine department.  It was the analogue age, so everything involving sound was done on two-inch analogue tape. There was this new format called DAT. We also had one of the first digital audio multi-tracks in the business, not to mention one of the first D-1 and D-2 machines. It was a great place to learn!  Nine months later, when our lead mixer left for Sony Studios, he asked me to come with him as his recordist in a brand-new studio that Sony was building.
In my first years there, I was a recordist — the guy on the talkback mic who makes sure everything is being recorded correctly and playing it back as it should be heard. Once we started rolling, I was constantly looking over the mixer's shoulder, learning whatever I could as fast as I could. I learned from some amazing mixers who were willing to share their knowledge with me and I'm forever in their debt. Before long, I was given a shot at mixing and I ran with that opportunity!
After eight years, I left Sony for a smaller post house where I was offered a gig as the lead mixer and given the opportunity to hone my craft. The amazing thing about sound is that it is so subjective. There is no right or wrong answer.  Everyone hears sound differently. I've never been afraid to put my best audio thoughts forward. It's honest and real. It's my gut reaction. Sound is a collaborative process and some might not agree with my ideas, but if I don't put my ideas out there in the sound mix, no one will get a chance to consider a different way of telling the story, sonically, that might actually add to the drama on the screen.
Through relationships that I have cultivated within the industry, I have been very lucky to find myself working on many hit television shows and have received 14 Emmy Award nominations and 18 Cinema Audio Society nominations, with a few wins in both. I currently serve as the Sound Peer Group Governor for the Academy of Television Arts and Sciences.
I am thankful for my union membership. It has allowed me to follow my dreams and I have found a way to pay that forward with the many people who have moved here to join our amazing business.