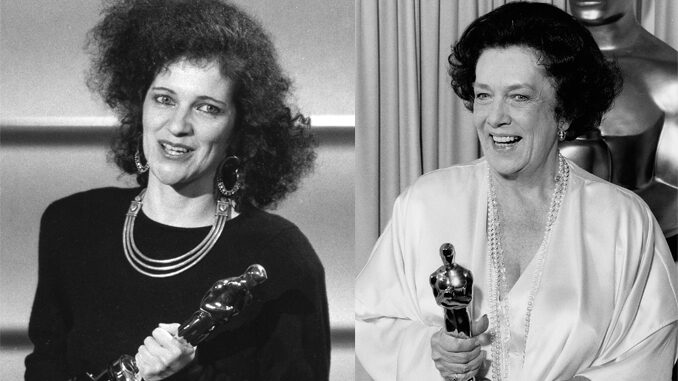 by Selise Eiseman
Although nowhere near as well represented as their male counterparts in the Academy Awards pantheon, women in post-production nonetheless gained recognition for their craft and brought home some Oscar gold.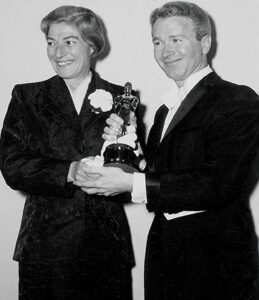 The first woman to win an Academy Award for Film Editing was Anne Bauchens for Northwest Mounted Police in 1940. She was also the first woman nominated for the Film Editing Oscar in 1934, the first year the award was given. Four years after Bauchens' win, Barbara McLean won for Wilson (1944). She is the most nominated female editor, receiving seven nods for her work from 1935 through 1950, but only that one win.
Other female Oscar winners for picture editing include Adrienne Fazan (Gigi, 1958), Anne V. Coates, A.C.E. (Lawrence of Arabia, 1962), Françoise Bonnot (Z, 1969), Verna Fields (Jaws, 1975), Marcia Lucas (Star Wars, 1977, shared with Paul Hirsch, A.C.E., and Richard Chew, A.C.E.), Lisa Fruchtman (The Right Stuff, 1983), shared with Glenn Farr, Stephen A. Rotter, Douglas Stewart and Tom Rolf, Claire Simpson (Platoon, 1986), Gabriella Cristiani (The Last Emperor, 1987) and Chris Innis, A.C.E. (The Hurt Locker, 2009, shared with Bob Murawski, A.C.E.).
Thelma Schoonmaker, A.C.E., is the only woman editor to receive three Oscars (Raging Bull, 1980; The Aviator, 2004; and The Departed, 2006), and has received six nominations.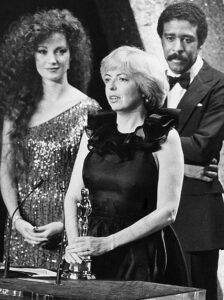 Although she never received a competitive Oscar, the legendary Margaret Booth is the only woman — and the only picture editor — to win an Honorary Oscar for an "exceptional contributions to the art of film editing in the motion picture industry." It was presented at the 50th annual Academy Awards ceremony in 1978, honoring the films of 1977.
In the Sound categories, Kay Rose was the first woman recognized by Oscar when she won a Special Achievement Award in Sound Effects Editing for her work on The River in 1984. The other female winners in that category are Cecelia Hall, MPSE, for The Hunt for Red October (1990, shared George Watters II) and Gloria S. Borders for Terminator 2: Judgment Day (1991, shared with Gary Rydstrom, MPSE). After the category's name was changed to Sound Editing, Karen Baker Landers won for The Bourne Ultimatum (2007, shared with Per Hallberg, MPSE).
The first, and only, woman to win in the Sound Mixing category was Lora Hirschberg for Inception (2010, shared with Gary A. Rizzo and Ed Novick).