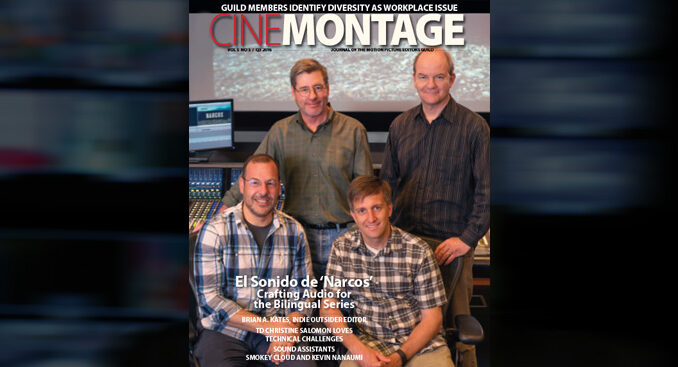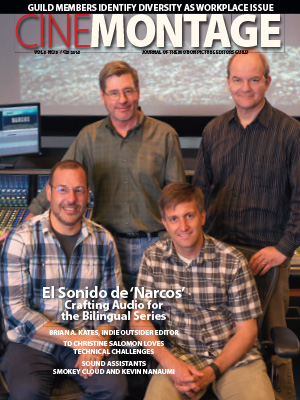 The cover of the last issue of CineMontage (Quarter 3, 2016) generated many online comments by members.  It featured a photo of the post-production sound crew of Narcos.  Above the title masthead, the banner, which is usually Guild-related (and has no relation to the cover story or photo), read: "Guild Members Identify Diversity as a Workplace Issue," announcing the inaugural article by the MPEG Diversity Committee, created last year by the Board of Directors.
Here is what some members had to say, in comments posted on Facebook, at the Guild's Diversity in Post Discussion Group.
"I just love the pure irony of the cover," wrote assistant editor Roger Nilsson.
"Was this cover photo choice, along with the headline along the top of the magazine, an intentional joke? Or were they really just trying to drive the point home?" wrote picture editor Catherine Haight, ACE. 
She continued:  "I appreciate that this will stir conversation. It's high time diversity be considered when cover stories, heck all stories, are created for the magazine…even if the story ends up being about the lack of diversity — which we're working towards changing. Also, I think it's important to know that while we all understand that there's no ill will or intended harm, we didn't end up at this teachable moment by happenstance: The representation of (and the lack of representation of) women and people of color (and especially women of color!) is systemic — and this issue of the magazine just pointed it out especially well."
CineMontage welcomes Letters to the Editor, please email CineMontage@EditorsGuild.com