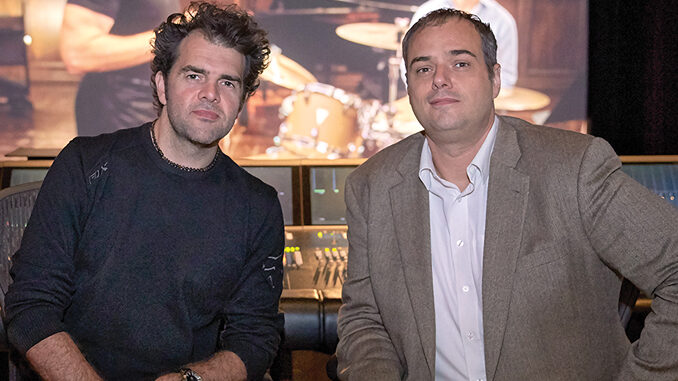 by Mel Lambert
This year's Oscar nominees in the Sound Mixing category include an offering that profiles a conflicted long-gun wielder, one that focuses on a sadistic music teacher, a zany theatrical comedy, a journey across space and time, and a character overcoming adversity. The re-recording teams that created these ground-breaking soundtracks are John Reitz and Gregg Rudloff, nominated for American Sniper (together with production mixer Walt Martin); Jon Taylor, CAS, and Frank A. Montaño for Birdman (with Thomas Varga), as well as Unbroken (with David Lee); Gary A. Rizzo, CAS, and Gregg Landaker for Interstellar (with Mark Weingarten); and Craig Mann and Ben Wilkins, MPSE, for Whiplash (together with Thomas Curley).
Re-recorded on Warner Bros. Studio Services' Stage 10 with Reitz handling dialogue and music and Rudloff overseeing sound effects, American Sniper, directed by Clint Eastwood, represents the sixth Academy Award nomination for a team that has worked together for over 30 years; they both secured an Oscar for The Matrix (2000), with Rudloff earning a second one for Glory (1990). "We are totally jazzed at receiving the nomination," Rudloff confesses. "And thanks to the spectacular job done by [supervising sound editors] Al Murray and Bub Asman, who supplied us with newly recorded guns and vehicle elements, we were able to produce an outstanding soundtrack," Reitz says. The pair also received a CAS Award nomination for Live- Action Motion Picture, as well as a BAFTA nomination for Film Sound.
"Our biggest challenge was balancing the sound design being used in place of a music score," Reitz explains. "We had to blend effects elements that sounded like instruments," to reinforce the film's emotional threads. "We also received clean dialogue tracks from the set, plus some group and Farsi-language elements. Between us we spent a combined 10 to 12 weeks on pre-dubs, and then three weeks for the final." "It was a very busy mix," Rudloff confirms. "We re-recorded everything in 7.1-channel format, and then post-produced an Atmos soundtrack."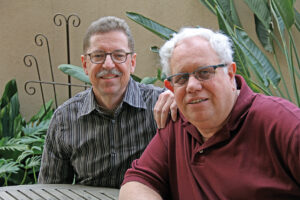 But Eastwood didn't want American Sniper to be a war movie, according to Rudloff. "He needed the audience to understand what Chris Kyle [the lead character] was going through both at home and in Iraq," he says. "To emphasize that sense of gritty realism, we had very little score; instead we focused on the solitary life of the Navy SEAL working alone. In place of percussion hits, for example, we had sound design or the weapons themselves. We tried to keep everything simple; Clint was comfortable with maintaining the truth of the story, but with a dramatic license. Bradley Cooper, one of the film's producers [and lead actor] came to our playbacks and was thrilled at how the soundtrack helped clarify a scene he had concerns with during the editing."
NBCUniversal StudioPost's Alfred Hitchcock Stage was where Taylor handled dialogue and music and Montaño did sound effects for the mix of co-writer/director Alejandro G. Iñárritu's Birdman or (The Unexpected Virtue of Ignorance). This is the first of two Oscar nominations this year for Taylor — the second being Unbroken — and the seventh for Montaño, also including Unbroken. "Birdman is so different and unique that I was totally honored when we received the nomination," Montaño says. The team also received CAS and BAFTA nominations.
"Remaining faithful to the director's vision was our biggest challenge," admits Taylor, who has worked on four previous films with Iñárritu, "and to honor his aggressive tastes in which the [percussion- centric] score is a powerful component. The drums had to play! We did our first 5.1-channel mix and then secured reactions from Alejandro during the 20-day mix. We had no pre-dubs, and kept everything live through the finals." Montaño adds, "It was an artistically challenging, fun roller-coaster ride."
"We secured great production tracks with four microphones on every actor," Taylor explains. "I had the choice of one or two booms, with the remainder being body mics. I could pull up whatever I needed to maintain the correct balance between close and distant miking, to honor the changing ambiences during the long, continuous takes."
"There were a lot of sound effects tracks," confirms Montaño, "including Foley, atmospheres and transitional backgrounds — layers that I could use to establish subtle changes between the varying environments, from the theatre's corridors, to the nearby bar, into the audience and out into the street. It had to be perfectly seamless to maintain the visual perspectives that pull the audience transparently into the film."
"It is very easy to lose focus on a soundtrack," Taylor concedes. "For such a complicated, story-driven film like Birdman, we always put dialogue for the primary character down the center channel; all other voices are panned off to either side. And we worked hard to ensure that the audience could follow critical dialogue in the theatre's many corridors while the drums were driving the action."
Taylor and Montaño reprised their roles on Universal Studios' Dub 6, and then in Dolby Atmos immersive format on the Alfred Hitchcock Stage, for the 7.1 mix of director Angelina Jolie's Unbroken. "I'm super, super happy to have been nominated," Taylor confides enthusiastically. "We put so much creative work into the film that, in 27 years of mixing soundtracks, Unbroken was the ultimate experience." For Montaño, it was "a perfect product — including ADR, Foley and the other components, with no gimmicks. We kept it simple." The duo also received a CAS nomination for the film.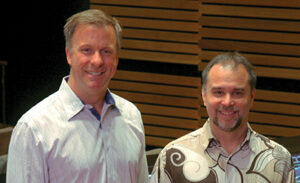 "We spent a total of 60 days carefully crafting the soundtrack, including 14 days for dialogue pre-dubs and 15 for effects pre-dubs," Taylor explains. "Although the film involves three separate acts, the music maintains the overall story flow. While the score tells us a lot about the drama unfolding on the screen, the quality of the dialogue and backgrounds needs to fit into that space."
"The key came when we realized that [lead character] Louis Zamperini is an enabler who, in the pivotal scenes, looks after his colleagues," offers Montaño. "When he is moving around the interior [of the damaged B-24 Liberator during the ill-fated bombing raid], we needed to hear everything he was saying to his crew members [despite the high-speed action]. We felt that the spirit of Louis was in the room all the time, no matter what the scene."
"Given his role as caretaker, dialogue mattered throughout the film," Taylor points out. "Louis took care of people and Angelina wanted very much to have the audience feel what he was going through during the film's action. We wanted the film soundtrack to feel very real, with no gimmicks. After all, Unbroken is a true story; we did our very best to tell that story as realistically as we could."
Co-writer/director Christopher Nolan's Interstellar was re-recorded on Warner Bros. Studio Services' Stage 9, with Rizzo handling dialogue, backgrounds and Foley, and Landaker overseeing sound effects and music. The film marks the fourth nomination for Rizzo, who won an Oscar for Inception (2010), and the eighth for Landaker, who received one each for Speed (1994), Raiders of The Lost Ark (1981) and The Empire Strikes Back (1980). "Given the negative reactions we had seen in the media about the film's soundtrack, I was thrilled, excited and bewildered at the nomination," Landaker says. "You never get over that thrill of hearing your name being announced," adds Rizzo. "I was completely overwhelmed!" The re-recording team also received a CAS nomination.
"We had no preconceived ideas going into the soundtrack," Landaker recalls. Rizzo elaborates: "Chris let us lay out the mix as we heard it — he wanted our reactions — and then refined our directions. He didn't want the soundtrack to be over-conceptual or too layered, just clean and real. We just had a few lines of ADR, for example." "We relied on the production track, to ensure a heightened sense of realism," Landaker adds. "The director wanted to hear on the stage what he had heard during the shoot.
"The mix, which lasted for 14 weeks, was Chris' final process," Landaker continues. "Since we did no pre-dubs, that was when all the elements came together. We mixed in 5.1-channel format, with the LFE being on all of the time to fill the room with low-end frequencies. During the final seven weeks, we would mix the entire film for four days, and then each Friday took the in-progress soundtrack to a local theatre to hear how the eight-reel mix was coming together." Rizzo says his favorite moment offered great dynamic range — "where [the lead character] makes a quiet and difficult goodbye to his daughter, then transitions into a huge rocketing departure. It's a moment where all the crafts are working together; everyone's dynamic is exhibited here in the fullest fidelity."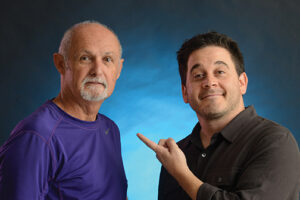 Whiplash, written and directed by Damien Chazelle, was re-recorded on Technicolor at Paramount's Stage 4 by dialogue and music mixer Mann and sound effects mixer Ben Wilkins. This is the first Oscar nomination for the creative team, who worked together previously at Todd- Soundelux. "I was stunned to receive the nomination because there were so many good films released last year," Mann acknowledges. "The Sound Mixing category represents a lot of good offerings; we are up against a lot of talented mixers," agrees Wilkins. The film also received BAFTA and AMPS (the UK's Association of Motion Picture Sound) nominations.
"Since the film had to be ready for last year's Sundance Festival, we had just 10 days to mix the soundtrack," Wilkins reveals. "Craig and I also served as supervising sound editors on the project, so we were kept pretty busy from day one. After the film secured Grand Jury and Audience Awards at Sundance, we asked for three more days to make some small tweaks and music changes before we let it go." To which Mann adds, "Because the screenplay is semi- autobiographical," Chazelle — who can also play drums — knew exactly what he wanted to hear on the soundtrack.
"We had a combination of maybe 20 percent live musical tracks from the set and the rest were pre-records," Mann continues. "We received production dialogue, but there was overlap and carry-over from the various instruments, which we fixed with iZotope RX3's spectral repair plug-in. We also took impulse responses on the set to help match production with pre-record drumming." According to Wilkins, "The sets were pretty reverberant, with wooden walls in a cement basement that had creaky floors. To help us in the mix, we had some great Foley tracks."
"We're pleased with the way the track turned out," says Mann. "We made one final pass," says Wilkins, "making sure that every sound was there by choice; in terms of intent, there are no grey areas. To be honest," Wilkins concludes, with characteristic English candor, "the soundtrack is not perfect, but it's bloody good!"