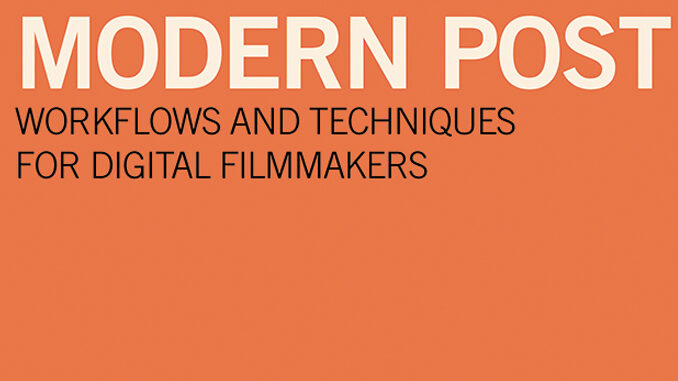 Modern Post: Workflows and Techniques for Digital Filmmakers
by Scott Arundale and Tashi Trieu
Focal Press
Paperback, 297 pps., $49.95
ISBN: 978-0-415-74702-8
by Debra Kaufman
When nonlinear editing systems first appeared nearly 25 years ago, a lot of people scratched their heads. Who could edit with a picture you could barely see and a hard drive that couldn't hold even a reel of images, on a new-fangled personal computer that was likely to crash? The advent of nonlinear editing was just the beginning of a cascade of digital advancements that would dramatically change the tools, practices and workflows of the entire production and post paradigm.
Putting today's post-production workflows, pitfalls and opportunities into the bigger picture is no easy task, but that's what authors Scott Arundale and his co-author Tashi Trieu have set out to do in Modern Post: Workflows and Techniques for Digital Filmmakers.
"This book is the result of my teaching editing and post-production for many years and discovering that there is a deficit of books on the subject from both an historical and forward-thinking point of view," says Arundale, who is an assistant professor at Chapman University's Dodge College of Film and Media Arts. "While the Internet offers many bits and pieces about new technology alongside the history of film, we felt that a compendium devoted to the big picture would be helpful to both the young filmmaker and the old pro — that they might form a better mental image of the post-production process. The book aims to serve as a resource for the changing landscape of post- production. While best practices will continue to evolve, we've done our best to document the transition from film to digital, and the requisite changes in workflow."
Trieu, a Chapman alumnus, is a freelance DI artist and post workflow consultant. Arundale's background includes a BFA in Film Production from New York University, an MFA at USC's Peter Stark Producing program, and hands-on experience in editing and producing. He is an Apple Certified Trainer for Final Cut Pro and an Avid Certified Trainer for Media Composer. He is also an associate member of the American Cinema Editors (ACE).
The book is written in a style familiar to readers of Focal Press publications. Each of the nine chapters is divided into sub- chapters designated by decimals. The Chapter 1 on Retrospective of Traditional Filmmaking, for example, is sub-divided into 1.1 on Retrospective of Traditional Filmmaking (with further sub-heads on everything from developing and processing to color timing) and 1.2 on Evolution of Video Editing. This style makes it easy for the reader to zero in on a specific topic.
Placing the history of production and post squarely in the realm of celluloid, Arundale and Trieu begin their book with a look at traditional film practices in both areas. Perhaps more unusual for a book about post-production, the authors also devote pages to film, digital and DSLR cameras, as well as "best practices for production." But Arundale defends the choice. "Production and post have come together," he says. "So camera selection, setting up cutting rooms and planning for deliveries are all included."
In today's post-production environment, editors are being called upon to know more and do more, and Modern Post can fill in the blanks there as well. "The average picture editor may not understand everything that goes through the process," says Arundale. "Assistant editors may know more of the technical side but not know everything about deliverables. Visual effects have also proliferated and we talk about the role of the visual effects editors, which would work for an assistant interested in becoming a visual effects editor or an editor who's never done visual effects."
Each chapter focuses on an area of importance to that big picture. Chapter 4 focuses on editing and post-production, with sections on offline editing, online conform, color grading/DI and dirt, fixes and adding/removing grain. The authors include material that covers territory from Equipment Rental versus Purchase to Why Not Color-Correct in an NLE? and ACES [Academy Color Encoding System] Workflow.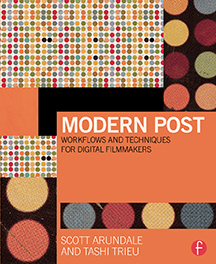 Visual effects and titles — everything from rig and wire removal to visual effects editorial — is covered in Chapter 5, while Chapter 6 focuses on Sound Design and Final Mastering. The authors also devote a hefty chapter to Restoration and Archiving, which have become passionate topics for Arundale as a result of his research and study. Part 8 looks in depth at budgeting and scheduling for post, and the last chapter consists of two case studies from 2013: the theatrical feature Don Jon and the documentary Tim's Vermeer.
One of the book's strong suits is its reliance upon first-person interviews and case studies; letting actual practitioners speak for themselves is definitely a solid addition. The authors also include examples of such documents as a full deliverables contract and more techy information on chroma sub-sampling and other such topics. There is a welcome glossary as well, and Modern Post has a fairly comprehensive one. In fact, any word that appears in bold type throughout the text means its definition can be found in the glossary.
Sidebars are used to explain certain key concepts, add a historical footnote or offer a helpful tip. Those who want a deeper dive into the technology can even find data tables at the back of the book.
Who should read Modern Post? "This book is intended for film professionals, educators and students alike," says Arundale. "While it is not meant to be a 'how-to' guide for the DIY filmmaker, it documents the best industry practices currently in place — the very latest technologies — and sheds light on emerging trends in digital filmmaking. Our goal is to demystify many of the underlying concepts and philosophies behind those topics so that the reader can apply them to future innovations."
Arundale says the book also has a place on the professional's bookshelf. "More often than not, a producer, director or even working film editor may have questions that need answering," he says. "This book is the first desk reference that they should reach for." With its emphasis on both old and new, Modern Post would make a great addition to the reference tools of anyone who works in post.