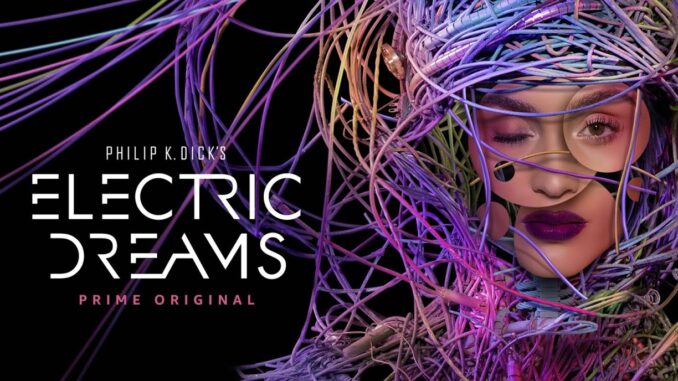 by Mel Lambert
"Our original idea for Philip K. Dick's Electric Dreams originated five years ago, when we discussed the idea of an anthology series of the author's short stories with diverse points of view," executive producer Michael Dinner revealed to a capacity audience at Sony Pictures Studios in Culver City during a recent joint AES/SMPTE monthly meeting. "The overall theme of our sci-fi anthology series is simple: What does it mean to be human?" he continued. "We opted for different casts, different characters and different locations in unique worlds, with half of the initial 10 episodes being shot in the UK and the other half shot in the US by different directors." Produced by Sony Pictures Television in a joint venture with Channel 4 in the UK and Amazon Studios, the series is currently being streamed exclusively in the US via Amazon Prime Video.
The Peter Horton-directed Episode Eight, entitled "Autofac," is centered on the real purpose of an automated factory operating according to the principles of consumerism. Following its screening in Sony Pictures' Kim Novak Theatre, the series' supervising sound editor Mark A. Lanza, MPSE, introduced other members of the post-production team, including dialogue editor Ryne Gierke, sound-effects editor Harry Snodgrass and music editor Brittany DuBay.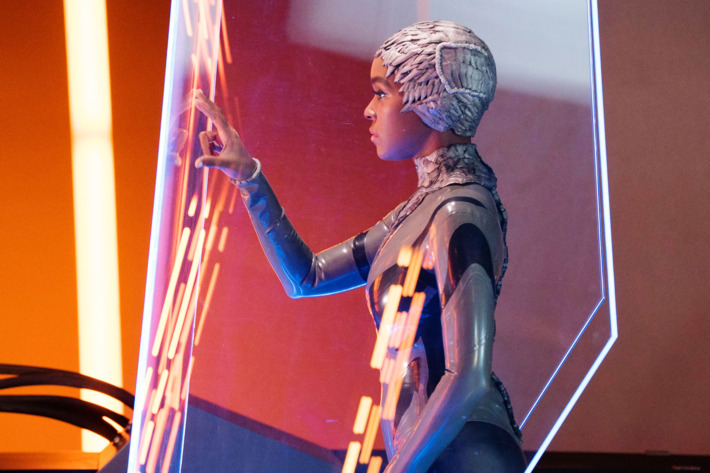 Dinner had made his TV directorial debut with Miss Lonelyhearts (1983); his studio directorial debut was Heaven Help Us (1985). Other TV credits include executive producer and director on The Wonder Years, Chicago Hope and Kidnapped. Lanza's film and TV credits include Independence Day (1996), Starship Troopers (1997), Natural Born Killers (1994) and Scorpion (2017); he has also been nominated for several MPSE Golden Reel Awards, including for Homeland. Gierke's credits include the TV series Homeland, Empire, The Goldbergs and Preacher. Snodgrass received Emmy and CAS awards for his work on the AMC drama Flight 93, and was involved with the features Predator 2 (1990), Alien 3 (1992), The Beverly Hillbillies (1993) and Hot Shots! Part Deux (1993). DuBay's credits include the TV series Bates Motel, Sneaky Pete and Agent Carter, as well as the films Chuck (2016) and Candy Jar (2017).
"Although the new TV series was shot in different locations around the world by different directors, we mixed it here at the Sony Pictures Studios Lot on Stage 7 with re-recording mixers Elmo Ponsdomenech and Todd Beckett, and on Stage 6 with Nick Offord and Ryan Collins," Lanza explained. "We also worked with five different composers [including Bear McCreary, Ólafur Arnolds and Harry Gregson-Williams], which offered a certain sense of musical cohesion but with unique points of view."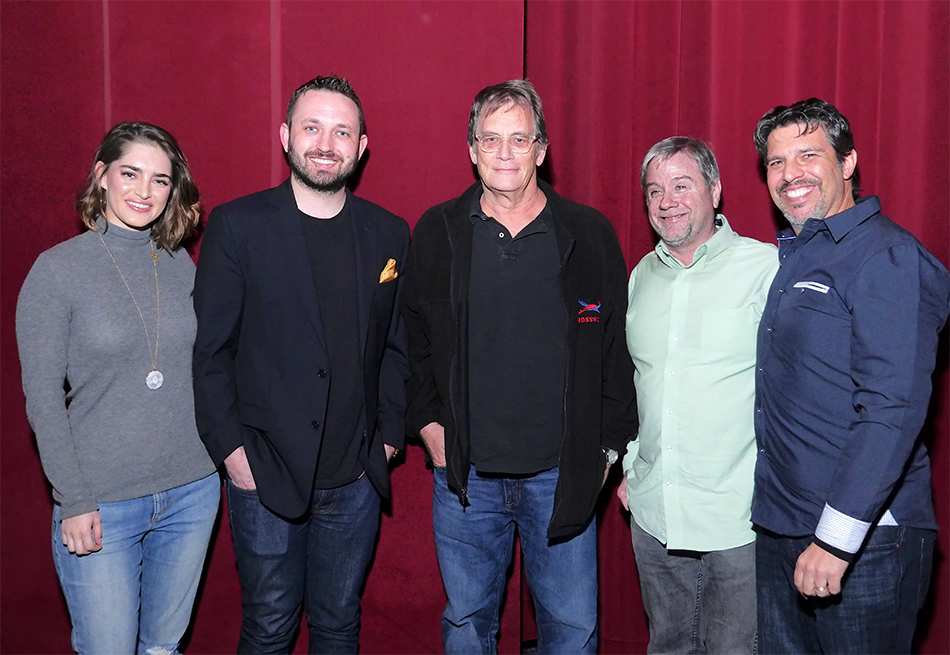 "In an ideal world, you would have all five composers in the same room to discuss ideas," Dinner added, "since we saw these 10 episodes as chapters in a novel, with music continuity across episodes."
"With so many composers, we had to approach music editorial carefully," DuBay offered. "We needed to retain the composer's unique viewpoint on each show. And each composer had a very different workflow. One would send us stereo files, while another would send us cues that were fully stemmed-out," offering creative options on the dub stage.
The process from temp music mix to final was "an interesting puzzle" for the "Autofac" episode, the music editor recalled. "The composer had completed his cues, but we then needed changes in just three days. But with little music selected for that episode, we had few options [elsewhere in the soundtrack]." "So I went through the music tracks carefully and found pieces that would fit. You need to think on your feet when that happens!"
"We also needed to establish whether or not we would hear cricket and bird sounds, for example, in these futuristic, dystopian worlds," Lanza explained. "When the showrunners decided they had been killed off [by nuclear events, or natural catastrophes], we needed to remove them from the production tracks." According to Snodgrass, "Every episode created new worlds that might be set many years apart from one another. For each episode we needed to establish with sound effects what was unique about that particular world, using tonal differences. Because we realized that Amazon Prime viewers could be binge-watching these episodes, I created libraries of dedicated sounds for each episode and time period, making sure these sounds did not get used in any other episode."
"With everything being released at one time [on Amazon Prime; some episodes of Electric Dreams aired in the UK last year] we made each episode sound as good as we could, with a seamless sound design," Lanza confirmed. "It was very hard to go back to a regular series after working on this show."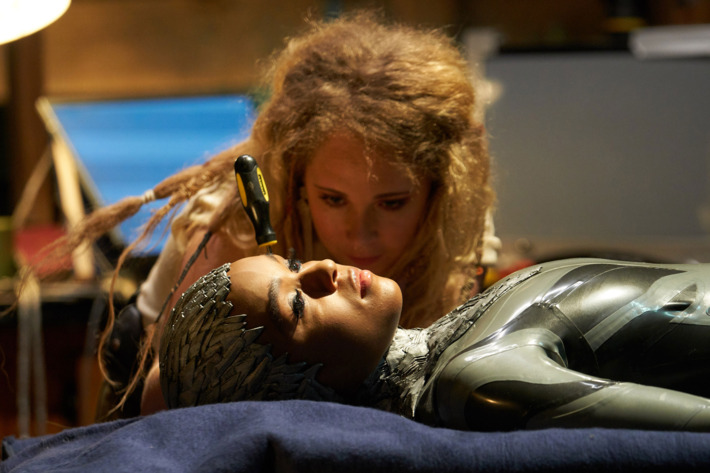 Regarding dialogue editorial, Gierke, who edited all 10 episodes of the current series, said, "With so many changing environments, and both quiet and noisy locations, we tried to maintain a consistency across each episode to make sure that the production dialogue worked for our mixers. There was no ADR on "Autofac" other than some off-screen dialogue that we added for our female robot." The dialogue editor used a number of plug-ins, including iZotope RX-6, to remove bird noise and other artifacts from production tracks. "I had a number of different tracks to work with, and different camera angles, so I would look for solutions to hide bird and cricket sounds," he confirmed.
"We focused on key sounds for the human robot, with component leg and arm elements," explained Lanza. "I then had the re-recording mixers focus on the robot's eyes to emphasize that these robots are not one of us! And since there were so many cast members for all these different episodes, ADR was a challenge with cast members scattering after the shoot. I recall that we had a remote ADR session scheduled in Tasmania, which was then delayed [because of technical problems]. So we had to go back onto the stage into an otherwise finished mix and add those lines."
"I began by cutting backgrounds for the episode to set an overall tone," Snodgrass related. "We had several rooms within "Autofac" — 10 to 20, or so — all of which needed to sound different from one another, with different tones and different weights. I then started cutting the hard effects, beginning with the robot servos. We had a number of different-sized drones that required different sound signatures; there was a lot to do!" Organization was the key to success, according to the sound effects editor. "I color-coded each group of like elements [in the Avid Pro Tools session], and created 10 additional tracks for the servo sounds, to make life a little easier for the mixers," he said.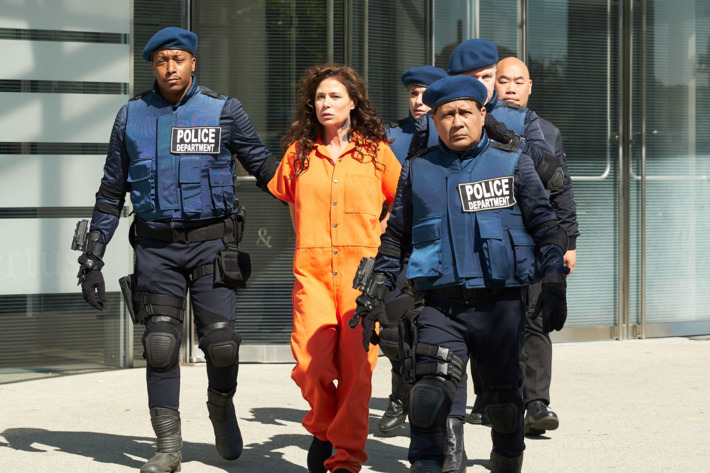 For Episode Nine, "Safe and Sound," directed by Alan Taylor, all sound effects were made musical, with the sound of the drone matching the key of each cue, according to Lanza. "That was my favorite episode," confessed. "I developed a range of real sounds for the futuristic car-bys, drones, traffic and freeway backgrounds." The episode is set in a future dystopia in which the US is divided between high-tech, hysterically paranoid "safe" cities and "bubble" communities where invasive technologies are rejected.
"I developed a musical layer using the original sounds and newly created elements, determined the key of each music cue, and then made the targeted effect follow its musical changes," offered Snodgrass. "I provided both musical sound-effects elements and unprocessed, non-musical elements, which could have been used together or individually, thus providing numerous options on the dub stage. Sometimes, to generate a dissonant effect that added tension to the moment, I created elements that were not a perfect match to the musical key."
During a subsequent Q&A session overseen by meeting co-producers Richard Wollrich and Linda Rosner, the panel revealed that sound effects editorial initially lasted six days per episode, which eventually was extended to nine days. "Sometimes we begged for a few more days," Lanza comnceded, "particularly if new visuals arrived late and we needed to deliver revised sound effects to the stage."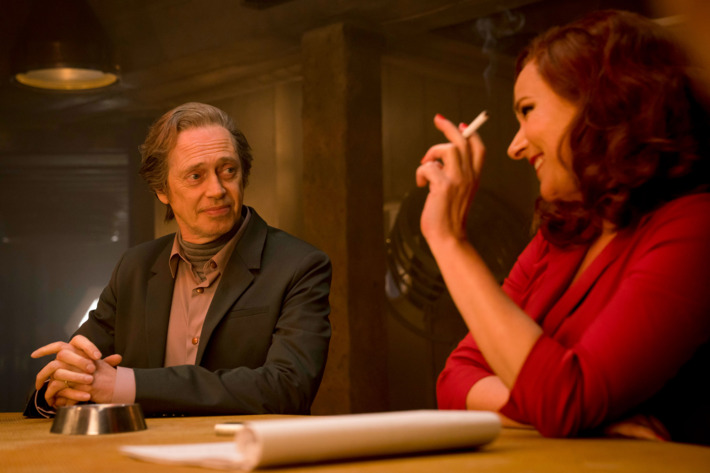 An audience member asked about the choice of music for the Marc Munden-directed Episode Four, "Crazy Diamond," for which the song "Octopus," written by Pink Floyd founding member Syd Barrett, served as a constant refrain. "We wanted to use Pink Floyd music, revealed Dinner, as the show title is derived from the song "Shine on You Crazy Diamond" from the band's 1975 post-Barrett Wish You Were Here album, a tribute to Barrett. "But it proved too expensive."
I did search through old BBC sound effects libraries to find sheep sounds like the ones used on the band's Animals album," Snodgrass recalled, "And I used those to underscore the musical connection." Lanza added, "We also paid homage in that and other episodes to Blade Runner," director Ridley Scott's 1982 film based on the Dick's novel Do Androids Dream of Electric Sheep.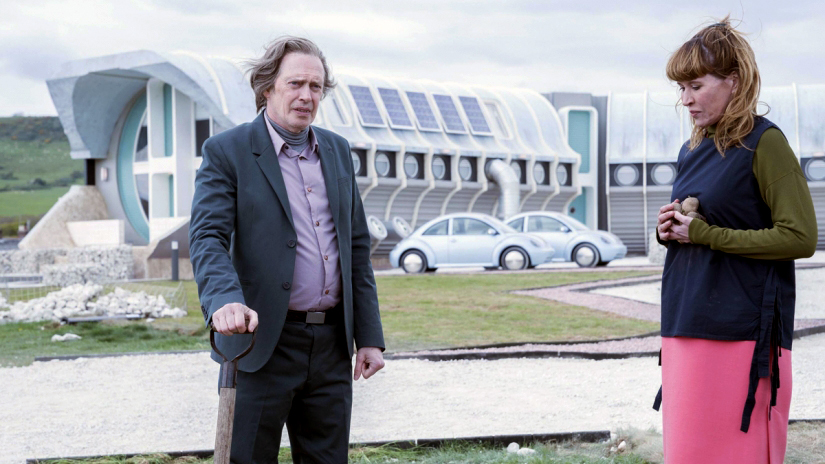 Concerning plans for an as-yet unconfirmed Season 2 for Electric Dreams — the producers have already started to work awaiting a pick-up — Dinner revealed that there are some 14 scripts currently in development, with half from US- and half from UK-based writers. If the season is picked up, "We will then select 10 episodes to shoot," the executive producer said. "There is a wealth of Philip K. Dick short stories, which we are using as full narratives or just for ideas. We may also re-adapt stories from the first series," he said.