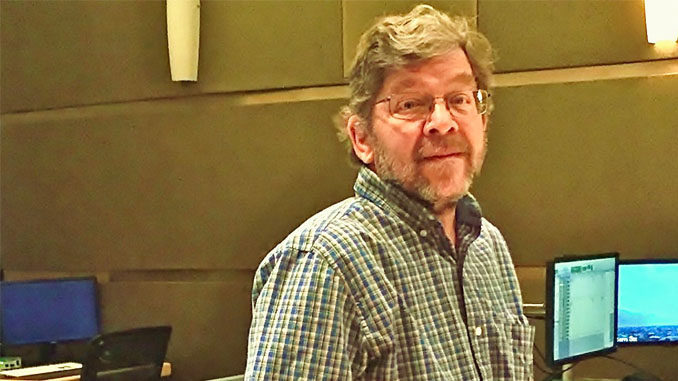 Where are you currently employed?
I am freelance, but work primarily at Soundtrack Studios, in New York City.
Current Project? 
I just finished Private Life, directed by Tamara Jenkins, and soon I will be starting The Mayo Clinic, a Ken Burns film.
Describe Your Job.
I am a re-recording mixer. I combine, balance and record the final soundtrack in its many formats for films, TV, and documentaries.
How did you first become interested in this line of work?
In high school, for senior year projects, we made Super-8 films. This gave me the film bug, so I majored in film production in college, and the rest is history.
Who gave you your first break?
DA Pennebaker was one of my instructors in college, and we really hit it off. He was my first "mentor" and he also hooked me up for my first real job.
What was your first union job?
My first union job was as a transfer engineer, later re-recording engineer, at DuArt Film Labs in NYC.
Which of your credits or projects have made you the most proud and why?
I guess it would be my long and productive collaboration with Ken Burns. I was with Ken from the beginning, doing temp mixes on Brooklyn Bridge and Statue of Liberty, and working my way up to the final mixing of Baseball and following. We have worked together for the past 30 years or so, and hopefully for the next bunch of years.
What was your biggest challenge in your job (or on a particular project) and how did you overcome/solve it?
It wasn't a technical challenge but, in 2012, Sound One, the studio I was working at, abruptly closed (with one week's notice!) and I had about four or five months of solid work lined up ready to start in three weeks or so. So I had to find a good studio to book for a five-month unbroken stretch with just a couple of weeks' notice. I visited every studio in New York City and managed to get Soundtrack Studios to jump through hoops for me to get my projects completed. There was a lot of juggling about of time, space and personnel, but we got everything on track and, after a couple of weeks, you'd think we were set up there for years.
What was the most fun you've had at work?
Just about every mix with Jim Jarmusch was the most fun. It was often at odd hours (he liked to work at night a lot). We would bring in home-cooked dinner and treats for everyone. I remember one night that we spent telling "a guy goes into a bar" jokes at every break. We would work intensely and collaboratively, but it was always enjoyable and extremely rewarding.
Jobwise, what do you hope to be doing five years from now?
I'm getting close to hanging it up, so in five years, I'll likely be retired.
What are your outside activities, hobbies, passions?
I love watching films, cooking, political activities, dinner parties…and doing nothing.
Favorite movie(s)? Why?
There are too many to name. I tend to love smaller, more personal films, as opposed to big budget stuff.
Favorite TV program(s)?  Why?
I like docs, I don't like most series, and I have an unexplained fondness for Top Chef, because it seems very real. I know, I know…
Do you have an industry mentor?
At this point, I am more of the mentor than the mentee, but certainly re-recording mixer Lee Dichter has been most instructive and influential for me.
What advice would you offer to someone interested in pursuing your line of work?
First, learn as much as possible about the work you are interested in. You don't have to know everything, but you do have to know how to find out what you need to know. Keep in touch with as many of your working compatriots as possible. Be strong and positive in how you present yourself. Don't pretend or lie, but do not sell yourself short. Be prepared to present yourself in an intelligently aggressive manner. Don't push, but do not be shy, and do not give up. It might take a while to find any kind of steady work, but stick with it.
Was there ever a circumstance when you had to rely on the Guild for help or assistance?
I've been fortunate in that I've always had good relations with all of my studios, so I've rarely had any issues.
Is there anything you'd like to say to your fellow Guild members, some words of encouragement?
Always do the most and best that you can, always try to grow. I've been doing this for 42 years, and I'm still learning every day.
Compiled by Edward Landler 
Editor's Note: To recommend a member (including yourself) to be featured on the home page of the Editors Guild website contact edlandler@roadrunner.com.