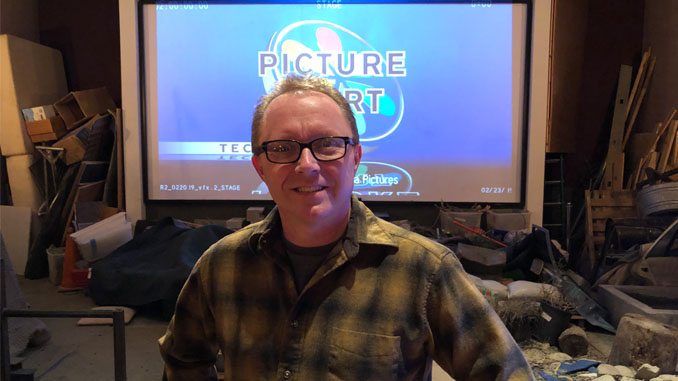 Where are you currently employed?
I'm pretty much a freelance Foley artist. I do work with Sony Pictures, been seen around Warner Bros., and spent time with a crew at Universal and on a few smaller independent stages. Currently, I work with mixer Darrin Mann at IMN Creative, a boutique post house. It's a great group with some exciting projects on the horizon.
Current Project?
At IMN, I've been working on Deadly Class airing on SyFy Network. It's a very cool project and really requires a lot of creative and detailed Foley. Darrin and I have completed seven episodes so far. After Deadly Class, I go back to Sony for the feature Spider-Man: Far From Home.
Describe Your Job.
As a Foley artist creating sound effects on a sound stage, I am responsible for bringing a natural human element to a sound track by re-creating the movements of characters as seen on screen: footsteps, clothes, props, etc. I used to jokingly say I was emotionally attached to the characters I was walking, but the reality is that emotions can be translated through Foley. As a sound effects artist, I also provide details in a car crash, a fist fight, a person escaping the rubble from a blown-out building, Spider-man's webs and so on. Some years ago, John Roesch told me that anything could be Foley, and I believe that to be true.
How did you first become interested in this line of work?
My first job involving Foley was at a small, independent sound house in the early '90s. Our crew of three would do a complete post sound package in five or six weeks — one week of simultaneous dialogue and sound effects editing, about a week to record and cut ADR, a week or less to shoot Foley, and a week or more of final dub. I gravitated toward Foley. I really enjoyed the physical part of the job and the creativity and performance it demanded.
Who gave you your first break? 
My dad, Larry Owens, who was a recording engineer in the '70s and '80s, learned dialogue editing and post sound from sound editor Norval Crutcher in the late '80s. As a kid, I was my dad's assistant at the recording studios where he worked. This background has been super helpful in my Foley career because I learned about the other side of the glass technically. I like to say dad gave me my first job, but since then I got them all on my own.
What was your first union job?
My first union job was at Warner's new Underground Foley Stage in 2009. My partner then was Monette Holderer, along with mixer Trevor Sperry. We were a tight-knit crew and developed our own workflow of categorizing Foley. We would record props in certain passes — a hands pass, an office pass (papers, books, writing, etc.), a food and drink pass, a chair pass, body falls, and then lump all the cool creative stuff into its own pass. Sadly, Mo passed away a few years ago.
Which of your credits or projects have made you the most proud and why?
They say you're only as good as your last project and the work we are doing on Deadly Class is fantastic. In many Foley moments, I put a lot of sparkle and detail on what could be construed as a simple sound. My first really big film credit was the WWII film Fury. We created all the interior movements of a Sherman Tank: loading the guns, adjusting the sights, creating creaks and squeaks and even simple sounds of the seats in the tank. The supervisor was intent on creating a period-accurate film, and Foley helped achieve that objective.
What was your biggest challenge in your job (or on a particular project) and how did you overcome/solve it?
The 2016 fantasy adventure Warcraft. When we began the project, much of it was still motion-capture guys in little gray jumpsuits. We went beyond that to create an environment of characters that would match what would ultimately be the sound of giant Orcs and their movements.
What was the most fun you've had at work?
I have fun most days except when the pressure is on to finish too much work in too short of time. Even then, it's still fun. How many people get to do what we do? Some of the fun moments are getting to create an effect and using multiple layers. We'll spend time to get it just right, usually with a low-end bass channel and build up sonically from there. Perhaps the most fun I have is during playback when we review our work for the day. Playback almost always brings a smile to my face — the fruits of the labor type of thing.
Jobwise, what do you hope to be doing five years from now?
My five-year goal would be to continue working with like-minded professionals and remain steady at it. Though doing the big features is obviously a thrill, staying consistent is important.
What are your outside activities, hobbies, passions?
I've been married for 10 years and it is an amazing experience watching and helping my eight-year-old daughter grow up. She is much smarter than I. I'm also kind of a gear head. I have a beautiful 1963 Ford Falcon that has been heavily modified.
Favorite movie(s)? Why?
One of my favorite movies is Forrest Gump. I always relate to the comings and goings of certain characters in the movie. The most touching moment is when Lieutenant Dan comes back and is sitting on the dock…and later when Dan makes peace with his creator. Another favorite is Saving Private Ryan. D-Day is still one of the most realistic pieces of filmmaking in history. Everything about that scene seems perfect to me.
Favorite TV program(s)?  Why?
I tend to watch non-scripted TV. I like shows about cooking and building cars. I've worked on so much scripted TV, it's nice to get lost in something without so much of a story.
Do you have an industry mentor?
My first Foley mentor was Paul Holzborn, a great Foley artist. I did my first major movie with him, John Carpenter's Vampires in 1998. Years later, the one and only Gary Hecker, one of the best Foley artists in the business, invited me to work with him and he blew open the world of Foley for me. I learned that just about anything could be created on a Foley stage. We did Deepwater Horizon in 2016. We had the opportunity to create the most massive and complex sounds for the Deepwater Oil rig both before and after its catastrophic explosion.
What advice would you offer to someone interested in pursuing your line of work?
Listen to a lot of movies and TV shows. Listen to how they sound, what creative choices are made for the mix, where Foley is featured and where music and effects are featured. Learn about sound. I've met younger Foley artists who just want to do Foley and get paid, but don't really understand a lot about film or TV sound and where Foley fits in. Find somebody willing to train you; those people are out there. But for me, there was a certain amount of humility to ask for guidance from someone more experienced.
Is there anything you'd like to say to your fellow Guild members, some words of encouragement?
Get involved and have your voice heard. If a certain situation or working condition doesn't seem right, reach out and help be part of the change.
Compiled by Edward Landler 
Editor's Note: To recommend a member (including yourself) to be featured on CineMontage.org, and the home page of the Editors Guild website, please contact edlandler@roadrunner.com.