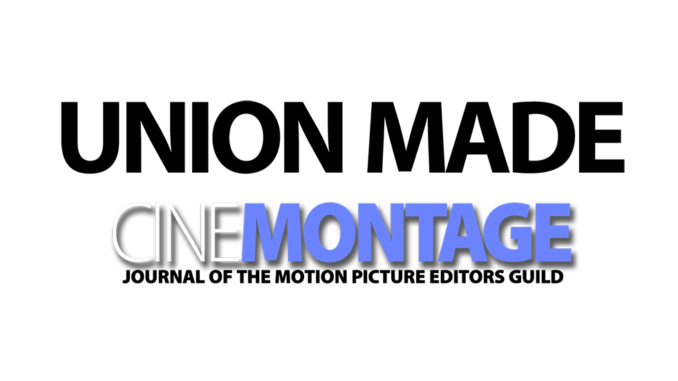 by Thomas J. Huth, CAS
I lived my formative young years of life in Seattle, Washington. By the early 1950s, all kinds of entertainment began to emerge with the new technology. I grew up listening to phonograph records, radio and television.
Listening to music became a big part of my life because of my dad's singing on the radio and in church. He often played his record albums of musicals like South Pacific and Oklahoma. Besides listening to music, radio gave me exposure to comedy and drama programs like The Jack Benny Show and Gunsmoke.
In 1955, my folks purchased a General Electric 14-inch television. I loved rock 'n' roll music and danced my way to Seattle's local bandstand show on KING-TV; my first time in a television studio.
High school graduation was rapidly approaching and the pressure was on to make a decision for life's next step. At that time, colleges and universities didn't offer communication departments, so I decided not to pursue college. I needed more time to make career choices, so I enlisted in the US Coast Guard, became an electronics technician and serviced communication and navigation systems.
After completing four years with the Coast Guard, I was honorably discharged in California and found a job with Honeywell Photo Products. With my previous love for the entertainment arts, I decided to attend evening classes in television and radio, which were then being offered in the local trade schools.
With an electronics background in the Guard, I acquired a 1st Class FCC license in the hope that it might open a door to the industry––and it did! My first break for a job in television came from taking Hank Legler's television camera class at Columbia College.
To get a job on the crew at Hank's television station, his chief engineer required new hires to have this license. With Hank's help and a license in hand, I started working weekends at the audio console, controlling audio mix levels and sources for "On Air" operations for KCOP-TV in Los Angeles. After seven weekends, I was hired full time and spent six years with jobs as an audio mixer, cameraman and maintenance technician.
In those early days of videotape sound mixing, I started as a solo mixer––a one-man band. As the projects got bigger, two- and three-man mixes were required to handle the complex sound build.
In Los Angeles during the mid-'70s, advanced electronic technology produced growing companies doing television post-production with an IA videotape contract. A former KCOP technician became the chief engineer at Trans-America Video, and the post-production door opened with a sound mixing position. After 90 days of apprentice training and work evaluation, I had my first IA union job!
What followed was a sound-mixing career filled with musical variety shows, comedies, dramas, network promos and sports programming at several sound facilities. At Sunwest Studios, musical variety series like Donny and Marie and The Captain and Tennille were popular, along with music and comedy specials from Bette Midler, Cher, Johnny Cash, Dolly Parton and Bob Hope.
Working with Hope was the thrill of a lifetime. For 15 years, he'd come into the studio with his Bob Hope Specials. We would add some announcer voiceovers and audience enhancement, and "sweeten" (smooth and polish out audio levels) the specials for airing on NBC. I told Bob that he had personally escorted my dad, my grandmother and my aunt from Vine Street into their seats at the NBC Hollywood Radio Studios in the 1930s. Bob said he was quite the "street hustler," bringing in people to fill up the radio studio for his live radio show audience.
Later, at Glen Glenn Sound and Larson Studios I mixed several television comedies: WKRP in Cincinnati, The Bob Newhart Show, Cheers, Wings, Becker and Frasier. Drama sound mixing brought me series like Matlock, Tour of Duty and thirtysomething, along with miniseries and movies, including six presentations for Hallmark Hall of Fame.
In those early days of videotape sound mixing, I started as a solo mixer––a one-man band. As the projects got bigger, two- and three-man mixes were required to handle the complex sound build. This led me to becoming a lead mixer, or gaffing mixer. Along with my mixing team, I had to produce the best possible sound mix––on time and on budget––while coordinating the needs and requests from a backfield of directors, actors, producers, editors and music editors. The bottom line was to achieve a great sound mix for a happy client.
My dad once said, "Find something that's fun to do for a living." That good advice became a goal in my life. My early love of listening to a variety of entertainment closely aligns itself with my sound mixing career and the different kinds of shows I mixed. And over the years, with all the changes in sound studios, television shows, client associations, bosses, co-workers and technology, my association with the union still continues in my retirement.
A sound decision made for a lifetime career!