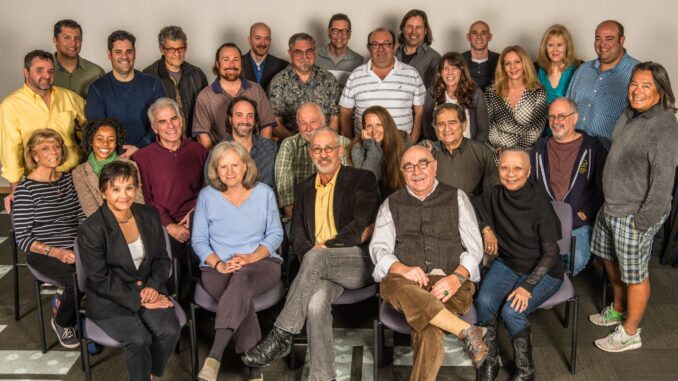 by Stephanie Brown and John Vitale
Membership Outreach Committee Co-Chairs
Perhaps you have heard a colleague say — or even said yourself — "I pay my dues each quarter, but the union has never done anything for me."
There is some truth to such an assertion; the union doesn't, in fact, do anything for you. The union isn't an outside third party, some vendor providing you with services in exchange for a fee. Our union is what we do when we stand together to accomplish things. We are the union, and, as a union, we do a lot.
The Guild is a democratic organization. Members need to vote, participate in online and in-person discussions about matters of importance and play a role in steering the union.
Take some time to learn about what our union does, to make sure you're fully taking advantage of all the opportunities we make for ourselves, and also to discover how you can fully participate in the work of our union. Together, we can help make our union stronger, so that we can do more for ourselves, and do it better.
REPRESENTATION IN THE WORKPLACE
Our union's chief mission is of course to represent and protect members in our various workplaces. This is based upon the core principle of collective bargaining — the idea that we have more clout in our relationships to our employers when we deal with management as a united group, rather than as isolated individuals. Union jobs are, in general, better jobs than comparable non-union positions.
The Editors Guild staff in Los Angeles and New York work full time to negotiate and enforce agreements with a wide range of signatory employers. Although the staff is made up of talented individuals with experience and expertise in dealing with employers, its effectiveness comes chiefly when the membership stands united.
Guild field representatives have a lot of successful experience addressing issues that individual members might have with their employers in regards to pay, working conditions or any other contractual terms of employment. They visit workplaces in the field to connect with as many members as possible. If you have any questions about terms of employment at a signatory employer, you should reach out to a field rep.
Our organizers assist post-production employees at non-union workplaces to win union contracts.
We are in a stronger position to uphold standards of employment when more of the work in the industry is done union. So, whenever you are employed on a non-union job, you should have a quiet conversation with one of our organizers to explore the possibility of making it a union workplace.
Following are other services our Guild provides.
TRAINING
The Guild offers various avenues of training for members. First, there is the training series that our Training Committee coordinates. These classes cover various topics relating to post-production work flow and are taught by current members proficient in their field; members training members. The series is a combination of seminars and full-day hands-on training. If you're interested, be sure to check e-mails from the Guild announcing training events as well
as the Guild's website. If you have a topic you'd like presented or would like to conduct a seminar yourself, contact nationaltraining@editorsguild.com.
Second, do you need more one-on-one assistance? The Los Angeles Editors Guild Training Suites have individual stations — available to members by signing up via the website — to practice on various industry software. Dieter Rozek, our Training Coordinator, is dedicated to assisting members in this environment. Visit www.editorsguild.com/training.cfm for more information.
Third, you can train from home on www.lynda.com. E-mail Serena Kung, our Director of Membership Services, at skung@editorsguild.com to request access to
the online training library through the Guild account.
And nally, CSATF — Contract Services — provides
active, rostered members a subsidy of two-thirds of
the cost for specifc pre-approved training classes.
The application and a list of the classes can be found
at http://csatf.org/pdf/700vendorprovided.pdf. For
more information on all training bene ts, visit www. editorsguild.com/trainingeducationseminars.cfm.
SCREENINGS AND SOCIAL EVENTS
Free movie screenings are one of the more popular perks of being a Guild member. You and a guest can enjoy a screening in state-of-the-art facilities and take advantage of interacting with other members before and after the shows. Look for special e-mails from events@editorsguild.com promoting these various screenings.
Networking mixers are held on both coasts in trendy bars and restaurants, encouraging members to get to know one another, and the Guild staff, outside the working environment. In January, at our "Post" Holiday Mixer, members can win raffle prizes and gifts. In April, LA members can attend our Bowling Mixer, and in September, both coasts host events: In New York, Guild members join other IATSE and industry members in a Labor Day Parade, followed by libations and food, while Los Angeles has a "Post" Labor Day Picnic, usually at the LA Equestrian Center in Burbank — a great event for the members and their families. Check the events calendar at www.editorsguild.com/events.cfm or watch for e-mails.
RESOURCES FOR JOB SEEKERS
Unlike some unions that operate as hiring halls, our Guild does not nd work for its members. In a job market that can be competitive, with quali cations highly subjective, the union doesn't decide who gets hired. However,thereareplentyoftoolsavailablefor members looking for work.
First and foremost is the Guild's Availability List, which you are highly encouraged to join if you are out of work. The Availability List is exactly that: a list of members who are available for work, in various classifications, that signatory employers can access should they need to fill job openings. Members in a position to recommend another member for a job can now access the list as well.
The Guild recognizes the benefits of members helping fellow members find work. Keeping your online resume up-to-date is important because it can be accessed 24/7, and the Guild's website allows members to create resumes online and download them as PDF files or e-mail them with cover sheets in a moment's notice.
The Post-Production Contact list offers direct access to contacts at studios and union facilities that are in key positions to hire us. And if you feel an agent would be helpful, access a list of all agents representing post-production professionals.
All of this information is available in the Members Only section of the Guild website.
ADDITIONAL BENEFITS AND SERVICES
Besides the Motion Picture Industry Plans (MPIPHP) and the National Benefit Funds benefits, members also have access to programs provided by other organizations such as the Motion Picture & Television Fund (MPTF) and the Actors' Fund of America. Many of the various services can be found at www.editorsguild.com/emergencyresources.cfm.
The MPTF provides temporary nancial assistance, basic medical care for those who are
not covered under MPIPHP, assistance with aging concerns and discounted gym memberships. For more information, visit www.mptf.com.
The Actors' Fund of America also provides nancial assistance and social services, as well as a variety of workshops and seminars that cover topics such as job search strategies, resume writing and career assessment. Visit www.actorsfund.org/services-and- programs/social-services-and- nancial-assistance.
Members also have access to all discounts provided through Union Plus, which can be found at www.unionplus.org and vary from insurance to travel to educational scholarships for members and their children.
WHAT CAN YOU DO?
The Guild is a democratic organization. Members need to vote, participate in online and in-person discussions about matters of importance and play a role in steering the union. Get to know your field reps and develop a relationship with them; it will then be easier to reach out when there is an issue. Invite them to your cutting rooms and visit them during the "Coffee with the Reps" visits. They are here to help you and be your best ally.
Also, know the contract you are working under and honor its provisions. If you are asked to violate the contract or see contract violations occurring, contact your field reps — they will help you navigate those tricky situations.
In addition, get physically involved. The Board of Directors is comprised of elected volunteers from the membership to represent their respective classifications. Nominations are taken in October at the general membership meeting and elections are held in December. There are over a dozen committees on which members can participate, whether or not they are Board members: Technology, National Training, Website, Membership Outreach and more. Check the website for a complete list; perhaps there may be one that interests you. You can learn more about the Board at www.editorsguild.com/runningtheguild.cfm.
Supporting unionizing efforts is also important. When employees of a non-union shop decide to unionize, members close ranks behind them. Do you have contacts or information that might help build support for organizing at a non-union employer? Contact a Guild organizer. In the event of rallies or picket lines to show support for colleagues trying to win a contract, show up and demonstrate your solidarity. Stay abreast of organizing efforts at www.postproud.org.
And finally, get out of your editing rooms and mix stages; get to know other members and talk amongst yourselves about how things are going on other shows. Post-production keeps us in different locations and isolated in small groups from other members.
As you can see, there are a lot of benefits to being in the Guild, the most significant of which is the strength we derive from one another. Together, we can accomplish more than any of us can alone. But doing so requires both educating yourself about the available union opportunities and working with colleagues to make our union stronger still.
Visit the forthcoming I AM THE UNION Resource Guide for links to all of the above and more!