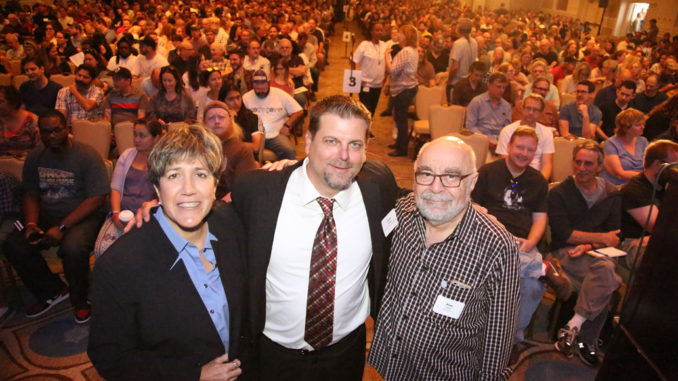 By Scott Collins
One of the Editors Guild's most important missions is holding producers to the terms of collective bargaining agreements. 
In fulfilling that role, the Guild last year saw a 58% increase in the damages it collected on behalf of members compared to 2018, according to an internal report prepared by staff in the West and East Coast offices of the Motion Picture Editors Guild. 
Staff collected $474,881.60 in unpaid wages during 2019, compared to $329,800 the previous year. 
Additionally, the Guild collected $49,670.60 in vacation pay and $38,032.30 in holiday pay, according to Scott George, MPEG's Western Executive Director. 
Paul Moore, the Eastern Executive Director, worked closely with George on the initiative, as did the Guild's team of Field Representatives and contract staff. 
The Guild also successfully collected 7,126 additional hours into the MPI pension & health plan, compared with 6,685 hours the previous year. 
"This work is essential in representing our membership," George and Moore said in a joint statement. 
"A majority of these issues have been resolved without filing a formal grievance against the companies," the pair added. "In many cases, a simple phone call was enough to obtain the money due under the contracts." 
But they said it remains vital for the more than 8,300 Guild members to continue reporting contract violations to the union's offices in Los Angeles and New York. This allows Guild staff on both coasts to pursue damages more effectively. 
"This will make our Guild a lot stronger," the pair said. 
Many of the contract violations in 2019 occurred in productions covered under the Low-Budget Agreement or Single-Production Videotape contract. 
Productions in the Western Region that followed the Videotape Supplemental Agreement were found to have 116 contract violations involving 60 members. Most of these violations involved holiday and vacation pay. 
Western Region productions using the Low-Budget Theatrical Agreement were found to have 43 contract violations, involving 35 members. Most of those violations involved the weekly guarantees not being fulfilled, or inadequate benefit contributions. 
Independent productions had 32 contract violations, while productions using a Majors agreement had 16. 
"With our members' help, Guild staff can continue vigorous enforcement of contracts that benefit our post-production workers and their families," George and Moore said.
Scott Collins is Communications Director of Motion Picture Editors Guild.