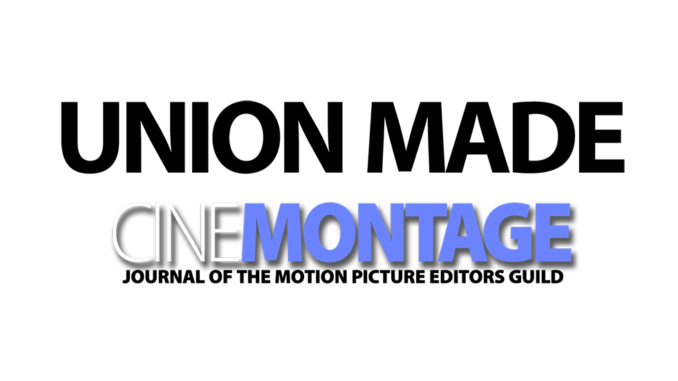 by Richard Marks, ACE
I was on the path of the confused college student in the early '60s — changing my major from mathematics to engineering to psychology to English Literature — looking primarily for an interesting career and secondarily for a way to earn a living. My two goals never seemed to want to co-exist.
I did graduate with a degree in English Literature, but no desire to teach and thereby make money. I left school with a love of escaping to the movies and a held a variety of incidental jobs that kept me afloat. I had postponed the dilemma but I still had no idea what I really wanted to do. Then a solution became clear.
During my senior year, I had taken a couple of film history and film survey classes to fill out my schedule and had found them fascinating. European cinema was in the height of a Post-War Renaissance, American cinema was bursting out of the confines of the 1950s, and I loved spending my free time watching films at the New York "art houses."
A friend suggested I try to get a job in the film business; but what job and how? My friend's older brother thought I should look into film editing because of my English Lit background. I had no idea why these disciplines connected, but at least it was a plan of sorts — the only alternative being going to grad school. Film editing seemed like an idea worth playing out.
My mother discovered that the son of her childhood friend worked in the advertising department of United Artists in New York. He agreed to send me around to some contacts he had in the film trailer editing houses in the city. I was finally offered a job for $60 a week for unlimited hours of running film cans around the city and a chance to learn about film editing. My luck was changing.
During my senior year, I had taken a couple of film history and film survey classes and found them fascinating.
And so with some desperation and a lot of hope, a long journey began. I became fascinated with film. I worked ungodly hours and I learned. One of the people with whom I first worked, who had a month or two of seniority over me, was Craig McKay, A.C.E. He knew a lot about film and I learned from him. The more I learned, the more I fell in love with editing. I had drifted into this new world for which, by some strange quirk of fate, I had both an affinity and some talent. I was lucky, very lucky.
I worked at the trailer company for almost three years and eventually was able to get into the New York Editors Guild, Local 771, which later merged into the current Motion Picture Editors Guild. I edited commercials and trailers and learned enough about editing to know that I wanted to get away from that part of the business and instead work on theatrical films. My next break was getting the opportunity to work as an assistant to a freelance film editor, Barry Malkin, A.C.E., who had been hired to edit some longer-form projects. He taught me a great deal and encouraged and helped me to leave the world of commercials.
At about this same time, I also met my future wife, Barbara, who was working as a film editor on trailers and documentaries. She too encouraged me to pursue theatrical films and it was her support — both moral and financial — which allowed me the freedom to take an even larger backwards career step and work as a sound apprentice on a Paul Newman-directed film, Rachel, Rachel (1968),edited by Dede Allen, A.C.E.
I was at the right place at the right time as has happened many times in my career. At the end of this film, Allen's assistant and apprentice parted ways with her, leaving a void that I was desperate to fill. I lobbied everyone I knew who knew her in order to get the job. She eventually hired me as her first assistant on her next film, Arthur Penn's Alice's Restaurant (1969). Allen was an extraordinary woman who became my teacher, my mentor and my friend. On our next film, Little Big Man (1970),she allowed me to start editing and promoted me to additional editor.
I've since had the good fortune to work with and learn from directors such as Sidney Lumet, Francis Coppola, Elia Kazan, James L. Brooks, Herbert Ross, Nora Ephron, Mike Nichols and Richard Donner. I will always be grateful for my good luck in finding a career that I love and for the generosity of so many people who have helped me on that path.
In an attempt to give something back to the business that has rewarded us so generously, my wife Barbara and I accepted an invitation from the UCLA School of Theatre, Film and Television to be visiting professors in Film Editing for just two semesters. We taught there as Adjunct Professors for 12 years.