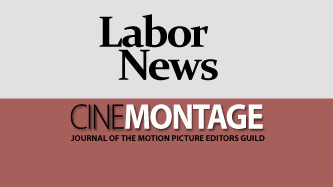 Reprinted from The Hollywood Reporter by Scott Roxborough on December 9, 2020.
Italian drama Hidden Away, German literary adaptation Berlin Alexanderplatz, and Spanish sci-fi horror The Platform are among the winners in the technical categories of this year's European Film Awards.
Hidden Away, Giorgio Diritti's portrait of self-taught Italian painter Antonio Ligabue, won European Film honors for best cinematography (for cameraman Matteo Cocco) and for Ursula Patzak for best costume design. Dascha Dauenhauer won best original score for her soundtrack to Burhan Qurbani's Berlin Alexanderplatz, a modern-day adaptation of Alfred Döblin's 1929 literary classic. The Platform, a dystopian drama, that Netflix picked up worldwide, won the European Film Prize for best visual effects for Inaki Madariaga.
Other winners included Cristina Casali, who took best production design for his work on Armando Iannucci's The Personal History of David Copperfield, best editor winner Maria Fantastica Valmori for Il Varco—Once More Unto The Breach, a war documentary from Italian directors Federico Ferrone, and Michele Manzolini, period drama The Endless Trench, about a man who hides from Spanish fascist authorities for 30 years, which won the best hair and makeup honor for Yolanda Pina, Felix Terrero, and Nacho Diaz, and Yolande Decarsin, who won best sound design for Sébastien Lifshitz's documentary Little Girl, a look an eight-year-old French child who questions their gender. …
Reprinted from The European Film Awards site.
This year's European Film Awards (EFAs) are presented for the first time as a series of virtual events. Tonight's "EFAs at Eight" were moderated by EFA President Wim Wenders and EFA Director Marion Döring and saw the announcement of the Excellence Awards winners 2020. A special eight-member jury had convened online and decided on the winners in the categories European Cinematography, Editing, Production Design, Costume Design, Make-up & Hair, Original Score, Sound, and Visual Effects. They based their decisions on the EFA Feature Film Selection 2020 and individual recommendations from the selection committee for the EFA Documentary Selection.
EUROPEAN EDITING 2020:
Maria Fantastica Valmori for ONCE MORE UNTO THE BREACH
This documentary is considerably indebted to the editing. It consists almost entirely of grainy black and white archive film and each shot has been chosen with great care. Maria Fantastica Valmori skilfully edits the images of a train travelling across Europe towards the frontline and pictures of comrades-in-arms with scenes of past happiness but also death and destruction in a war-torn Europe. The archive used, no doubt chosen from many hours of material both amateur and professional, is absolutely vital in telling the film's story. …
EUROPEAN SOUND 2020:
Yolande Decarsin for LITTLE GIRL
Yolande Decarsin's sound design in the documentary LITTLE GIRL achieves something that is almost impossible: Very gently and delicately, it takes you into the life of little Sasha and her family. You no longer feel as if you are watching something from the outside but as if you were there as the kids get ready for school, sitting with them in their garden, or joining them for lunch.