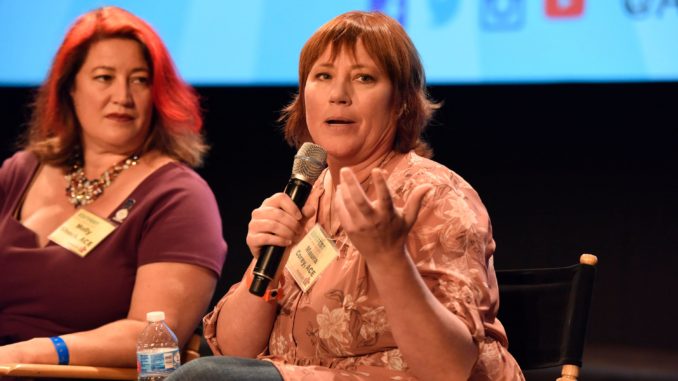 by Debra Kaufman
Are reality TV editors different than scripted ones?
Not to Maura Corey, ACE, who moved from unscripted shows such as "Beyond Scared Straight" to the scripted drama "Emergence." And yet, she and other editors complain of an industry bias against people who try to cross over.
"There's a misperception that if you cut scripted, you can't cut reality, and vice versa," Corey said at Saturday's EditFest 2019, sponsored by the Association of Cinema Editors, which drew nearly 400 post-production professionals to the Walt Disney lot in Burbank on Saturday. "All of us have worked in both worlds and we know it isn't true," she said. "What we learn in one genre helps us in the other genre."
The panel on "Reality vs. Scripted Editing" opened with two clips, from the unscripted series "Naked and Afraid" and the scripted space adventure "The Orville."
When the clips finished, the moderator Matt Feury asked, "What's the same or different between the clips?"
Numerous audience members took a stab at answering, until Tom Costantino, ACE, who cut "The Orville" clip, gave the answer. "From an editorial standpoint, the difference is nothing," he said.
Molly Shock, ACE, noted that the footage from a flood scene in the "Naked and Afraid" clip consisted of a GoPro, a little handheld camera and sound from the participants' necklaces.
"You've got to find the bits that tell the story," she said. "There's a misperception that all we do is take the bad parts out."
Jamie Nelsen, ACE, agreed. "My work on "Intervention" informed my editing in scripted comedy the most," she said. "It was all about psychology and following the emotions, motivations, and intentions of each character."
Sticking with one genre, said the editors, is a kind of "golden handcuffs" that can be driven by personal choice. But editors also know they will have to make sacrifices to jump from one genre to another.
"The first scripted job is easy," said Nelsen. "The second one is impossible."
A resume with one scripted show and a long list of unscripted ones still make producers hesitate to hire, several editors pointed out.
This year's highlight was a one-on-one conversation with award-winning editor Joe Walker, ACE, who spoke onstage with writer/film historian Bobbie O'Steen.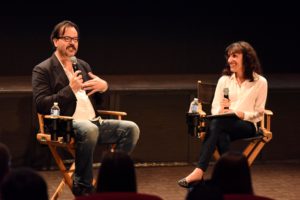 Walker, who is known for his work with director Steve McQueen ("Widows," "12 Years a Slave," "Shame," "Hunger") and Denis Villeneuve ("Blade Runner 2049," "Arrival," "Sicario"), described how his early training as a classical composer has stood him in good stead as an editor.
"I think in terms of tempo, pace," he said.
Very early in his career, his first mentor was an editor who let him try out sequences while he took a post-lunch nap behind the trim bin. Walker's first effort was to cut an argument between three old men in a pub – but all he had was one wide shot, one cutaway and singles.
"It was three brilliant actors and a great screenwriter," Walker recalled. "I worked tirelessly to make every line have a reaction. [My mentor] said, 'Not bad,' but then we looked at the wide shot and it had everything I'd tried way too hard to shoehorn in. He then told me, 'Just because they shoot it doesn't mean you have to use it.'"
For "12 Years a Slave," Walker said the book was a straight chronology, but he and McQueen realized they wanted a more immersive beginning.
"We saw an exhibition of John Cage [paraphernalia] and there were some scores that were cut up," he said. "And we thought, why don't we cut this one up?"
The producers wanted to know how the audience would tell time with a nonlinear telling of the story.
"We had to ask, 'What's the clock?,'" said Walker. The shot they chose was unscripted: a close-up of Solomon's face. "We'll see the damage that 12 years of hard manual work and injustice has done to his face," he said.
Similarly, with Villeneuve's films, Walker noted that much of the thinking was outside the box. "'Arrival' is showing an ankle," he said. "You see a puff of smoke, and bit by bit you discover more about these creatures. But you're constantly trying to work out where the audience is [with the story], and you better not disappoint them."
Walker, circling back to his first experience as an apprentice, observed what he has found to be true after decades as an editor. "Cutting sometimes relieves tension," he concluded. "The aim is tension, and if you hold onto something, it feels real."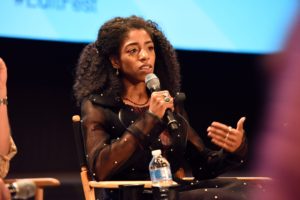 In another panel, "From the Cutting Room to the Red Carpet," moderated by Adobe senior manager Margot Nack, editors Heather Capps; Nena Erb, ACE; Robert Fisher, Jr., ACE; Eric Kissack; and Cindy Mollo, ACE described their ACE Award-nominated work.
Erb edits HBO's "Insecure," and showed a clip of the main character, Issa Rae, stalking a guy who dated and then ghosted her. "The entire episode is an internal dialogue," Erb said. "I hadn't used internal dialogue since the first episode and there's a mystery to [that choice]. The challenge is how to maintain the style of the show when the episode is an outlier."
EditFest also honored editor Norman Hollyn, ACE, who held the Michael Kahn Endowed Chair of Editing at USC's School of Cinematic Arts and was a beloved figure in the post-production community. He died unexpectedly on March 17.
Editors Guild president Alan Heim; Hollyn's teaching assistant for two years, now assistant editor Ashley Alizor; USC editing professor Reine-Claire Dousarkissian; USC editing professor/documentary editor Thomas G. Miller, ACE; and former advanced editing student Saira Haider shared their memories of Hollyn, known as a generous mentor to many.
"Norman always liked for us to teach some things that were theoretical and some things that were practical," Miller said. "Whatever got the best story and had the most emotion was what he wanted us to teach."