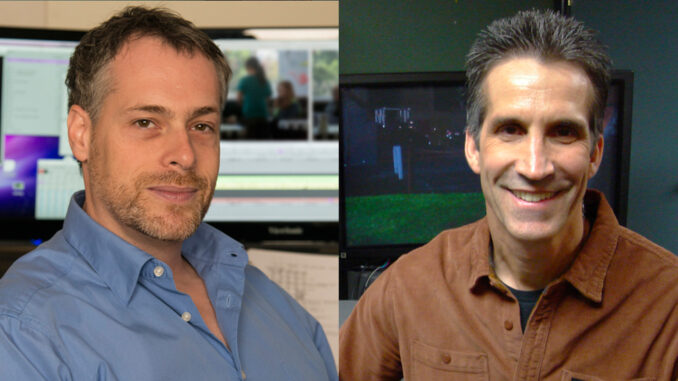 Cutting It in Hollywood: Top Film Editors Share Their Journeys
by Mitchell Danton, ACE
Introduction by Michael Kahn, ACE
Hollywood Adventures Publishing
Paperback, 377 pages, $49.95 color;
$29.95 black and white
ISBN # 978-0984030125
How to Avoid the Cutting Room Floor: An Editor's Advice for On-Camera Actors
by Jordan Goldman, ACE
EditorsAdviceForActors.com
Paperback, 133 Pages, $14.99
ISBN # 978-0692789162
by Betsy A. McLane
Contrary to the popular adage about achieving success in Hollywood, building a career as an editor definitely includes "what you know" as well as "who you know." Mitchell Danton, ACE, makes this very clear in Cutting It in Hollywood: Top Film Editors Share Their Journeys. Moreover, if some aspiring actors think they should rely on the "who you know" part of the saying, Jordan Goldman, ACE, can help set them straight with How to Avoid the Cutting Room Floor: An Editor's Advice for On-Camera Actors. These books offer practical advice, how-to examples, personal stories and inspiration from two Editors Guild members who made their own ways through the trenches to attain notable careers as picture editors.
A member of the Homeland editing team since the show's beginning in 2011, Goldman won an Emmy Award (with David Latham) for cutting the pilot. He is also known for his work on the miniseries 24: Live Another Day and has cut over 70 episodes of television during 20 years in the business.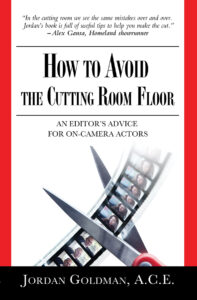 For Goldman, a key part of his job is helping actors create great characters — ones whose thoughts and emotions pull viewers into their stories. Speaking directly to his actors/readers in the book's introduction, he writes, "I don't want to cut you out. I want you to shine. I love actors and the amazing work that you do." The first-person style continues throughout, which makes reading the book feel like sitting down for a cup of coffee and some serious advice with a professional who truly cares about you.
Editors will themselves enjoy this quick read, recognizing (perhaps with a chuckle or a grimace) the situations Goldman explains. His caution to actors, "If your scene partner is late on their cue, don't break demeanor," is exemplified by an anecdote of a performer who begins making faces on camera when a stuntman is late on the cue to plow into him. The actor gets tackled anyway, but because he broke character before he was hit, the entire take is unusable. Experienced actors may know how to react in such situations, but anyone starting out in a screen-acting career should buy this volume and memorize its rules.
Goldman also creates a valuable tool to help actors avoid needless mistakes. Describing how he approaches editing, he states, "Throughout the process, I'll do whatever I can to bolster all of the actors' performances. My personal opinion is that performance is the most important thing in a scene, so I will always choose an average shot of a great performance over a beautiful shot of a bland performance. Sometimes, I will even use a take which has slight camera-focus problems if the performance is really incredible." This bold declaration may give actors too much to hope for when an executive producer or director dominates the editorial choices, but if performers — or anyone who appears in front of the camera — follow the very useful guidelines outlined in How to Avoid the Cutting Room Floor, they will be much more likely to wind up onscreen. For more information, see EditorsAdviceForActors.com.
Similarly, Danton's tome is a must-read for everyone who aspires to get into, or move up the ladder in, post-production. His book is a modern, personal story, also relayed in the first person. It is punctuated by many photographs, giving it the feel of a personal album. It may be a jolt for some to realize that his "Top Film Editors" are mostly people who entered the business after 1990, but the 25 years that have passed since then were ample time for them to hone their skills and win awards.
Danton himself won an ACE Eddie Award and a Primetime Emmy in 2007 for the ABC miniseries The Path to 9/11. For those who feel the need for a bit more eminence grise, the legendary Michael Kahn, ACE, offers a charming introduction with his own essay, "My Life as a Film Editor," in which he credits Steven Spielberg (with whom he edited 25 films) for "inviting me to share his magic carpet."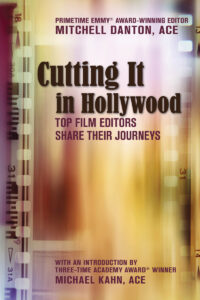 Danton, like Goldman, is primarily a television editor, and although each has also worked on features, the sensibilities, aesthetics and time demands of editing television dominate both of their books. In Cutting It in Hollywood, chapters are devoted to subjects such as Editing the Zip Code (Beverly Hills, 90210) and Surviving Survivor. Danton comes from a Hollywood family — father Ray Danton was a director and mother Julie Adams is an actress, best known for her starring role in Creature from the Black Lagoon — and he was able to soak up filmmaking from an early age.
Hanging out at NBC while his dad directed Quincy M.E., he soon was observing in the editing rooms and eventually found himself hanging trims for Geoffrey Rowland, ACE. A chance meeting with producer Barney Rosenzweig led to a post-production PA job on Cagney & Lacey, where he cleared the hurdles to become an apprentice and jumped at the chance to join the Guild in 1982.
Danton is proud of his family and his Guild membership, but never lets those privileges diminish his own personal drive to succeed. Leaving a good union job as assistant editor on Cagney & Lacey, he decided to enroll as an undergraduate at the University of Southern California, hoping eventually to be accepted into the School of Cinema Television. Even when offered a job as second assistant editor on the Eddie Murphy feature Raw, Danton chose to take a chance on USC, not even knowing if he would make it into the film school.
Fortunately, he was accepted on his second try, based in part on a documentary he made for an anthropology class. Danton's film school tales are among the most interesting of his reminiscences, partly because it was there where he met people who became lifetime friends and colleagues — and whose stories fill the last quarter of his book — but more importantly, because students then were among the first to shoot both film and video. Danton's and his contemporaries' careers span the shifts from film to video to digital, from the Moviola to KEM to Avid and beyond. For this historical record alone, the book deserves praise.
He also features younger editors on the rise, outlining the inspirational career paths of these newcomers, as well as established editors. Mark Jones, assistant editor on films like Rise of the Planet of the Apes, made his way from western Kentucky and, without knowing a soul in Hollywood, worked odd jobs, took Avid classes at night and was hired on The Path to 9/11 after meeting editor Rowland at the driving range where Jones worked. Editor Lise Johnson took the film school route at NYU, then made it into the ACE intern program, going on to great success with NCIS: Los Angeles. Danton also profiles editors who transitioned into directing, such as Norman Buckley, ACE, and Chris Peppe.
Each of the 20 or so career paths Danton outlines presented challenges and rewards. Every person offers his or her own insights into why and how they edit. Billy Fox, ACE, who rose from editing videotape news, promos and sports: "You don't edit with your eyes, you don't edit with your brain, you don't edit with your finger; you edit with your gut." John Axelrad, ACE: "Emotion and heart — that's what draws audiences into characters."
Danton sums up his own take on editing: "The journey to becoming a professional editor is not always an easy one, but for those who stay the course, the reward is a career that offers unlimited creative possibilities." Cutting It in Hollywood celebrates the hard work, perseverance, willingness to take risks, luck and the determination to edit whenever possible — all of which are necessary to fulfill those creative possibilities. For everyone who dreams of becoming an editor, it is an essential read. For more information, visit www.CuttingItInHollywood.com.