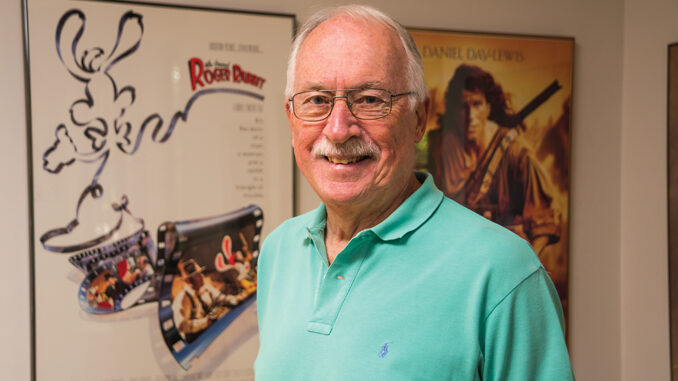 by Garrett Gilchrist • portraits by Wm. Stetz
From Back to the Future to Cast Away, Robert Zemeckis, and his longtime editor Arthur Schmidt, A.C.E., crafted some of the most iconic films of the 1980s, '90s and beyond. A two-time Oscar winner, as well as the recipient of numerous other industry awards and honors for his editing work, Schmidt — who retired in 2008 — is well loved and respected in the industry.
"Artie is the smartest editor I've ever worked with," says his Back to the Future co-editor Harry Keramidas, A.C.E. "And I've worked with a lot of people. He's even- tempered, well-read, hard-working and a consummate gentleman. He understands how to make a story work."
Editing is in his blood. His father, editor Arthur P. Schmidt, was Oscar- nominated twice (Sunset Boulevard, 1950; Sayonara, 1957), and well known for his work with Billy Wilder, among others. "I was in love with film from the very beginning," Schmidt tells CineMontage. "But my father said, 'Don't get into this business. It's too tough. Sell insurance, have some job security.' Although he was a well-respected editor and excellent at what he did, he was aware that he never knew when he'd be hired back."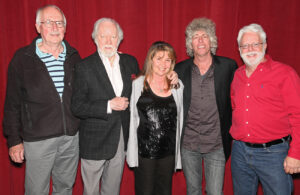 To Schmidt, the Paramount editing rooms in which his father worked felt like prison cells. "It wasn't a very inviting atmosphere, cutting nitrate film," he recalls. "It seemed very mechanical and unpleasant. I didn't think editing was for me. But I'd see the sets for movies he was working on — like the mansion in Sunset Boulevard; it was like magic. I was hooked, even though it took a long time to get there. I didn't get into the business until my father died in 1965."
Schmidt spent four years at Goldwyn Studios, going from one assistant job to another. "It was a good place to be. The studio system was largely broken down by then, unless you were cutting television. There were a lot of independent companies there and you met people." Like Dede Allen, A.C.E., who was editing Arthur Penn's Little Big Man (1970) in New York, then brought the film to Hollywood to find sound editors who had experience with large-scale Westerns. "She needed a standby editor back then, since there was the New York union and the LA union," Schmidt says. "I was hoping some of her magic would rub off. I was waiting for some words of wisdom, but they never came. But it was enough to watch her work."
After working on Mike Nichols' The Fortune (1975) as an assistant, Schmidt was asked by Allen to assist her on a sequel to Neil Simon's The Goodbye Girl. "She said, 'Artie, you're going to be cutting before long because Mike is shooting so much,'" he remembers. "But after two weeks, they shut down; Mike wasn't getting along with one of the leads." Schmidt was out of a dream job, and desperate for work.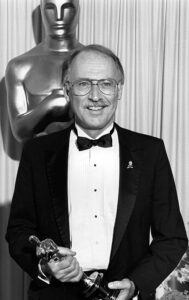 It turns out that English editor Jim Clark needed an American standby editor for Marathon Man (1976). "I'd been a big fan of Jim's editing for a long time," says Schmidt. "They'd already hired someone, a woman, but I think Jim's wife decided that wasn't a good idea because the last time Jim had a female standby editor he married her! I got the job by default."
There was a huge backlog of film on the production. "One day, Jim said, 'Why don't you take this and see if you can make it better?'" Schmidt laughs. "Making a Jim Clark sequence better? I very nervously showed it to him and he went on about what a nice job I'd done." Clark, who usually edited alone, started giving his standby more scenes to cut. "He became a great friend and mentor, and gave me a huge opportunity."
Soon, Schmidt was hired to edit running sequences for Michael Mann's TV movie The Jericho Mile (1979). "Michael came in with someone, telling me, 'He knows nothing about film editing, could you show him what you've got?'" the editor recalls. Schmidt only had 45 seconds of the opening edited, set to the Rolling Stones' "Sympathy for the Devil." "Mann said, 'Thank you very much,' and left."
The next day, Mann fired his other editor. "I had no idea they were having problems," Schmidt says. "Michael gave me complete freedom to do whatever I wanted. He has a reputation for being difficult, but he was wonderful to me. He had confidence in me — which gave me confidence in myself." Schmidt won an Emmy Award and the ACE Eddie Award for his work.
Clark had recommended Schmidt to Michael Apted for Coal Miner's Daughter (1980). "I'd worked on so many difficult films that I was used to editors fixing everyone's mistakes," he says. "But there was none of that here. The performances, the directing, the shooting were so wonderful. Somehow, I needed to be that good." Schmidt received an Oscar nomination for the editing. "You're lucky to get one film like that in a career. I was convinced I'd peaked, and it was downhill from there."
While editing Apted's Firstborn (1984), Schmidt first met director Zemeckis, who was looking to find the lead in Back to the Future (1985), Marty McFly. The director looked at the young actors in the edit on which Schmidt was working. "There was this long silence," Schmidt says. "Finally I said, 'Well, what do you think?' Bob said, 'Well, I don't think either of those guys is Marty — but I really like the way those scenes were cut!' I probably turned about six shades of red. It must have sounded like I was fishing for a compliment. I just wanted to break the silence." Zemeckis called Schmidt into Universal for an interview, and so began a long partnership.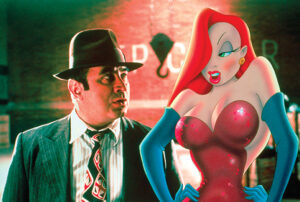 "We were very comfortable working together," Schmidt says of his first collaboration with Zemeckis. "It just seemed so natural and effortless. He's a brilliant writer, and always very involved in the scripts of his films. He's wonderful directing actors, and great in the editing room. We always seemed to be in sync."
But the schedule on Back to the Future was so tight that Schmidt couldn't do it alone. So he recommended his friend and fellow editor Keramidas, who was hired as co-editor — and worked with Schmidt on both of the film's sequels as well as Zemeckis' Contact (1997). "Artie and I were very compatible in style," says Keramidas. "If either of us were stuck, we could pass scenes back and forth. And Bob is a strong director, he knows what he wants, and he tells you. He'd give us all the changes backwards while the KEM rewound!"
The job was so punishing that afterwards, Schmidt took six months off — "Recuperating, and vowing never to do a schedule like that ever again. Of course, they're all like that now."
Schmidt was already signed to another film when Zemeckis offered him Who Framed Roger Rabbit (1988). "I liked the script but didn't have a clue how we were going to do it," he confesses. "But I was on board to work with Bob again, knowing he had the confidence in me. I think we both felt we'd be learning as we went along."
Schmidt edited the animated voices, watching an empty void in the shots. "For the first take, they'd have a rubber rabbit moved through the frame," he says. "I had burned that into my imagination." The rubber Roger Rabbit is still at London's Elstree Studios today.
"We came back to Universal to edit as quickly as we could, then fly to London and give those sequences to the animators," he continues. "Then we'd fly back to Amblin, edit some more, then get on a plane — four or five times." Meanwhile, the compositing was done by ILM in Marin County. "It was a logistical nightmare."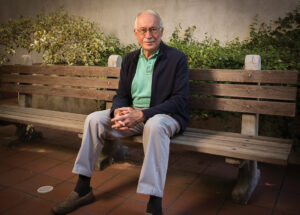 The animation was so expensive that Schmidt had to get the edit right the first time. "It was almost like cutting negative," he remembers. "I asked if I could have an extra eight frames on every shot, just in case. They said, 'Absolutely not!'" A total of 326 animators worked on the film, with over one million drawings produced, for 82,080 frames of animation. "We didn't have time to step back and question it. We just kept our fingers crossed that it was gonna work," he adds. "Bob had done a fantastic job directing it. And [Oscar- winning animator] Richard Williams' work was wonderful."
Schmidt says that he and Zemeckis were so close to the movie that they didn't always know what they had. "It was magical to see the animation gradually come to life," he says. "Before Back to the Future, I'd never done special effects. We had 30 effects shots then, and thought that was overwhelming. How are we ever going to do this? Roger Rabbit had over 1,000 effects shots! "We were cutting until 2:00 or 3:00 in the morning and sleeping on the dubbing stage."
Budgeted at $70 million, Roger Rabbit was the most expensive movie of the 1980s. The film won four Oscars out of seven nominations: Film Editing, Sound Effects Editing, Visual Effects and a Special Achievement Award for Williams. It was Disney's first real animated hit in decades.
After editing The Rocketeer (1991) for Joe Johnston and The Last of the Mohicans (1992) for Mann, Schmidt was again approached by Zemeckis to edit Death Becomes Her (1992). "I said yes, yes, yes. I'll be there whenever you start," the editor remembers responding.
Soon came Forrest Gump (1994). Zemeckis began by shooting with the child actor playing Forrest, so actor Tom Hanks could pick up the mannerisms and personality traits of this boy, who'd never acted before. Forrest, a mentally challenged man whose life story followed recent American history, was a difficult character to get right. "I tried hard not to overcut, or milk the material to evoke false emotion," Schmidt comments about his editing approach. "The editing had to be as simple, honest and as direct as Forrest's character. Forrest edited that film."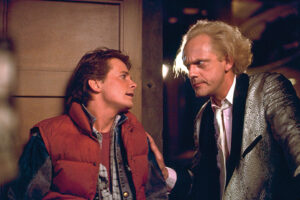 Paramount was nervous about the $55 million movie and Hanks' quirky character. "It was a big risk to make that film," the editor says. "We took it to San Jose to where we'd first previewed Back to the Future." It was the best preview Paramount had ever had. Forrest Gump would win six Academy Awards, including Best Picture and Best Film Editing (Schmidt's second).
Schmidt finally got a chance to edit for director Nichols on The Birdcage (1996). It was the first film he cut on the Avid. "Thankfully, I had great assistants to import and export the footage and guide me through the process," he says. "I do miss handling film. It gave me time to think about what the next cut was going to be. This was a big mental adjustment to make.
"Mike is such an easy, wonderful director and so terrific with the actors," he adds. "He let me cut the film as I saw it. Most of the time we were in sync and what changes were made were relatively minor."
When Schmidt received the script for Cast Away (2000) from Zemeckis, "I felt like I'd read a manual on desert island survival," he explains. "But Bob, being the terrific director that he is, made it interesting." When Chuck Noland, played by Hanks, suffers the "death" of Wilson, the imaginary friend that's kept him sane, the audience had to be made to care about a volleyball. "I was determined to make that as honest and direct as possible, and not be manipulative; an audience would sense that," Schmidt says. "They'd find it very phony. I had a great, very genuine performance from Tom — and from Wilson too! There was never an easy sequence, especially in the second half. It was always, 'How do I make this interesting?'"
Schmidt almost turned down Pirates of the Caribbean (2003). "I said, 'I don't want to edit a movie from some stupid ride at Disneyland!'" he reveals. "Stephen Rivkin and Craig Wood had already cut 85 percent of it and it was very good. I thought, 'Why am I here?' But they needed help those last three months. The schedule was impossibly tight."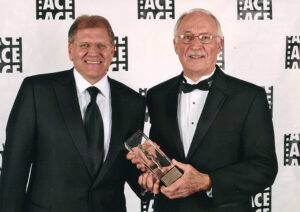 Director Gore Verbinski asked each editor to go through the entire movie and make any changes they wanted. They then voted on whose scene worked best. "It was a very interesting idea," Schmidt concedes. "Sometimes you had to swallow your ego. We were very tense going into it, but we relaxed and started laughing and it ended up being a lot of fun. Gore did a wonderful job directing, and getting the material to make the action sequences so exciting — and on a movie I originally didn't want to be involved in! Afterward, I felt like somebody was watching over me."
Zemeckis' next film would be CGI- animated. "Once Bob started making his motion capture movies, it was a great opportunity to move up my assistant, Jeremiah O'Driscoll. Bob didn't feel he needed me for Polar Express (2004), and I was happy not to have to spend two or three years on a project, starting out editing storyboards and pre-visualizations." Schmidt went into an early retirement. "I didn't know that's what was going to happen, but I was perfectly comfortable with that."
Following the animated films Beowulf (2007) and A Christmas Carol (2009), Flight (2012) was Zemeckis' first live-action film in 12 years. And he got in touch again with Schmidt. "I was relaxed in my retirement, but I couldn't say no to Bob," the editor recalls. "I worked as an additional editor for five weeks — eight- hour days, no weekends. I wasn't in charge, didn't have the responsibility. It was just fun to be back with Bob, Jeremiah and [additional editor] Evan Finn."
Looking back, Schmidt has very few regrets. "I was very lucky to have worked with great directors who gave me some amazing film to work with. But success didn't come quickly; I didn't edit my first feature, Marathon Man, until I was 38, as an additional editor to Jim Clark, 10 years after I started in the business. It took 14 years to get a solo editor credit on the TV movie The Jericho Mile, and 15 years to Coal Miner's Daughter, my first solo feature.
"Along the way, I turned down films, left films, and made choices that were very personal to me," Schmidt adds in conclusion. "People told me that was unprofessional, that word would get around and I'd never work in this town again. Sometimes I was out of work for three or four months, but then a film would come along that was so good it was worth
taking those chances."