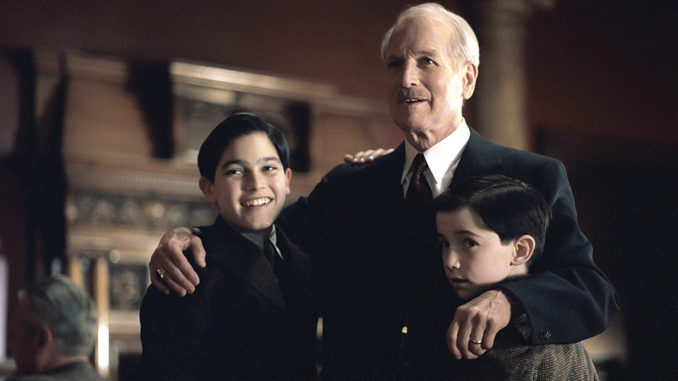 by Peter Tonguette
You might say that Tommy Vicari, CAS, is the beneficiary of good timing. A few years after director Sam Mendes and composer Thomas Newman were the toast of the film world for the Academy Award-winning American Beauty (1999), Vicari was asked to serve as scoring mixer on their follow-up film, Road to Perdition (2002).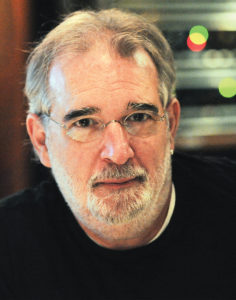 The crime drama, which unfolds in Illinois during the Great Depression, stars Tom Hanks as Michael Sullivan, a worker bee in the Mafia operation of John Rooney (Paul Newman). Adapted from a graphic novel by Max Allan Collins and Richard Piers Rayner, the storyline takes off when one of Sullivan's sons with wife Annie (Jennifer Jason Leigh), Michael, Jr. (Tyler Hoechlin), is an inadvertent observer to a Mafia hit. Having themselves become targets, father and son skip town in flight from the mob operation, including Rooney's son Connor (Daniel Craig) and menacing photographer/killer Maguire (Jude Law). With its potent blend of humanity and thrills, the DreamWorks Pictures release received admiring reviews and impressive box office receipts, grossing over $100 million during its summer release.
"Imagine this: Sam Mendes wins Best Picture for American Beauty, an incredible movie; and Tom Newman is nominated for Best Score," Vicari reflects. "This is their follow-up, and they've asked me to do this movie. This is my first major motion picture — the first time that I'm the engineer: 'This is my movie.'"
Although Road to Perdition was Vicari's most significant film to date, he had worked in the record business — and flirted with the film business — for decades. A native of Southern California, he grew up in a family of music-makers. "My mother was a singer in a big band; my uncles were musicians," he recounts. "I remember listening to Ray Charles when I was a child — and Sinatra, Jackie Wilson, Nat King Cole and Dean Martin. As a teenager, I loved the British invasion with the Beatles, and I loved the Phil Spector records."
Vicari parlayed his passion into a career in the early 1970s when he joined Capitol Records. His first jobs, however, were in the mailroom and then in the data-processing department — not exactly what he had in mind. "That was pretty much as far away from the record business as I could get," he recalls. "I got a job with an independent record producer who had worked at Capitol Records, and we had a little company for about a year, but I got a connection with the daughter of our secretary — who was the secretary of [A&M Records executive] Jerry Moss."
After completing a three-month engineering apprenticeship program at A&M, Vicari won employment at the legendary label, working first as an assistant engineer and then as a full-blown engineer. "A&M was the hub of the record business at that time," he remembers. "Every day when you went to work, it was Joni Mitchell, Burt Bacharach, Barbra Streisand, Joe Cocker, Billy Preston, Paul Williams, Gino Vannelli, Cat Stevens… It was just a plethora of amazing music — some of the era's most memorable artists."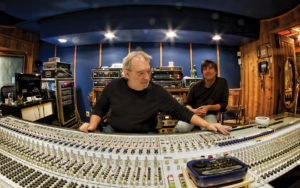 Four years later, he accepted a position as staff engineer at Sound Labs and eventually went independent. "I was the executive producer of Prince's first album for Warner Bros., when he was just 17," Vicari comments. "One day I introduced Prince to Sly Stone. I remember standing in the Record Plant, thinking to myself, 'This kid is going to kick your ass!'"
As he was making waves with music, however, Vicari was getting a taste for film. Early in his career, he received a sound credit on the Joe Cocker concert film Mad Dogs & Englishmen (1971), while his association with Williams led to his work as a scoring mixer on Brian De Palma's Phantom of the Paradise (1974), which featured Williams in a leading role. Other film assignments followed, including the Streisand-Kris Kristofferson A Star Is Born (1976) with music producer Phil Ramone. Yet the then-engineer always had a clear sense of his career priorities. "I was never in the film business," he offers. "I was in the record business."
In 1996, Quincy Jones, executive producer of that year's Academy Awards, invited Vicari to mix the music for the Oscars telecast, a gig that continues to this day. Feature film assignments quickly followed. Although his approach to mixing remained constant, he had to adjust to the different technology of film, as well as to the presence of dialogue and sound effects. "When I did Payback [1999] for Mel Gibson, they said, 'OK, let's hear the cue,'" Vicari recalls. "I played the cue, and I had pinned Mel up against the back wall because it was so loud. I was used to being a record mixer. I said, 'Oh, this dialogue is kind of important!'"
He first crossed paths with Thomas Newman when the composer needed a mixer for an ultimately unused track in Martin Brest's Meet Joe Black (1998). "It never made the movie, but I was incredibly honored," Vicari says. Subsequently, he mixed Newman's main theme to the HBO series Six Feet Under (2001-2005). Then came the offer to join Road to Perdition. "I was being inserted into a group of people who've been working together for a long period of time, and I didn't feel completely comfortable," he recalls. "But I felt completely honored to be in their presence, and I wanted to do the very best job I could."
The three-month scoring process on Road to Perdition began at Paramount Stage M, where pre-records were done with individual instrumentalists, including Jon Clarke, Eric Rigler, Steve Kujala, George Doering, Steve Tavaglione, Michael Fisher and Rick Cox, among others. "Tom usually comes in with a skeleton guide, which we then embellish," Vicari explains, adding, "Keep in mind, this is a totally analog movie. Every 10 passes, I have to make a slave and then bounce it all back to two multi-tracks. This was quite an involved situation, and I was helped by [guitarist] George Doering and [score recordist] Paul Wertheimer."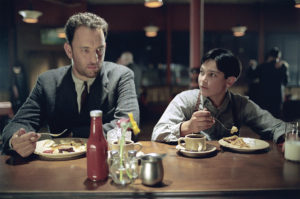 After the pre-records were completed, the team went to the Newman Scoring Stage (named for Thomas' father, the legendary composer/arranger/conductor Alfred Newman) at 20th Century Fox to add the orchestra with Armin Steiner. "Armin was one of the world's premier scoring mixers, and my mentor," he relates. "He scored the orchestra after I did all the pre-records." The crew then returned to Signet Sound, where Vicari merged the orchestra and pre-records into the final mix. With the help of mix assistant Tom Hardisty, the final stems were mixed to Pro Tools.
The final mix of music includes many original pre-records, such as the haunting scene in which Sullivan and his son drive to the warehouse where the murder that launches the plot takes place. "That whole piece of music is all pre-recorded, and then you have strings coming in at a certain point to add emotion," Vicari recounts. Other scenes, including the journey of Sullivan and son to Chicago, stand out for other orchestral appeal. "The 'Road to Chicago' is one of my favorite orchestral pieces," the scoring mixer offers. "The melody is really beautiful, and it kind of builds. When the kid sees Chicago, the camera pans around, and then the music really crescendos until he gets past all the people having dinner and then gets to an elevator."
As the scoring mixer describes it, the composition itself was completed during the mix. "There are a lot of elements that get put on tape, and then Tom sits with me in the mix and we audition it," Vicari explains. "I can pretty much tell whether it's going to make it or not, but we put it on, because you never know. It may be a good piece here, a piece there. It all added to the mosaic Tom created."
Newman, he added, was part of the process each step of the way. "He's involved in the direction that the musicians go all the way to the end of it," he reports. For his part, Mendes was impressed with the mix of music — and how prominent it was in the film's overall soundscape. "The way that the sound effects and the music co-exist in that movie is revolutionary," Vicari maintains.
For Vicari, the adventure of working on Road to Perdition went beyond working on a memorable score. Despite his past experience on other projects, the film served as his official introduction to the world of major feature films. "I was new to the film business," he says. "On one of the scoring dates, Sam Mendes came in with cinematographer Conrad Hall. Now I did not know who Conrad Hall was. I used to wait for the credits to roll, but I was usually looking for music. That movie is so beautifully shot. It was Conrad's last film."
It was just the beginning for Vicari, who went on to a multi-film collaboration with Newman. The two worked together on such films as Ron Howard's Cinderella Man (2005), Andrew Stanton's WALL-E (2008) and Steven Spielberg's Bridge of Spies (2015), as well as two more films for Mendes: Jarhead (2005) and Revolutionary Road (2008). "As far as growing up, all of this stuff with the record business was fun — and I was young," he reflects. "But these are great movies; Tom picks great movies."
Today, the scoring mixer is as active as ever, working with composer Nicholas Britell on Moonlight (2016) and last year's acclaimed If Beale Street Could Talk, but he remains partial to the unique power of Road to Perdition. "If Road to Perdition was the only movie I ever got to work on in my lifetime, that would be OK with me," he says. "It was one of the highlights."