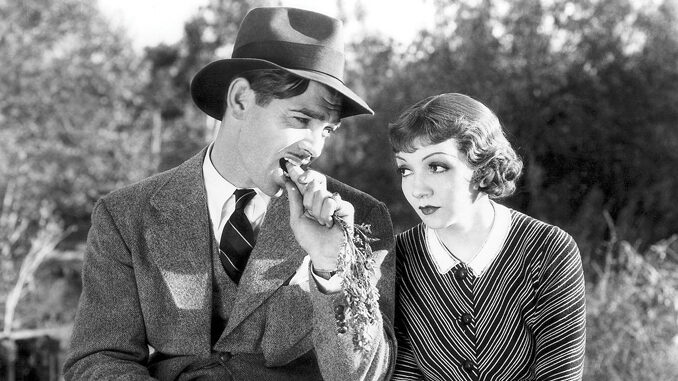 by Kevin Lewis
Claudette Colbert was an ironic choice as a speaker at the American Film Institute tribute to Frank Capra in 1982. She recalled the film that made both of them Oscar winners and major figures in the industry, It Happened One Night (1934), expressing her surprise that it became a box office smash and an international triumph.
"Clark [Gable] and I kept wondering…what kind of reception can this kind of picture actually get? I must remind you, this was shot in 1933, right in the midst of the big Depression," she told the AFI audience. "People needed fantasy, they needed a dream of splendor and glamor…and there we were, looking rather seedy riding on a bus…" But then she did acknowledge Capra as "that rare artist, a storyteller who makes you believe every word. He created this genre, which became known as the romantic comedy. Every studio copied it — and I know what I am talking about because I was in quite a few of them."
Eighty years after its February 22 premiere, It Happened One Night remains one of the best films Hollywood has ever made. It has endured because its story is still current; the love-hate relationship between spoiled socialites and between spoiled socialites and reporters is still tabloid news. In the plot, Ellie Andrews (Colbert) is running away from her tycoon father after he kidnapped her from her elopement with a fortune-hunting playboy. Because she has no money, and detectives are on her trail, she travels with a reporter, Peter Warne (Clark Gable), who blackmails her into accompanying him on a bus from Miami to New York. He is only interested in selling her story. In the course of the trip — which includes a night bus that has an accident, forcing them to hitchhike part of the way, and steal a car — they fall in love. The film became the first in the cycle of screwball comedies before World War II and still influences romantic comedies to this day.
What was unexpressed at the AFI tribute was the actress' troubled relationship with the director. Capra and Colbert had clashed long before making this classic film; he directed her first film, For the Love of Mike (1927), which was not well received and almost ended her screen career before it began. When he asked her to be in IHON, she treated him with disdain because he was a director at Columbia Pictures — a Poverty Row studio that even her co-star Gable referred to as "Siberia" — and she was a rising star at Paramount Pictures. The film was a joke in the industry because a succession of stars such as Myrna Loy, Miriam Hopkins and Constance Bennett turned down the script, which was based on a short story called Night Bus by Samuel Hopkins Adams.
In Robert Riskin's adaptation for the screen, Capra changed the original story's lead characters from a bratty socialite and an intellectual to a naïve heiress and a reporter. That inspiration changed the whole project. Colbert was intrigued with starring with Gable, but she only signed when Columbia chief Harry Cohn agreed to pay her twice her Paramount salary of $25,000 per film, and ensure that it would be shot in four weeks while she was on vacation from Paramount. She reportedly complained every day, even threatening to walk off the production for the Christmas 1933 holiday season. When the production finished on schedule, she had no idea about the quality of the film. Word got back to Capra that she publicly told her friends in Sun Valley, "Am I glad to get here! I've just finished the worst picture in the world."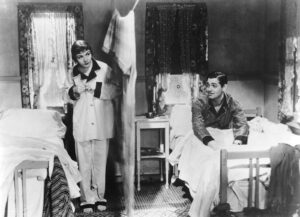 In significant ways, Colbert actually shaped the production of IHON because of her demands. The budget was $325,000 — $50,000 of which was her salary. Because filming had to be completed in four weeks, shooting began within two days of Colbert's signing. New sets could not be built, much less designed, so exterior scenes were shot in fields,
streams, en plein air. The film "was mostly shot in real locations: buses, highways, byways, coffee shops and among the new phenomena that had sprung up on the American scene — motels," Capra wrote in his autobiography, The Name Above the Title (1971). The natural settings gave a reality to the scenes, making the movie look modern and eventually timeless.
The director found an ally in Gable, who at first resented being loaned out by MGM to Columbia. Gable, who had spent years touring the country in theatrical stock companies before he became a movie star, remembered vividly roughing it on the road. "I believe it was the only picture in which Gable was ever allowed to play himself: the fun-loving, boyish, attractive, he-man rogue that was the real Gable," wrote Capra.
Interestingly, both actors discovered their star-making personalities while making IHON. Their respective previous films at Paramount and MGM were not particularly memorable. Colbert suffered in working-girl melodramas or DeMille spectacles, whereas Gable played beefcake to Jean Harlow, Joan Crawford and Norma Shearer. Capra's film, in particular, made her career because in it she found her character, her persona, which lasted the rest of her life. After 1934, Gable and Colbert were both cast in superlative farces. When you think about it, his Rhett Butler taming Scarlett O'Hara with humor and macho in Gone with the Wind (1939) is not that much different from the reporter taming the sassy heiress.
Because Capra had lost enthusiasm for the film, he was open to actors' improvisation — and that is exactly why audiences still love this movie. Several scenes, all improvised, are among the most famous in cinema history. Peter teaching Ellie how to dunk donuts is delightful and taught a whole nation how to accomplish this feat. The "Walls of Jericho" scene, in which a blanket was draped over a clothesline in the motel room to separate Ellie and Peter, was a sop to the Production Code, which prohibited an unmarried couple sharing a bedroom. In it, Peter demonstrates how a man undresses. Because the scene ran slow with Gable taking off his undershirt, the undershirt was eliminated — causing sales of undershirts to plummet around the country. The hitchhiking sequence, where Ellie raises her skirt and extends her shapely gam to stop a car, is one of the most memorable scenes in cinema.
But the most charming scene is the busload of passengers singing "The Daring Young Man on the Flying Trapeze." Capra first directed the scene with a hillbilly duo playing the song on a guitar and banjo. "In taking a close-up of the two hillbillies rehearsing, I noticed adjacent passengers spontaneously joined in the singing," Capra recalled in his book. "It gave me a hint. Ordering more cameras, I covered all the passengers simultaneously with long, medium and close shots (to get one master soundtrack for all camera angles) and told the people: 'No rehearsals. Just join in the singing in any way and at any time you feel like it.'" He also told Colbert and Gable to join in. The fey sailor dancing on his toes up and down the crowded aisle is a delightful highlight of the scene.
For IHON, Capra was lucky to be assigned Joseph Walker, one of the great cinematographers in the industry, who achieved poetic pictorial effects in the shabby tourist cabin scenes. The bus depot scenes and the bus interior scenes recall the raffish paintings of Edward Hopper and Reginald Marsh.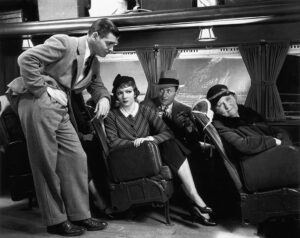 Gene Havlick was the editor, andwould go on to edit three additional films for the director: Lost Horizon (1937), for which he won an Oscar with co-editor Gene Milford, as well as You Can't Take It With You (1938) and Mr. Smith Goes to Washington (1939), both of which earned him Oscar nominations, the latter shared with Al Clark. Havlick's cut of IHON's bus sequence fully expresses the cramped quarters of those uncomfortable Depression-era coaches. Besides the charming sing-a-long, during which he seamlessly pieces together a spectrum of disparate and colorful passengers, the other memorable scene is the agonizing moment when a malnourished woman, beautifully played by former D.W. Griffith actress Claire McDowell, collapses and almost dies in her seat. Havlick makes the juxtaposition of shots, which range from low humor to tragedy, believable, natural and indelible.
The director recalls in his autobiography that Columbia's New York office was in a rush to release a new Capra film. Havlick and he "hurriedly strung
the scenes together into a long, two-hour version, and we previewed it before an audience. I thought the preview went
well, but it didn't raise the Hollywood huzzahs that followed [his previous film for Columbia] Lady for a Day's previews."
The IHON edit was long for a Columbia film, and the studio wanted it cut because theatres would lose an extra show a day if it went out at that length. "No comedy can stand two hours," was the opinion of the New York office, according to the autobiography. Cohn left it up to Capra. "Whatta ya say, Frank?" Capra replied, "I'm sick of it, Harry. Ship it." Cohn told his head film editor, "Ship it," and added, "I'm laying even money Columbia cops at least two Oscars next week for Lady for a Day."
Lady for a Day did not receive any Oscars at the ceremonies honoring the work of 1932-33. It Happened One Night premiered a month before to middling reviews and mild first-run bookings in New York and Los Angeles. It was the neighborhood houses around the country that made the film a hit. Audiences returned repeatedly to see the movie, bringing their friends. On February 27, 1935, It Happened One Night made film history when it copped all five top Oscars: Best Picture, Best Director, Best Actor, Best Actress and Best Writing, Adaptation.
Colbert did not plan on attending the ceremony because she thought Bette Davis would win the Best Actress award as a write-in vote for Of Human Bondage.
Even though Colbert was in three films nominated for Best Picture that year, including Imitation of Life and Cleopatra, she still considered her chances slim. Nevertheless, despite the fact that she was leaving town by train that evening, she was finally persuaded to attend the Oscars, and arrived in her traveling suit with plans to depart Hollywood directly afterward. When she won, she expressed thanks and said, "I owe Frank Capra for this."
Though Gable and Colbert would go on to team once again for Boom Town (1940), Capra and Colbert never made another film together. In fact, the director fired her just before production was to begin on State of the Union (1948) with Spencer Tracy, and hired Katharine Hepburn in her place. Was it Capra's revenge?