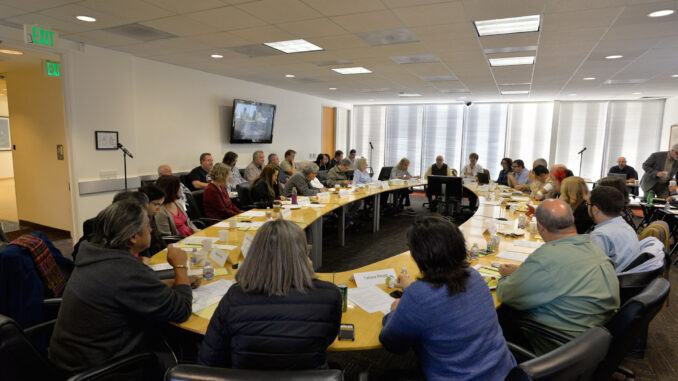 By Guild Staff 
Last month's election will bring change to the Board of Directors at Motion Picture Editors Guild.
Seven newcomers will join the 52-person board, in results revealed Thursday by Washington-based Integrity Voting Systems.
Meanwhile, several long-time directors will be exiting, including picture editor Sidney Wolinksy, sound editor Glenn T. Morgan and recordist Robert L. "Bubba" Nichols.
However, all of the incumbent board officers will be returning. President Alan Heim, Vice President F. Hudson Miller, 2nd Vice President Louis Bertini, Secretary Sharon Smith Holley and Sergeant at Arms Bill Elias all ran unopposed. Treasurer Rachel Igel prevailed against her opponent, Glenn T. Morgan.
According to the tabulator, 1,434 ballots were returned, out of 8,986 mailed out. That's a turnout of 16%, which is one percentage point lower than last year.
"Voting is one of the most essential parts of unionism," President Heim wrote in a statement. "Thanks to all the members who exercised their democratic responsibilities, and congratulations to all the folks who will be starting board service or are returning for more. It is our honor to serve our 9,000 members in post-production and across all job categories."
The newcomers are: Ashley McKinney, Emma DuPell, Gavin Segall-Abrams, Meg Reticker, Dr. Erin Michael Rettig, Nicole A. Fletcher and Matt Klimek.
Those exiting include Craig Eustis, Damian Begley, John Morris, Joe Birkman, and Frank Delgado Jr., as well as Wolinsky, Morgan, and Nichols.
Here are the results by category (winners denoted with *):
Assistant Editor 
ASHLEY McKINNEY*
EMMA DuPELL*
GAVIN SEGALL‐ABRAMS*
LEN CICCOTELLO
Eastern Region
MEG RETICKER*
TAMAR BIHARI*
ANDREW TIMM ‐ INCUMBENT*
JOE WINTERBOTHAM
NOLAN JENNINGS
ROBERT COTNOIR
ALEC STYBORSKI
Editor
NANCY RICHARDSON ‐ INCUMBENT*
SHIRAN CAROLYN AMIR *
LISA ZENO CHURGIN ‐ INCUMBENT*
DORIAN HARRIS ‐ INCUMBENT*
ERIK C. ANDERSEN ‐ INCUMBENT*
LILLIAN E. BENSON
JOELLE KRISTY
ARIC LEWIS
BRIAN CHANDLER
CHARLES KRAMER
TIM WILSBACH
KEVIN D. ROSS
CRAIG EUSTIS
PHILIP PUCCI
Engineer
Re-Recording Mixer
LORA HIRSCHBERG ‐ INCUMBENT*
Sound Editor 
NICOLE A. FLETCHER*
JERRY ROSS ‐ INCUMBENT*
MATT KLIMEK*
GREGORY HEDGEPATH
ANDRÉ FENLEY