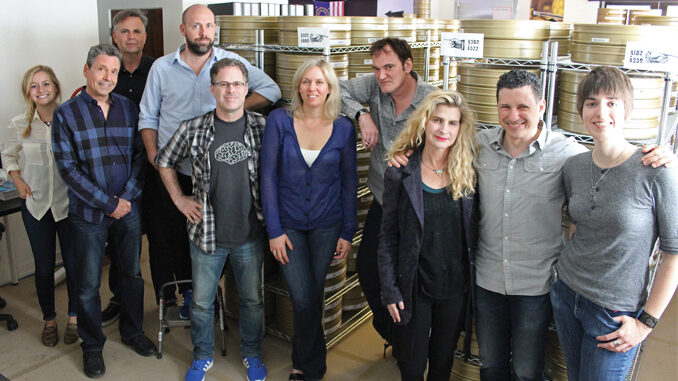 by Michael Goldman
Among the challenges of creating The Hateful Eight in "glorious 70mm," as filmmaker Quentin Tarantino described it in his original screenplay, was the fact that it required an overall post workflow that was highly irregular in many respects — both a throwback to an earlier era and extremely complex at the same time. That's because the project needed a unique, large- format, film-based pipeline for 70mm dailies and, eventually, the final assembly of the 70mm version of the movie, as well as the ability to link that pipeline with a modern, Avid-based workflow so that the editorial team could cut the movie in the most efficient way possible.
Thus, in addition to Tarantino's editorial team headed by Fred Raskin, ACE, filmmakers had to locate and restore vintage equipment, find assistant editors and technicians who had experience with 70mm film-based workflows, and partner with a host of specialized vendors, including FotoKem, Panavision, Kodak, Datasat, Inventure, Schneider Optics, Boston Light & Sound, Method Studios, Scanline VFX, and others, to pull everything together.
"The Avid workflow was straightforward and not any different due to working with 65mm/70mm — the difference was in the overall workflow," Tina Anderson, the project's post-production supervisor explains. "In this digital age, we have become accustomed to moving data fairly quickly all over Hollywood — and the world — with the entire workflow being digital. But we were challenged by Quentin Tarantino with his desire to only screen the film for dailies using work print, and then cutting negative for the limited 70mm release. Both of these mandates took many steps to enact, whether it was setting up a screening room featuring a dual projection system with Ultra Panavision 70 lenses to screen the 70mm work print, compositing effects and titles, or determining the reel sizes and breaks for negative cutting and optical tracks."
For the editorial workflow, FotoKem adapted both its 65mm telecine and its nextLAB digital dailies file processing software to be compatible with the Ultra Panavision 70 format in order to transfer film and rapidly produce synched dailies that could move to editorial efficiently during production. The editorial team used three Avid Media Composer systems (v. 8.2.5) — one each for editor Fred Raskin, ACE, assistant editor Andrew Eisen and Avid assistant Jason Barnes — linked to 32TB of Avid ISIS shared storage.
Eisen took charge of overseeing the dailies process, organizing bins, handling re-synching of any off-speed footage, creating temp visual effects shots, tracking visual effects shots, communicating editorial notes to all the visual effects vendors, and creating change and cut lists for the editorial film team. Raskin says Eisen's role in keeping these processes organized was so crucial that, "I honestly have no idea how we could have done the movie without him."
Simultaneously, for the 70mm workflow, the production utilized three 70mm film benches, where first assistant editor Paula Suhy and film assistants Michael Backauskas and Bill Fletcher conformed the work print. Suhy and Backauskas worked in Los Angeles throughout principal photography, collaborating with the lab to prep and synchronize 70mm film dailies.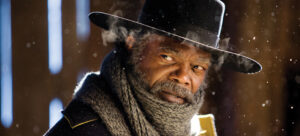 On location, dailies were screened at a specially configured theater in Telluride using a 70mm work print with sync sound playback on Fostex DV40 audio decks. Another unique challenge involved finding a methodology to initially sync film dailies with sound at FotoKem to begin with, since they did not have a 70mm Kem capable of playing DV40 audio.
Post supervisor Anderson and producer Shannon McIntosh, however, who headed the effort to help the production solve some of the retro technology challenges the post- production chain faced to work in the 70mm realm, located a vintage 70mm Officine Prevost Milano flatbed machine that had not been used in decades in the warehouse of the Academy of Motion Picture Arts & Sciences. FotoKem overhauled the Prevost's electrical system and added an encoder for DV40, since it was originally designed for Mag, and got it up-and-running for dailies production.
"We built 70mm select rolls with a hand-written log of slate sync foot and frame counts," says Backauskas. "With this guide, I built an Avid sequence to match each select roll, exported the audio to a WAV file, and burned it to DVD twice, to have a backup disc. The 70mm select rolls and discs were checked on the 70mm Prevost flatbed viewer, in sync with the DV40 disc reader."
The project also faced the challenge of having to build a 70mm film conform. Backauskas explains that the editorial team used "Avid Filmscribe to generate pull lists, cut lists and change lists for the film conform. Since modern 65mm/70mm 5-perf film has a key code every 24 frames, Auxiliary Ink code was used to identify in/out frames. Durations are still figured in the same way as a 35mm 'screen foot' — every 16 frames. Digital Vortechs worked with Avid to make a software patch that modified the dupe detection function to use Auxiliary Ink code instead of key number, which would have been incorrect for 65mm/70m."
Backauskas adds that the production rented "old-school equipment," from large-format industry veteran David Bartholomew, who supplied 70mm Hollywood Film Company synchronizers and Neumade tape splicers to punch perfs through splicing tape. "We used three-quarter-inch and four-perf tape for dailies, and three-eighth-inch, two-perf tape for the conform," he elaborates. "The larger tape is faster to use, but the edges of the cut tape do show in mid-frame. The narrower tape must be applied with some precision, and is less noticeable. For exteriors, the splices were imperceptible, and not too distracting, even in bright snow.
"Quentin Tarantino told a preview audience that viewed the work picture, 'This film is literally held together with tape,'" Backauskas concludes.