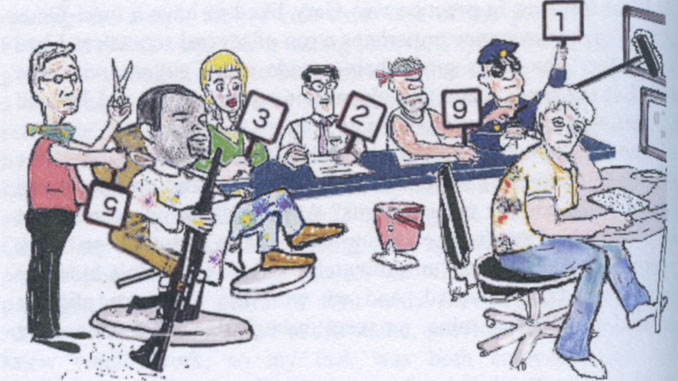 Movers & Shakers: The Monster Makers
by Tariq Anwar
Austin Macauley, 2018
ISBN # 9781788780339
by Betsy A. McLane • illustrations from the book courtesy of the publisher

With Movers and Shakers: The Monster Makers, long-time editor Tariq Anwar somehow manages to take time away from the bench to write an amusing book about his 30-year career in the film and television industries. The tone is sardonic, the writing straightforward, the many line drawings humorous — in a very British way. There is a touch of "I'm English, and you're not," but Anwar's life is far from the Oxbridge "refinement" that often typifies that attitude. In fact, his perspective is more "I'm the editor, and you're not," a mindset that may echo the silent scream of many CineMontage readers.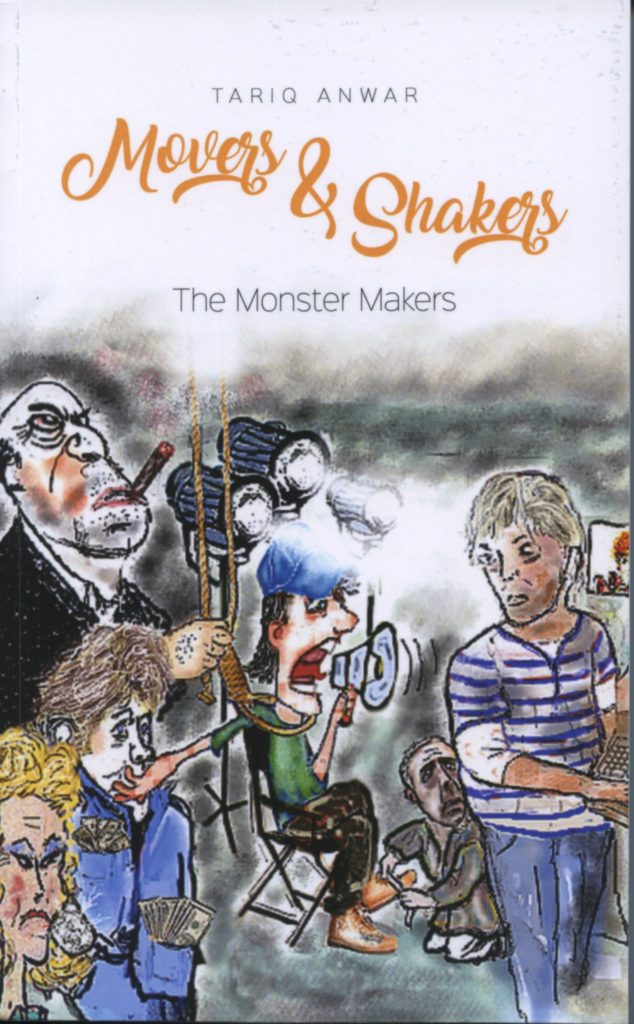 Anwar's numerous credits date back to television in England during the late 1960s. Born in Delhi, India in 1945, he soon after moved with his family to England. After failing to earn a college science degree, and unable to get into the BBC training program, he went to work for a small documentary production company, Libertas. There, among his many menial duties he was occasionally allowed to act as third assistant director, where he recalls, "The director screamed at the first assistant director and he screamed at the 2nd and they all screamed at me."
At Libertas, Anwar was able to get his union card, or "ticket" as it was called in the Association of Cinematograph Technicians — now the Broadcasting Entertainment Cinematograph and Theatre Union (BECTU). Although that union membership was originally intended for another person, it went to Anwar, and he escaped the shooting set when a trainee job opened in the cutting room. The editor, Peter Austen-Hunt took Anwar under his wing and gave him a sequence to cut on a Moviola: a two-minute silent roller coaster ride. Thus began a long and successful editing career, in rooms the author describes as "a bubble of blissful karma in a crazy ego-driven industry."
There too begins the series of professional tales, some triumphant, some ghastly, that make up Movers and Shakers. The title seems to refer to directors, cinematographers, actors (sometimes) and producers (especially) — in other words, the movers and shakers who are financially and (nominally) artistically responsible for a project's success. These are mostly skewered by Anwar as "monster makers." His vast experience, shelf-full of awards and the fact that many of the people skewered are now gone, give him the power of an eminence gris to reveal all, even though he continues actively working in the industry today.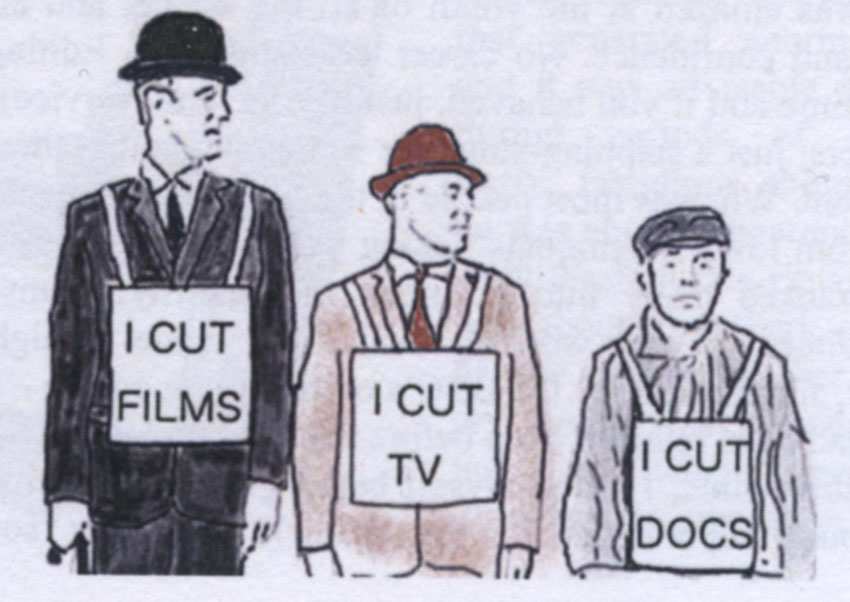 Anwar creates fictional characters who in are interspersed throughout the book in ongoing italicized sagas that epitomize the underside of the filmmaking business. These include Satyajit, a Bollywood director, and his assistant Rebecca, who stands ready to drop olives into her boss' mouth. Satyajit does inverted yoga poses in his sleek, modernist office while talking on the telephone to his agent, a woman whose name he cannot remember. Then there is Angel, an actress called in to do ADR, described by long-suffering editor Ed Symons (Anwar's alter-ego) as "Spoilt, petulant, immature. Spiritually damaged, self-absorbed, fragile and not quite the sum of all her parts, some of her parts not being entirely hers. Unreliable and, of course, grossly overpaid."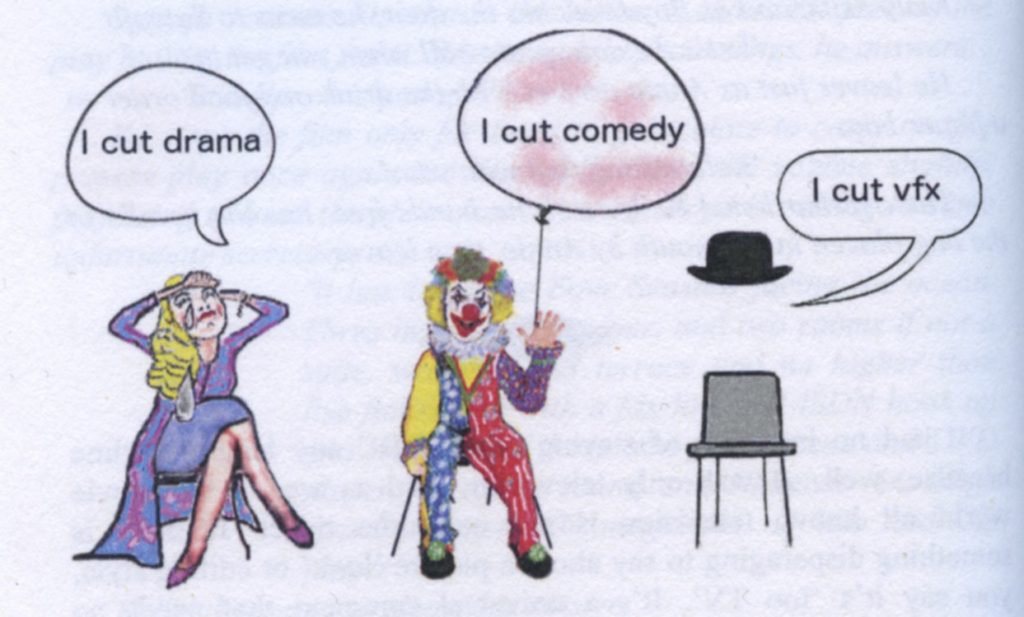 One of the author's most scathing reminiscences and caricatures unsurprisingly involves Harvey Weinstein, co-executive producer of The King's Speech (2010), for which Anwar received an Oscar nomination for Best Film Editing. The fictionalized Weinstein (called Walter Weisman) holds a meeting in his private jet with Satyajit, whose film is characterized by Weisman as "morbidly obese."
Satyajit fields the metaphor of a tummy tuck, and Weisman responds, "Fuck no. Surgery. Sashit. Fucking radical surgery. You got to cut out the fat and you got to kill that Tiki Tiki Ta music. What the fuck was that?"
Satyajit responds, "You mean Dha Tita Taka Dhin Dhin? [That's] something Ed and I…"
"Who the fuck's Ed?" replies Weisman.
"The editor, he's good, very good," says Satyajit. "We work well together." He eventually appeases saying, "Yes, Walter, yes."
The King's Speech was received with acclaim; Weinstein taking credit for editing notes that saved the picture, beginning with the verdict that "Movie is way too long at 2 hrs." The released film ran 1 hour and 59 minutes.
The Weinsteins pop up several times in the narrative, and Anwar's assessment, shared by many in the business, proved correct.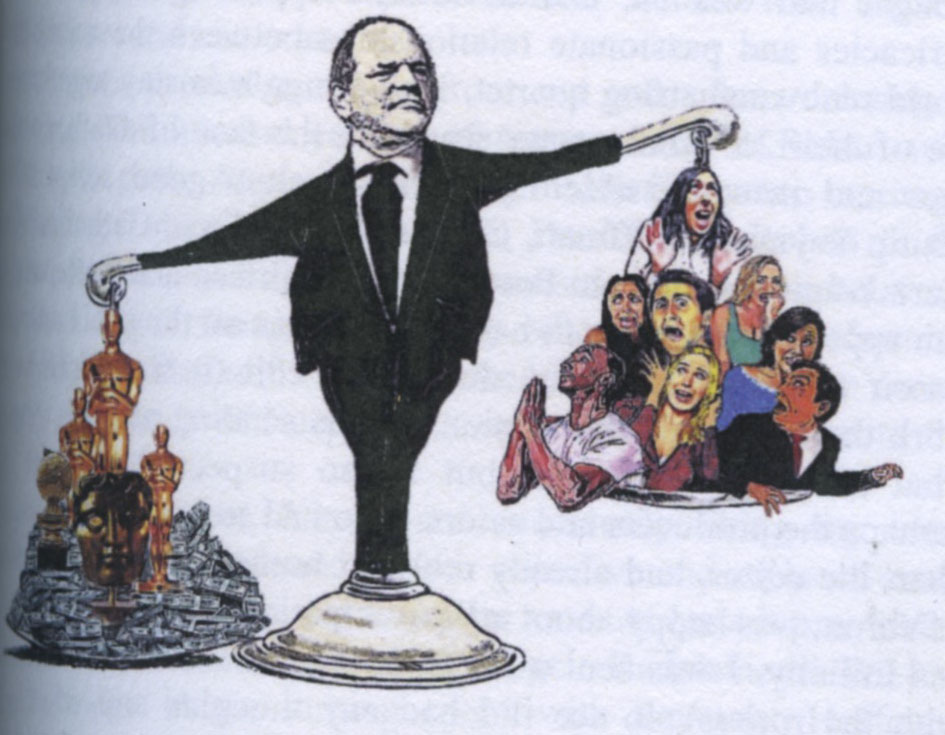 Others, like Robert DeNiro fare better in Movers and Shakers, Anwar characterizes him as "genuinely modest about his achievements, unassuming, generous in his appreciation of work and generous financially." Yet, while making the DeNiro-directed The Good Shepard (2006), Anwar and he clashed to the point of the editor walking off the picture. Anwar writes, "I was facing Jake Lamotta. Travis Bickell and James Conway," with DeNiro saying, "Your [sic] a fucking great editor, I won't let you leave." Anwar replies, "Well, I'm a fucking better editor than you are a director." DeNiro smiled, hugged him and suggested they have a coffee. 
Movers and Shakers also contains brief insights into Anwar's editing theories and methods, used on films such as American Beauty (1995), for which he was nominated for an Oscar for Best Editing, and Tea with Mussolini (1999), along with many British television productions. He has also edited projects as various as Dr. Who videos, as well several documentaries.
The book is interspersed with line drawings and photographs, which are often doctored as mocking and self-mocking collages. These caricatures are sometimes amusing, sometimes off-putting, depending on one's perspective. But along with the fictional saga of editor "Ed Symons" and the real-life writing (not italicized), they are harmoniously arranged by Anwar into a book that will leave many shaking their heads in disbelief while simultaneously nodding in recognition.