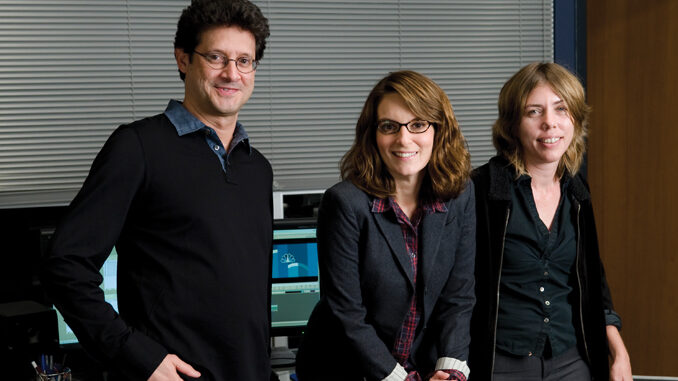 by Robin Rowe 
What do NBC's 30 Rock and HBO's Bored to Death have in common? Both are award-winning half-hour comedies that poke fun at their creators/head writers/executive producers (Tina Fey and Jonathan Ames, respectively). Both just had their season premieres in September. More interesting from a post-production perspective, however, is that both shows are cut by the editing team of Ken Eluto, A.C.E., and Meg Reticker, who work 11 months out of the year on the two series.
Eluto and Reticker began cutting the fifth season of 30 Rock at the end of August, after finishing the second season of Bored to Death. Starring Fey as Liz Lemon, a harried producer of a variety show not unlike Saturday Night Live, from whence the actress/writer came, 30 Rock is edited at Silvercup Studios in Long Island City in Queens, home of The Sopranos, Sex in the City and Gossip Girl. It won the Emmy Award for Outstanding Comedy Series three years in a row (2007- 2009) and has been nominated for 51 Emmys overall. The show's editing awards include an ACE Eddie Award in 2010 and an Emmy in 2009 for Eluto, as well as an Eddie for Reticker in 2009.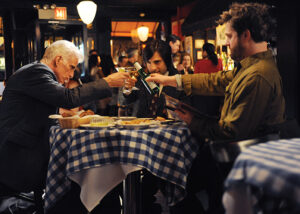 Bored to Death is a "noir-otic" comedy about a writer who moonlights as a bum- bling unlicensed private detective named Jonathan Ames (played by Jason Schwartzman), after its executive producer, who was a novelist and New York Press columnist before creating the series in 2009. The show is cut at Steiner Studios in Brooklyn, which is also the base for the cable series Damages, In Treatment and the new Boardwalk Empire.
On each series, Eluto and Reticker alternate cutting episodes. Both shows are cut on Avid Media Composer with Unity and use similar workflows, despite being shot on different formats and employing different editorial styles. 30 Rock is one of the few shows still shot on 35mm film, typically with two cameras. Bored to Death switched formats from 35mm to high-definition video for its second season.
"Bored to Death, being HBO, is more cinematic and tends to be slower-paced," says Reticker, describing the difference between the two shows. "It's more 'dramedy,'less of the one-liner. Whereasthe rhythms of 30 Rock are very quick; there are a lot of jokes in there. It's a different rhythm of cutting. When I move from one show to the other, I have to remind myself. They're both comedies––but very different."
"30 Rock is a very fast-paced show," agrees Eluto. "Sometimes I wish I had the luxury to slow it down. The jokes go by so fast that sometimes you need to TiVo them."
Commercial Breaks
A key difference in how the two series are edited is the act breaks. HBO has no commercials, so Bored to Death has no act breaks. With 30 Rock, the breaks are incorporated into the storytelling. "A lot of times with 30 Rock, the act breaks are writ- ten into the script––but they get moved," explains Reticker. "To heighten the drama, a producer may move an act break. In general, there are cliffhanger story breaks; one in the middle and another toward the end. Last year was the first year we experiment- ed with tags at the end—little scenes after the show as the credits roll."
A season of Bored to Death is only eight episodes, but there are 22 shows on 30 Rock. For both series, the editors cut dailies during shooting, and then have a day to put together an assembly. The respective directors come in for two days and give notes. Then the shows go to the producers.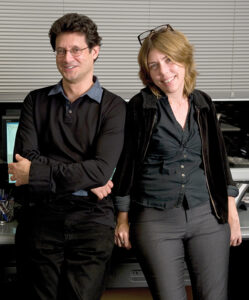 It takes three to four weeks to put a 30 Rock show together. During that time, the editors are working on the next episode as well, as dailies are coming in. Sometimes they'll juggle three episodes if one hasn't been locked for some reason. The 30 Rock cut next goes to executive producer Lorne Michaels and then, within a day or so, to the network. Several days later, the editors get notes and, a few days later, they lock the show.
Although the pace is similar at Bored to Death, there isn't the pressure of delivering a show to air every week. Because the Bored to Death shows are delivered all together––after they're completed––it's possible to go back to adjust something in an earlier episode in the season before it airs to make sure the entire season is consistent.
The Comedy Instinct
"I use my instincts to see if the show makes me laugh when I screen it," says Eluto. "When the performances and the lines are good, it's finding reactions to play off of, looking for those moments. We work scene by scene, initially. We have the assistants string out takes for us so we can compare readings. My approach is to rough out a scene. Then I like to put it aside, to look at it with a fresh eye a little bit later and refine it."
Both editors like to start with a "string- out," a scene cut together with the reading of a particular line from every different angle, back-to-back, then followed by the next line. In this fashion, editing becomes a process more like sculpting, with each little piece chipped away to create the first cut. "When I start building a sequence, instead of adding on, I start subtracting," says Reticker. "I have this sequence that has all the lines from all the different angles."
While Reticker also uses instinct to choose her edits, she employs a general approach to the craft of cutting a comedy scene. "I may start with a master shot to bring us into the scene," she says. "Most often, that's a tracking shot or a wide shot. I slowly move in as the drama of the scene takes place. I'm going through all the performances. There may be five takes of a close-up where a particular line is being read. By the time I get to the dramatic point, I'll probably be in close-up. I'll pick the best performance of that. And I might come out wide at the end of a scene."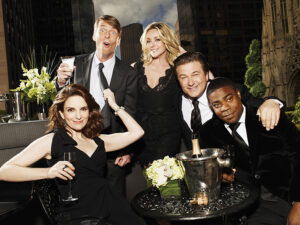 She explains that 30 Rock uses an introduction to the show that sets up the story- line: "The first few seasons, we did cold opens, but we don't do that anymore. We try to introduce a chunk of the show––the A storyline, the B storyline and sometimes the C storyline. We'll go from one scene to another and end on the title sequence. Then we'll have a commercial break."
30 Rock has more effects than would be expected for a comedy show, according to Eluto. "There can be a lot of visual effects on an episode, with green screens and composites––both full-screen and in monitors that play in the background," he says. "The Avid is great for that and often the assistants will help create them for us. I had an episode where [actor] Tracy Morgan had a look-alike Japanese sex doll––which was Tracy playing himself––so he was split-screened in a lot of scenes." In that episode, Morgan played the role of his robotic twin and had to double in scenes with himself.
Music is often a key element in come- dy. 30 Rock composer Jeff Richmond is also supervising producer, and spends significant time with the editors. "Jeff will always come up with music that helps the cut," says Eluto. "He's an amazing com- poser and the music is really integral to the show. We now have a library of four sea- sons of music that we can use as temp."
Even the choice of an edit transition effects comedy. 30 Rock experimented with how to get into flashbacks, using whips or an image pushing another off the screen, according to the editors. Swish pans became the style of the show, swish- ing into a flashback.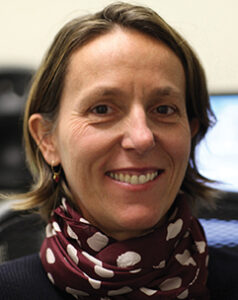 The Assistant Editors
Eluto and Reticker share three assistant editors between the two series, but only two at a time. They are Craig Cobb, Agnes Challe-Grandits and Ellen Tam, each of whom also works on two shows a year––but not the same ones. While Cobb shuttles between 30 Rock and Bored to Death with the editors, Challe-Grandits alternates between Bored to Death and Showtime's Nurse Jackie, and Tam does double duty on 30 Rock and the upcoming FX boxing drama Lights Out.
Cobb finds that there's not as much of a difference between working on Bored to Death and 30 Rock as one might expect. "As an assistant, it's going to take me the same time to do a turnover to sound or capture dailies," he explains. "Even though it's a tight schedule, it's not a lot of extra stress for me. It's part of an assistant's job to anticipate the impact of a late decision or a late lock––or alerting the post producers of what we're going to face because it's going to take me this long to get something prepared. Keeping things anticipated keeps the stress level way down.
"It's essentially the same workflow on 30 Rock and Bored to Death," Cobb continues. "Except it happens a bit later in the day on 30 Rock because the film has to go to the lab and be processed overnight. It goes to a post house where it gets transferred to DVCAM and ALE [Avid Log Exchange]. We capture the dailies and prep the bin by typing in descriptions of the takes and setting reference frames. Then we do a string-out."
A lot of the work that assistants face now is creating string-outs for the editors, according to Challe-Grandits. "It's true that when you cut a scene that's been stringed out, it's much easier," she says. "When you work with the producer and the director, you can show them all the performances in a row."
She says that today's time-saving advances in workflow allow opportunities for assistants to advance in the craft. "I like working in television, because it's busy and I get to practice cutting," Challe-Grandits says. "I don't care if it's hi-def or film, because once it's into the Avid, it's the same."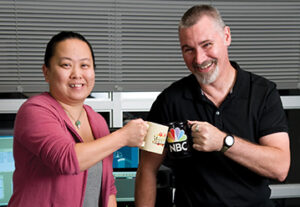 Tam started on 30 Rock in its first sea- son as a coordinator, and worked her way up to assistant editor. She's back at 30 Rock, now as an assistant, after working on Lights Out and other series.
"We do temp visual effects for the editors, and we have a pretty good flow of work," she says. "There are times that the editors will give us pointers on how to cut scenes so we can excel in our careers."
Avoiding Typecasts
"Sometimes you get typecast as an editor," admits Eluto. "Because my back- ground is drama and documentaries, one of the 30 Rock producers questioned whether I could cut comedy. I didn't do the pilot, but I knew the director, Adam Burnstein, with whom I worked on Homicide and a TV movie. I also knew Irene Burns, the post supervisor who'd come out of Homicide." He got the job and has been on 30 Rock since the first season.
Reticker joined 30 Rock for the second season. "I had been out in California editing Big Love. I wanted to get back to New York, which is my home," she says. "I heard about 30 Rock, got the interview and got the job. It was sort of intimidating at first. Every show has a different way of doing things. In the beginning, you're adjusting."
The editors find working on 30 Rock a great experience. "The editing brings all this great writing and acting to the fore- front," Reticker explains. To see all of everyone's hard work on the show come alive is a great experience. I am most proud of the rhythm of the show and all the humor."