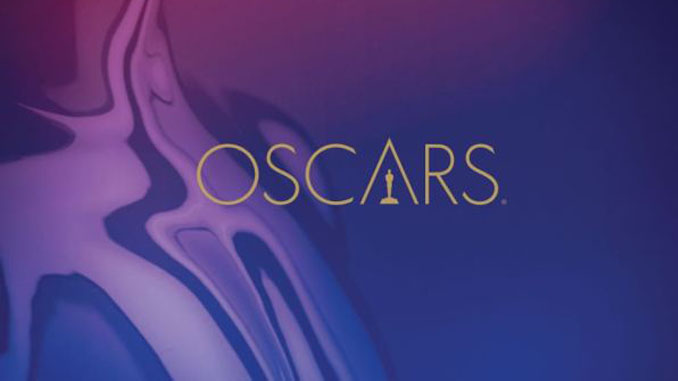 by Tomm Carroll
On Sunday evening, February 25, the 2019 Awards Season officially came to a close with the 91st annual Academy Awards ceremony, in which the coveted Oscar statuettes were presented to the winners — as chosen by the members of the Academy of Motion Picture Arts and Sciences.
And, once again, in what has become a trend at recent Oscars, the awards in all three post-production categories were swept by the same film, in this year's case Bohemian Rhapsody, (ultimately disgraced and removed director) Bryan Singer's biopic of the British rock band Queen and its charismatic lead singer, Freddie Mercury, portrayed by Rami Malek, who also won the Oscar for Best Actor for his role.
The post-production winners were John Ottman, ACE (Best Film Editing), John Warhurst and Nina Hartstone (Best Sound Editing), and Paul Massey, Tim Cavagin and John Casali (Best Sound Mixing).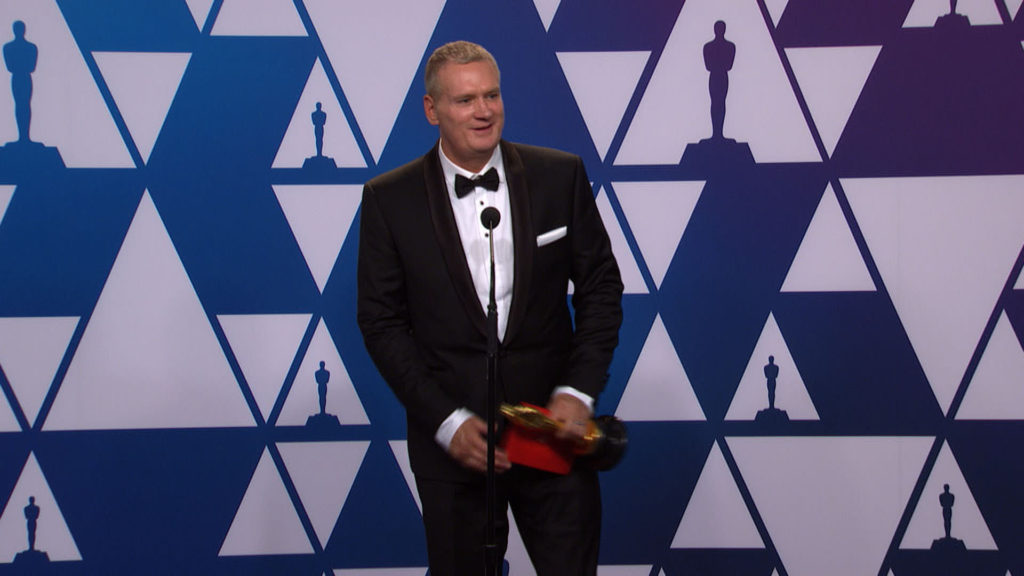 "Wow, you get up here and you [go] completely blank," Ottman said upon accepting his award onstage at the Dolby Theatre. "This film, I always like to say — as the entire cast and crew likes to always say — was a labor of love. And I think Freddie Mercury in a way kind of brought us all together from wherever he is, just like he did his audience.
"I am just so thankful for everyone bonding together, supporting each other and trusting me," he continued. "I mean, there's too many people to thank, of course. I'm looking at Rami, looking at me, [saying,] 'Better thank me.' Got the band over here; thank you so much [guitarist] Brian May and [drummer] Roger Taylor. And I have to mention, of course, Graham King and Denis O'Sullivan, two of the hardest-working and committed producers I've ever worked with in my life.
"And lastly, this goes to my parents on their fireplace mantel because they encouraged me to do whatever I wanted to do when I was a kid, whether it was writing music — which was a mystery to them — or making films in their garage on Normington Way in San Jose, California. So as Freddie's father would say: 'Good thoughts, good words, good deeds.' Thank you."
Later, backstage, Ottman responded to a question by the press about the challenges of editing the recreation of Queen's Live Aid performance at London's Wembley Stadium in 1985, which concludes the film, but was the first sequence shot.
"Yeah, I got to worry about that for a year and a half, tossing and turning in bed," the editor responded. I always refer to that sequence as the 'Death Star sequence' for Bohemian Rhapodsy because if it didn't work, the whole film would collapse. Fortunately, I was able to tinker with that for a year, and so, yes, it kept me up at night for sure."
A related question inquired whether any actual footage of the crowd at the Live Aid show was used in the film, to which Ottman replied, "No. We had probably about 1,000 extras on our biggest day, which is, of course, a drop in the bucket for that kind of scene.
"It was one giant field," he continued. "We basically took individual people and scanned each of them, 360-degree scans, and each person would do all the gyrations of each song and sing the song, and then we would duplicate them in the crowd, and change their clothes and so on. It was all original footage, basically real people, but placed in there, so it was kind of pseudo-CGI. And the stadium itself, of course, was CGI."
For the complete transcript and a video of the picture editor's backstage interview, please visit: https://www.oscars.org/press/91st-oscars-backstage-interview-transcript-film-editing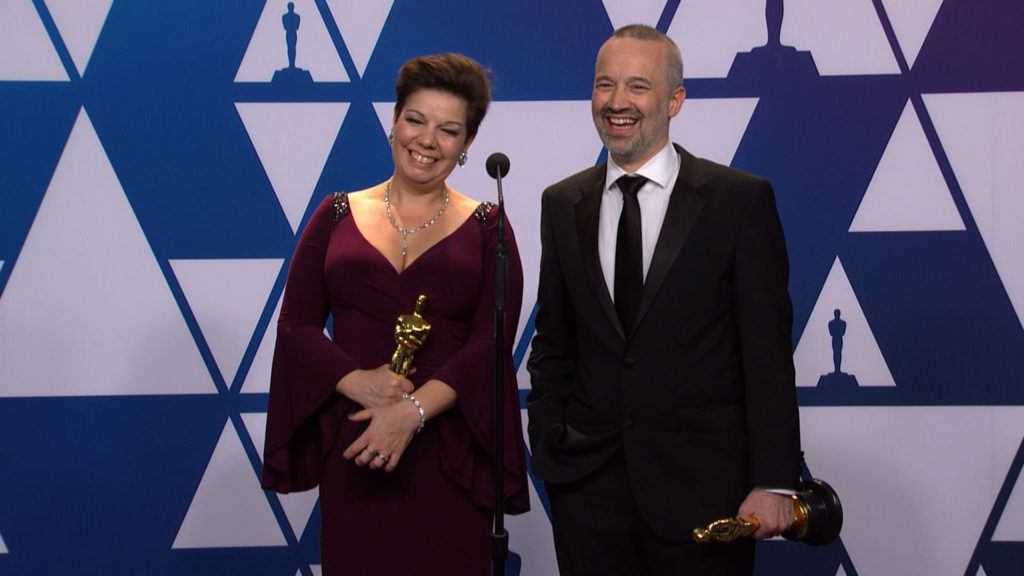 In the sound editing category, Warhurst said in his acceptance speech, "This truly is an honor, especially in a category with so many amazing sounding films. I mean, we got to work with Queen for our day job, which is wonderful. I thank all of Queen and the team, — the full team — for the great music, for all the support. And a special nod to Freddie."
Added Hartstone, "I would like to thank all the people who are here, and also everyone back in London who are watching right now. Obviously my husband Kevin, who is up there, my kids Noah, Lola and Eli, and my mum and dad who are looking after them; Mummy will be home soon! Thank you."
Backstage, responding to a question about the re-creation of sound and music that is already iconic and known by millions in the pre-digital era, Warhust said, "We used the actual original multi-track recording of Live Aid, but then we recreated all the crowds of Live Aid, which was obviously new. So it was of a blend of old and new recordings. We definitely had to keep the spirit of Queen in the film. And it had to be the Queen that everybody knew with the same sort of sound everybody knew. But it also had to work in the cinema in 2018, in Dolby Atmos. That's what we aimed for."
Responding to a question about how the winning sound editors were experiencing the awards ceremony, Hartstone replied, "Apart from winning the Oscar, the absolute highlight for me was having the Oscars opened by Queen, which was just massive. I didn't feel like it could get any more exciting than that moment they came on stage. But, it's obviously my first time here, and to win…it's been incredible."
Asked about what she learned at Pinewood Studios in the UK coming up many years ago that stuck with her all these years, Hartstone answered, "I learned that the film industry is a hard industry; you have to work very hard to get on. You have to think on your feet and collaborate with everyone around you. It's basically just trying to learn as much as you can, as you're coming up through the industry, so that you can be useful and work your way up."
Warhurst commented, "There was one thing actually, which we ran out of time for in our [acceptance] speech, but along this journey we found out that Nina is the first European woman to be nominated in the sound editing category — and now the first European woman to win a sound editing Oscar."
"Hopefully there will be many more women after this year," she added.
For the complete transcript and a video of the sound editors' backstage interview, please visit: https://www.oscars.org/press/91st-oscars-backstage-interview-transcript-sound-editing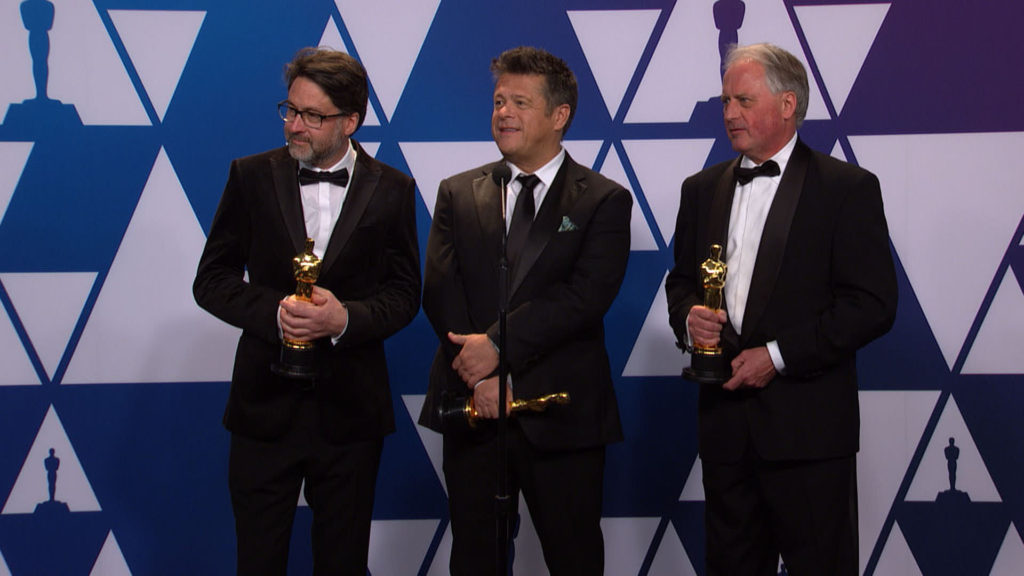 In accepting the Oscar for sound mixing, re-recording mixer Massey said, "Thank you, Academy. I'd like to thank our producers, Graham King, Denis O'Sullivan, Ted Gagliano from Fox, and our whole sound crew. A massive shout-out to Brian May and Roger Taylor. Thank you so much for your music and for your collaboration and your support."
Fellow re-recording mixer Cavagin added, "I'd like to thank team Twickenham [Studios, London] and everyone else who worked on the sound of this incredible movie, my mum and dad, my amazing brothers and my friends back in Oldham watching tonight."
And production mixer Casali followed with: "I want to thank my wife and my kids, all of my team, and, really, Chris Murphy, my boom operator who's put up with me for 14 years. Thanks, mate."
Asked backstage if there was ever a moment when the mix team had doubts they would be able to accurately represent Queen's music, Massey said, "On the first couple of days when I was just dealing with the music alone, and Brian May and Roger Taylor walked in, that was a moment where I thought, 'Okay, maybe I'm not going to make this…' But no, we all knew where we needed to get to. We had great resources, we had great collaboration from all of the Queen production team and our producers, and it was a wonderful project — a project of a lifetime for all of us."
Asked about the experimentation that Queen had as they were really diving into their music, Casali replied, "All the things that we shot came from [music producer and guitarist] Brian May. He said the experimental work that they did when they were shooting, [was from] when they were recording the [original] track, and we actually reproduced that in the film. So that came from Brian May."
Queried about the mix team's relationship and bond with Queen during the process, Massey responded, "They were so collaborative, to be honest. Once we had their trust, Brian and Roger completely allowed us into their family. They told us stories about Freddie. The engineers that they worked with gave us full access to their archives of music, all their live material, all their studio material. And so, we got through our first couple of days with them, it was truly 'welcome to the family, open door at all times' and so collaborative. We learned so much about Freddie that's not in the film as well and some of their personal stories.  It was just a joy to be part of that team. And I think we all wished it hadn't finished."
For the complete transcript and a video of the sound mixers' backstage interview, please visit: https://www.oscars.org/press/91st-oscars-backstage-interview-transcript-sound-mixing