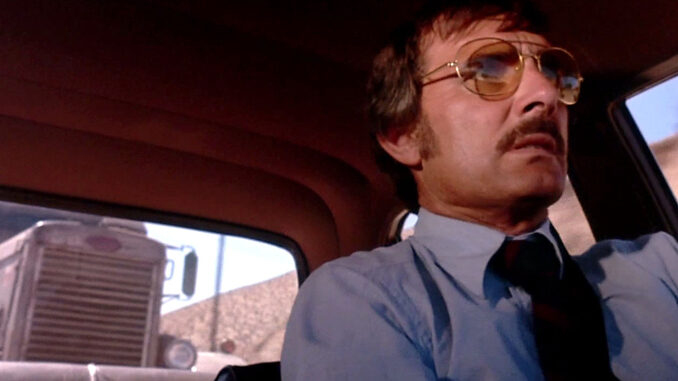 by Kevin Lewis
Forty years ago, Steven Spielberg transformed television narrative with his made-for-TV movie Duel, which aired on ABC in November 1971. It was only his first film, after doing some episodic television, but it was for a major studio that believed in him: Universal. The young director was in the right place for a film career. After several decades of unstable corporate structure, Universal Pictures survived the collapse of the old major studios in the age of TV by becoming a leading television production center as well as a film studio.
Lew Wasserman, who had a stable of major clients––among them Alfred Hitchcock and Doris Day––under contract with his MCA talent agency, purchased Universal with Jules Stein in the 1960s and created a vast entertainment empire. Universal was so huge that an 18-year-old Spielberg allegedly slipped onto the lot as a Universal Studios Tour day visitor, commandeered a vacant office, put his name on the door and began working on projects. That's the story Spielberg tells, but retired Universal Television librarian Chuck Silvers told Dennis McDougal–– author of The Last Mogul: Lew Wasserman, MCA and the Hidden History of Hollywood––that Spielberg actually became an apprentice to him and purchasing agent Julie Raymond. He spent five years doing this, made two student films and auditioned for directing assignments.
Sidney Sheinberg, head of Universal Television, eventually hired Spielberg as a director and assigned him as director of episodic television series, including Night Gallery, Marcus Welby, M.D. and Columbo. His first assignment was directing Joan Crawford as a blind woman in an episode of Night Gallery. The normally prickly Crawford befriended him and taught him how to interact with the lighting and camera crew.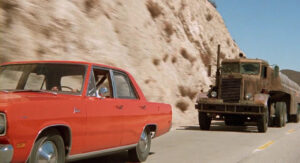 Spielberg's breakthrough into film resulted because of a trend in the television industry. The three major networks had relied on recycling the film libraries of the Hollywood studios for their nightly broadcasting. This had the unexpected effect of producing a new generation of directors and film historians who viewed the classics of Hollywood's Golden Age on TV and wanted to work in the industry. By the mid-1960s, however, there were fewer old films to buy, and television producers made new, made-for-television movies utilizing former stars with household names (but diminished box office appeal), as well as older studio directors who could not get theatrical movie projects.
In 1969, ABC primetime programming head Barry Diller created the most successful version with ABC Movie of the Week, an anthology series that ran eight years and starred such Hollywood veterans as Ray Milland, Gene Tierney and Bing Crosby, along with rising stars such as James Caan and Billy Dee Williams. This was Spielberg's stepping stone into the major leagues.
When producer George Eckstein bought the Richard Matheson story Duel, which had been published in Playboy, he hired Spielberg to helm it, impressed with his sterling work directing Peter Falk and the rest of the cast in Murder by the Book, an early episode of Columbo. Duel was greenlighted as a 10-day shoot. Spielberg stretched it to 12 days, but there was not much time allotted for post-production before the scheduled air- date. Five picture editors, including credited editor Frank Morriss, were at work on the film.
Morriss told Editors Guild Magazine that he couldn't believe his luck when Eckstein hired him to edit the show, because he had admired the story and lobbied the studio to make it as a film. Editing Duel was one of the more frantic jobs he had worked on though, as he relates that he had only 13 days to get it ready for broadcast. He recalls that 10 different camera angles were used for scenes.
Sidney Lubow, MPSE, relates that Jerry Christian, the head of the sound effects department at Universal, hired him for the film and asked him to compile a team of nine sound editors, who would each work on a reel of the movie, because of the tight production schedule. Christian told Lubow that Universal was putting extra expense into the movie because Spielberg "is a genius."
"Hitchcockian" is the term often used to describe Duel, and indeed the theme of a bully, never-seen trucker pursuing a middle-class account manager could have been a teleplay on Alfred Hitchcock Presents, the series produced at Universal a decade earlier. Many of Duel's camera setups and the introduction of eccentric characters (especially the Snakerama gas station woman) are the mark of Hitchcock, but the execution, abstract theme and style are more akin to John Ford, or perhaps even Howard Hawks.
When Spielberg was 15 years old in the early 1960s and living in Phoenix, Arizona, he discovered that Ford was living nearby. The teen was a movie fan, because of the old movies he'd seen on television, as well as a prolific director of 8mm movies, so he asked to meet Ford for advice on becoming a director. Ford asked Spielberg to look at the Western paintings on his walls––some of which were by American artist Frederic Remington. Spielberg noticed that there was more horizon in some and more sky in others.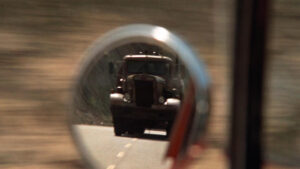 According to an interview with Spielberg conducted by Martin Scorsese in 2002 for a Directors Guild of America symposium, Ford told the young Spielberg, "When the day comes in your life when you can tell that a shot is great when the horizon is at the very bottom of the frame with all the sky, or the horizon is at the very top of the frame with all that ground––and you can recognize that when the horizon goes directly in the center of the frame, it's a lousy painting––you may have a future in the picture business."
Spielberg learned this lesson well as Duel bristles with kinetic images, unusual for the flat visual imagery on television at the time. The pursuit of the Plymouth Valiant by the 40-ton Peterbilt truck on the Southern California desert highway forms an organic whole with the endless, unforgiving roads near Bakersfield and Lancaster. Spielberg uses his mise-en- scène like Ford used Monument Valley.
Duel won the Emmy in 1972 for Outstanding Achievement in Film Sound Editing for its nine sound editors: Lubow, James Troutman, Ronald La Vine, Richard Raderman, Dale Johnston, Sam Caylor, John Stacy, Jack Kirschner and Christian (as department head). Jack A. Marta was nominated for an Emmy for Cinematography for a Special or Feature. The show itself received a Golden Globe nomination as Best Movie Made for TV.
Sound-wise, there is precious little dialogue, much use of Foley and sound effects, and an atonal minimalist score by Billy Goldenberg in Duel. Lubow worked on the bar scene where protagonist David Mann (Dennis Weaver) picks a fight with a customer who he thinks is his stalker. The film, he recalls, was shot silent and recorded at Universal. However, Lubow says that Spielberg shot "wild dialogue on the cue track" for that scene, which was recorded back at the studio. The final duel between the Valiant and the truck is notable for its monstrous roars, recorded by Stacy. Spielberg wanted the truck to die and sound like Godzlla as it went over the desert cliff, according to Lubow. "John [Stacy] created that very well," he says.
"Hitchcockian" is the term often used to describe Duel. It could have been a teleplay on Alfred Hitchcock Presents.
Weaver, who was portraying the cowboy detective McCloud at the time in the hit series of the same name, was cast as Mann, the LA businessman who is terrorized by the psychotic truck driver. Spielberg was thrilled because he admired Weaver's acting in Orson Welles' Touch of Evil (1958).
Duel has had a curious history since its television debut. It was released out- side America in 1973 with approximately 15 minutes added before the chase, which, according to Lubow, mostly consisted of domestic scenes with Mann and his wife, who is upset that he didn't defend her when a party guest groped her. The school bus episode was also added for the theatrical release. That expanded version was finally released as a theatrical film in America 10 years later in 1983, after Spielberg became one of the most successful directors with mega-hits Jaws (1975), Close Encounters of the Third Kind (1977) and E.T.: The Extra-Terrestrial (1982). Almost a decade later, the original film was restored and re-recorded for DVD release in 2002 using a 5.1 sound mix, supervised by sound editor Norval "Charlie" Crutcher III, who says that he was sensitive to preserving the heritage of the film in his restoration. "We augmented as much as we could in preparing the tracks for the remix," he explains. "Special effects were added to give the truck a larger presence when it bore down on Mann." Also, some parts, such as the restaurant scene, were completely redone with new Foley and looping, according to Crutcher.
Universal released the Collector's Edition DVD with a superb transfer and three incisive documentary featurettes included: Spielberg recalling the making of the film, an overview of his early television directing, and screenwriter Matheson discussing writing the original story.
Actually, seen in the present, Duel is very modern, despite the obvious absence of a cell phone, which could have alerted the police. Stalking, mental illness and road rage––even the radio call- in show, on which an unemployed husband asks if he can be named the head of the household on his census form if his wife is the breadwinner––are all themes in the news today.