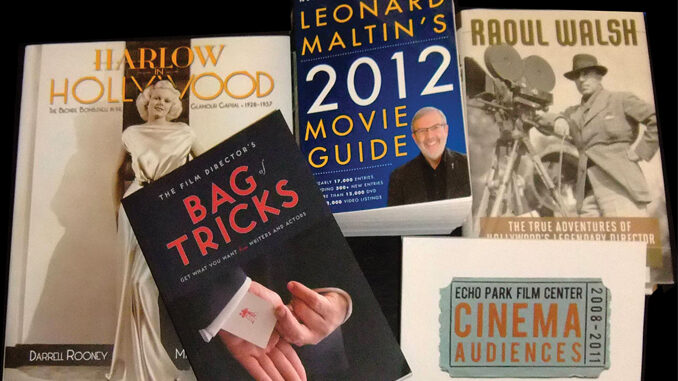 by Ray Zone
Despite what you may hear about eBook publishing and digital books, the publication of books about film on "dead trees" (or paper) is very much alive. The small sampling of books showcased in our annual holiday gift guide represents just a handful of some interesting titles that have appeared in recent months, and testi- fies to the vitality of this traditional form of communication.
Leonard Maltin's 2012 Movie Guid
Edited by Leonard Maltin
A Plume Book
Softbound, 1643 pps., $20.00
ISBN: 978-0-452-29735-7
Maltin's annual guide contains 17,000 films with reviews and ratings, and 300 new entries which track the availability of movies in different iterations on videocassette, laserdisc or DVD. One expects that the 2013 edition will also include a legend for titles available on Blu-ray discs. (I wonder if 3-D will also get a separate category.)
Though I wouldn't go so far as Esquire magazine to characterize Maltin's tome as "the single most important reference book in every home," it is definitely invaluable for the veteran cineaste and armchair movie geeks. My copies are always very well thumbed by the time a new edition appears.
Raoul Walsh: The True Adventures of Hollywood's Legendary Director
by Marilyn Ann Moss
University of Kentucky Press
Hardbound, 482 pps., $40.00 I
ISBN: 978-0-19-8131-3393-5
Surprisingly, Moss's biography of Raoul Walsh is the first full-length one to appear in print. With a career that spanned over 50 years of filmmaking––from the silent to the modern era––Walsh directed such classic films as What Price Glory (1926), They Died with Their Boots On (1941), White Heat (1949) and The Naked and the Dead (1958). The director cultivated his own legend, which Moss very accurately documents. When a 1928 automobile accident cost Walsh the use of his right eye, he persevered, even going so far as to direct a 3-D film, Gun Fury, in 1953.
Walsh's epic career also included his direction of The Big Trail (1930), starring John Wayne, in the doomed 70mm Fox Grandeur format. If you are a devotee of classic films, especially gangster films, you will find this volume a riveting read and it's highly likely it will send you back for anoth- er look at Walsh's work.
Echo Park Film Center Cinema Audiences: 2008-2011
Edited by Lisa Marr
EPFC Books, Los Angeles
Softbound, 304 pps., $20.00
The Echo Park Film Center (EPFC) in Los Angeles is a haven of personal and experimental filmmaking. Founded in 2001 by Paolo Davanzo as a free and low- cost resource with community film work- shops and equipment rentals, the EPFC has hosted over 1,500 experimental and documentary film screenings in its 55-seat storefront cinema. The full-color images in this book document audiences at almost every EPFC screening from March 2008 to March 2011. "In turning the lens back on the audience, we celebrate both our diversity and our collective experi- ence," writes Davanzo in the Introduction. "In flipping through the pages, we become the film." For more information, visit www.echoparkfilmcenter.org.
The Film Director's Bag of Tricks
by Mark W. Travis
Michael Wiese Productions
Softbound, 191 pps., $22.95
ISBN-13: 978-1615930562
In his third book on film directing, Mark Travis compares the director to an alchemist, whose wizardry is used to get writers and actors to provide "what we need so that we can create our next illusion." In five succinct chapters, Travis unveils the trickery of Working with the Writer, Casting, Rehearsal, Production and, in the last chapter, interviews other successful directors including Gordon Hunt, Mark Rydell and John Badham.
Travis defines alchemy as "Any magical power or process of transmuting a common substance, usually of little value, into a substance of great value." And, as an alchemist, the director uses an instinctive sleight of hand to create an illusion with a process that ultimately remains a mystery. "That's how I feel about directing," writes Travis. "It is truly mysterious." Nevertheless, with a gracious self-deprecating humor, he examines a magical process to yield some insightful gold.
Harlow in Hollywood: The Blonde Bombshell in the Glamour Capital, 1928-1937
by Darrell Rooney and Mark A. Viera Angel City Press
Hardbound, 240 pps., $50.00
ISBN-13: 978-1-883318-96-3
If you're a fan of classic Hollywood, here is the coffee-table book of the sea- son. It's a gorgeous tome, befitting its glamorous subject, with crisp duotone printing of vintage black-and-white photos, spot color with gold and ash blue inks, four-color pictures, and over 280 rare images. The luxurious book design is by award-winning graphic designer Hilary Lentini. It's obvious that both Rooney and Viera have fallen hard for the blonde bomb- shell who swept Hollywood before dying at the age of 26 in 1937 at the peak of her fame.
This is an assiduously researched history as well as a valentine to the platinum- haired beauty who epitomized glamour during Hollywood's golden age. The aura of that time and place surrounds this dazzling book. The authors make a case for Harlow as "an Art Deco artifact" and include photos of her homes from her "white-on-white Beverly Glen mansion" to the sets of classic films like Dinner at Eight (1933). The endpaper maps of Hollywood, printed in gold, are particularly impressive and are marked with stylistic "stickpins" to indicate places of importance in Harlow's history.