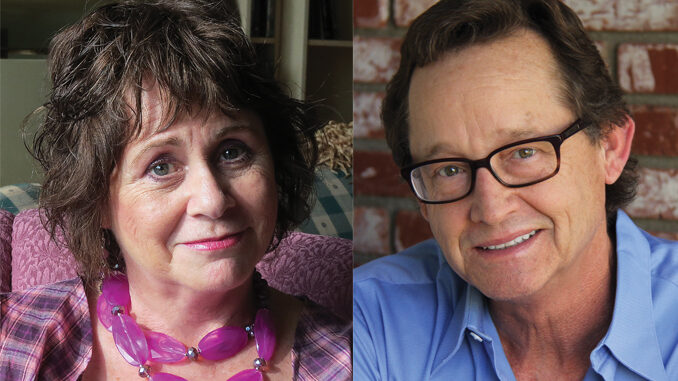 by Edward Landler
Editors Guild members sometimes need to exercise their storytelling talents and share their insights on their craft in the print medium in addition to the audio- visual. This year to date, four books have been published by members of the Guild about their work.
While all four of the authors were inspired by their work experience, each had a different purpose for writing and a dramatically different story to tell; they also found different paths to publication and distribution.
PICTURE EDITOR RICK TUBER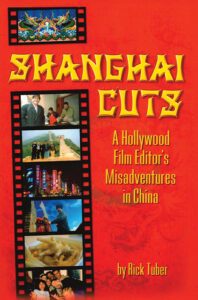 Rick Tuber has spent most of his career editing TV series, winning an Emmy Award in 1995 for his work on NBC's ER (1994-2009). He just finished up the first season of Tyler Perry's If Loving You Is Wrong (2014-present) on OWN and has returned to Season 2 of WGN's Salem (2014-present).
Back in 2002, though, after working on CBS's Nash Bridges (1996-2001), he was up for two different shows — a then new show for FX called The Shield (2002-08) and Flatland (2002), a sci-fi/martial arts series starring Dennis Hopper, being produced in China by Andre Morgan for the Ruddy Morgan Organization.
Tuber accepted Morgan's offer to edit Flatland just before learning he also had a firm offer to work on The Shield. Committed to Morgan, he flew to Shanghai and into a project that was completed but virtually stillborn. Never finding a place as a TV series, a shortened version wound up on DVD in 2010, and bits and pieces of it have recently appeared as a web series. Tuber came back to America with a larger story to tell: How a few months living in China changed his life.
Out of Tuber's experience, "immersed in this Chinese world," emerged a heartfelt book entitled Shanghai Cuts: A Hollywood Editor's Misadventures in China. While there, he wrote two journals' worth of material about everything he was going through. He recalls, "It smells different. It sounds different. I had my wide eyes as a child taking it all in and I've never stopped talking about it. I've gone back to China seven times since."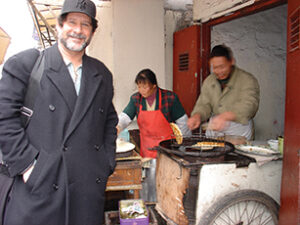 Over the years, Tuber realized how he influenced those he met there and how the friendships he formed affected his family's life here. He also saw how his understanding of the world had changed. He had to write about it and it took him three years. "I was determined to get this done," he reveals. "Coming home from China and resuming my former life made me appreciate other cultures and open my mind to America's spin on China. I take a longer look now at what America wants us to think of other cultures. People have to think of the Chinese as people."
Tuber shared the finished manuscript with three of his Flatland post-production colleagues, who were all impressed with the accuracy of detail and his personal honesty. With no track record as a published author, he decided, "I'll just do it myself and check out self-publishing."
After exploring a number of self-publishing services, the editor chose to go with Friesen Press. Shanghai Cuts appeared in May of this year in hardcover, paperback and e-book. "It's my hope to see it translated into Mandarin and published in China, too," Tuber notes.
ASSISTANT EDITOR JOE WOO, JR.
While Tuber wrote his book to describe his cultural adventure outside the film project that brought him to China, veteran assistant editor Joe Woo, Jr. says he wrote Life's Abyss, Then You Dive: A Memoir about the Making of James Cameron's Film 'The Abyss' specifically as "a truthful recollection of the editing process from start to finish that features Cameron as a major character."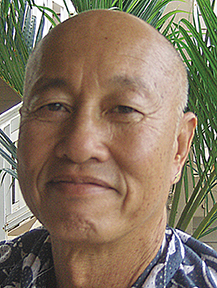 Now living in Maui, Woo realized after retiring from the industry that "I have never experienced a filmmaking journey anywhere close to the one I had working on The Abyss." Largely relying on his powers of recall to write the memoir, he wrote the entire book standing up. "Standing upright is the best position for my thought processes, whether editing or writing," Woo explains. "Walter Murch turned me on to this method when I worked with him."
Woo worked with Murch on House of Cards (1993), Romeo Is Bleeding (1993) and First Knight (1995). On all three projects, the editor requested that Woo be given screen credit as "associate editor" to reflect his contributions. In acknowledgment, Woo dedicated his book to Murch as "my mentor and friend who made filmmaking fun and not solely work."
The memoir is a clear, technical exploration of the film production and post-production process before digital tools took over. It also strongly supports the view that The Abyss made history developing techniques for underwater filming and sound recording as well as for its visual effects, for which it won an Oscar. "I was the first feature assistant ever to order a CGI effect creation," claims Woo.
In addition, he offers an engrossing depiction of the intense working relationships behind an intricate big- budget location shoot in Gaffney, North Carolina, with fascinating glimpses into the creative personalities involved in the film — from writer/director Cameron, producer Gale Anne Hurd and editors Joel Goodman, Conrad Buff, ACE, and Howard E. Smith, ACE, on down to the PAs. Woo started writing the book in 2011 and finished a first draft in 2013. He received feedback from friends on the production and continued to tweak it into early 2014. Along with corrections, he incorporated cultural and historical references to give a sense of how the world was touching people's lives in 1988 and 1989.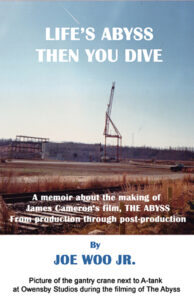 With the writing completed, Woo decided that publishing Life's Abyss as an e-book would be most appropriate for the project, and found out about the self- publishing and distribution platform Smashwords from an article in Esquire magazine. A friend in Hawaii helped him get it on the Smashwords site in March and another friend, who had been hired to upgrade Smashwords as a premium site, helped Woo get the book uploaded as a premium submission. The premium site converts the files into multiple e-book formats for downloading onto various e-book reading devices. Once published, the books are made available for sale online at a price set by the author.
For more information about Life's Abyss, see www. smashwords.com/books/view/422532.
Woo also maintains his own website — www.lifesabyss. com — with other material about the book, including a gag reel he put together for the film. "It was a welcome timeout for the crew from the daily grind of production. Everyone felt included," he says.
PICTURE EDITOR JOHN HEATH
John Heath, the author of Concrete Wedding Cake: What I Have Learned about Motion Picture Editing and Other Stuff, comes from the third generation of a movie family. His grandfather, Frank Heath, was an assistant director from the silent days into the 1950s, and his father, Lawrence Heath, edited TV series, TV movies and features into the 1980s.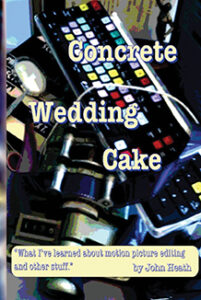 Heath himself first started to learn editing summers and weekends watching his dad in the cutting room of The George Burns and Gracie Allen Show (1950-58). Although he learned the craft on the Moviola, he says, "I prefer the Avid over everything." With a hefty list of credits as editor, producer and director, he currently is editing the TNT spy series Legends (2014-present) and is also in post-production on a feature, The Last Night Inn (2015), which he also directed.
Drawing from his lifetime of experience, it took Heath a year to write Concrete Wedding Cake and edit it down into a concise and straightforward account of how to approach the editing of a narrative dramatic film. The title comes from the classic editor's complaint, "Today's dailies were a concrete wedding cake — beautiful to look at, impossible to cut."
Heath says the motivating factor in writing was "to explain why something does not work. You can't be a good editor, or director for that matter, unless you have some sense of seeing [the film] in your mind. While many editors seem to have a naturally good sense of how to construct a clear and entertaining motion picture, others clearly need a structure, terminology and process to approach the work."
Heath succeeds in his purpose by emphasizing the importance of understanding the entire scope of any given project. He says, "Like preparing to be a director, an editor needs to learn about working with actors and a crew. He or she needs to understand the writer's intent and the director's vision, and use editing techniques to flesh out the behavior of the actors and the vision of the director."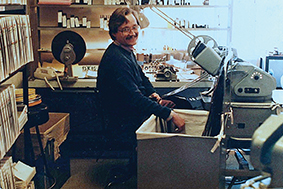 Building step-by-step on the central editing objective to follow the story and lead the audience, Heath leads the reader through the post-production process in much the same way as he might edit a picture. He logically covers everything from breaking down the script to choosing perspective from all sight and sound choices available.
He concludes the book with a chapter entitled "For Directors Only" to explain how a show should be prepped and shot to give editors optimum dailies with which to work. More than that, though, it provides an excellent overview of the director/editor relationship.
Heath also published the book himself. "I used the Amazon service CreateSpace," he acknowledges. "It walks you through the process of self-publishing right over the Internet." Concrete Wedding Cake became available in January in hardcover, paperback and e-book editions.
For more information, see www.amazon.com/Concrete- Wedding-Cake-learned-picture/dp/061595166X.
SOUND EDITOR VANESSA THEME AMENT
Like Heath, Vanessa Theme Ament represents the third generation of a movie family. Her grandfather worked in silent films and later served as a vice president at RKO
in the early 1930s; her mother was a dancer and assistant choreographer. Unlike the three other editor and assistant editor authors, however, her Guild classification was sound editor, joining the local before the Foley artists did. She now teaches and writes.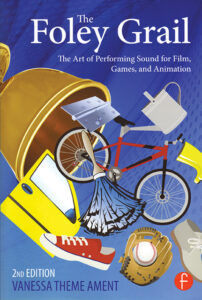 Over the years, Ament logged an impressive list of about 150 credits as Foley artist and Foley editor, as well as ADR, sounds effects and supervising sound editor. Her projects range from TV shows like Dallas (1978-91) and Cagney & Lacey (1981-88) to features such as Prizzi's Honor (1985), Die Hard (1988), Edward Scissorhands (1990) and Beauty and the Beast (1991). During her career, she says, "I learned the process of post-production in a peculiar way —with people suggesting what to learn as I went along. Few people have had the opportunity to cue it, shoot it, edit it and supervise it. I got to experience what a bunch of other people in post did."
Fittingly, then, she is the author of the definitive book on Foley sound effects, The Foley Grail: The Art of Performing Sound for Film, Games and Animation (see review, page 49). Originally published in 2009 by the Focal Press, a major source of books on media technology, a significantly expanded Second Edition came out in March of this year.
With her varied background in a compartmentalized industry, Ament has developed a real understanding of the organic nature of film. She brings this to her writing about Foley and how it fits into the filmmaking process: "On every feature and TV show, even in some documentaries, the footsteps of the actors, the cloth movements of the actors and the props touched by the actors are enhanced or replaced. They are mixed in with the cut effects and blended." To do this, she says, a Foley artist "needs to understand the story before doing anything on film."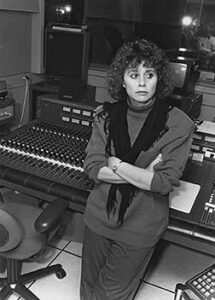 In 1989, Ament demonstrated her Foley talents to a nationwide audience on CBS's Late Night with David Letterman. A few years later, she says, "I thought about doing a book on Foley. If I didn't write about it, nobody would know what we do because we're all so busy doing work." She found more time to write in 2006, when she left Los Angeles to teach in the Digital Cinema program at DePaul University in Chicago. Ament notes, "In my mind, I never left the business; I just took another trajectory."
In 2009, she went on to Georgia State University in Atlanta where, this year, she earned a PhD in Communications and Moving Image Studies. For her doctorate, she wrote a dissertation on the transition from analog to digital in sound editing and design, and how this process was approached differently by the industry bases of New York, Los Angeles and the San Francisco Bay area. Ament intends to flesh this work out with hopes of having it published. In August, she joined the Telecommunications Department at Indiana's Ball State University.
For more information on The Foley Grail, see www. focalpress.com/books/details/9780415840859/.
From foreign cultures to work on groundbreaking films, from analyzing the actual editing process to exploring a necessary yet sometimes overlooked component of that process, the four books generated by this quartet of Guild authors represent just a portion of the storytelling skills and interests required by the jobs all Guild members do. They are serious and notable additions to the ever-growing wealth of literature reflecting the history, knowledge and experience of those who work in this profession.