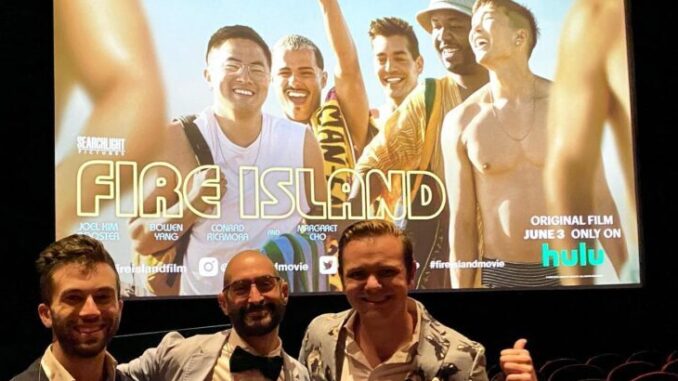 By Rob Feld
Brain Kates's career was born at a pivotal moment in American—and particularly New York—queer cinema. He became aware of queer cinema while attending NYU, after the critic B. Ruby Rich, in the pages of Sight & Sound magazine, coined the idea of a Queer New Wave, which was under way. From starting as a Second Assistant on Todd Haynes's "Safe" to cutting films like Jim Fall's "Trick," Moisés Kaufman's "The Laramie Project," or John Cameron Mitchell's "Shortbus," Kates has in one way or another been associated with many of the canonical queer films of his time, even if only to be acknowledged in the credits with a thank you.
His most recent work is a studio romantic comedy for Fox Searchlight/Disney, directed by Andrew Ahn, "Fire Island," released earlier this summer. Inspired by Jane Austen's "Pride and Prejudice," the story follows two best friends, Noah (Joel Kim Booster) and Howie (Bowen Yang), intent on an epic summer adventure of nonstop partying on Fire Island. When they arrive, they learn that the vacation house where they always crash is being sold by their friend, so they'd better make the most of the time they have left with it.
Noah resolves to help lovelorn Howie find the man of his dreams, but the particular indicators of Fire Island social status seem to keep Howie and Noah from the objects of their affections. Amid a week fueled by underwear parties, dance challenges, karaoke performances, and general debauchery, the gang bickers and banters over potential romantic entanglements, becoming comfortable with themselves, the good and the bad, in their chosen family. For Kates, it was the type of story he never thought he would be able to tell in a mainstream context when he got to know queer cinema.
CineMontage: Tell me about those early years and finding this group of filmmakers with whom you came to collaborate.
Brian Kates: I was a film production and cinema studies student at NYU, and a classmate who was a member of ACT UP (AIDS Coalition to Unleash Power) organized a screening of Todd Haynes's "Poison," which had won the Grand Jury Prize at Sundance the year before. I was smitten. Not only was the film impeccably crafted, but it also surprised me by showing people on the most demonized margins of society having some sort of attraction. It could be a dark attraction. It could be a campy attraction. Like Tom Kalin's "Swoon," it depicted a marginalized view of the world in a way that ran antithetical to Hollywood heroes. That was really exciting to me. It reclaimed this idea that queer sensibility has tropes throughout the ages, some of which were demonizing, but which could also be sexy and fun. This opened up a whole new sense of what cinematic pleasure is. Perhaps ironically, I have never been particularly drawn just to gay people making films about gay people. I am more interested in the project to "queer" film itself, by subverting narrative expectations. I felt like people like Haynes, Kalin, Rose Troché, Issac Julien, Marlon Riggs, and producer Christine Vachon were imagining film as occupying a cultural space that was as political as it was artistic.
Do you think that same sensibility exists now? Can you put marginalized characters in negative situations as safely, perhaps, as you could at that moment?
Kates: I don't think it's a coincidence that radical experimentation in queer cinema occurred at a time when queer filmmakers themselves occupied the margins. I also wouldn't be the first to observe that "respectable" depictions of queer characters in cinema helped to propel progress towards greater social inclusion, perhaps culminating in marriage equality. Yet I do think there is an appetite today for a more intersectional approach to LGBTQ representation, in which depictions of our complexity are favored over assimilationist celebrations of queer identity. A recent example is the great Spanish series "Veneno" on HBO Max, which tells the true story of transgender TV celebrity and singer Cristina Ortiz Rodríguez. The show explored her rise to fame against all odds, but also dealt with issues of aging, illness, poverty, and isolation, and not in a way that was stigmatizing or lurid. And she was often an unsympathetic character—a terrible friend, a liar, and a thief. A queer lens can be wide enough to encompass all these things: our glamour, our triumphs, our shortcomings, and our disappointments.
What would be a quintessential formative experience for you?
Kates: John Cameron Mitchell's "Shortbus" was, for sure. That's when I learned how to have respect for every single moment an actor is doing on film, and try to work productively with them even when they're seemingly incongruous. This was by necessity, because John likes his actors to improvise dialogue, so every take was radically different. We were often rebuilding the script from the bottom up, finding story beats that the actors had reinterpreted in various ways, and figuring out how to seamlessly attach them to one another. In fact, as I would learn, the same is true for all editing. You don't know where the good stuff is going to be. You have to be open to surprises. The good stuff is not necessarily the circled takes, or what the director remembers having worked on set, and certainly not what the actor recalls. It's usually a combination of different moments from different takes. And if it's a scene with very few cuts, a lot of meaning is created in sound design, which does not exist at all until you and the sound editors build it. So, I look back on "Shortbus" as my boot camp for balancing all of these elements.
So now flash forward 16 years and tell me what you brought along to your approach to "Fire Island?" 
Kates: To be honest, the most distinctive thing I brought to my approach to "Fire Island" was my own personal baggage about Fire Island as a place. I had gone there for almost 20 years as a vacationer. When I got the script, I was skeptical because I didn't want to see a movie about Fire Island that didn't criticize it for how classist and exclusionary it can feel there. It's a generalization, but I thought that if someone's going to make a movie about Fire Island that doesn't talk about how triggering it can be for people—because you always feel like everyone else is having more fun, is more beautiful, is having more sex—then it's not worth making. Lo and behold, Joel Kim Booster wrote a screenplay riffing on the class stratification in "Pride and Prejudice," but substituting the class distinctions of "race, masculinity, and abs," for the class distinctions of Regency England, and centering his story on queer Asian men. What a breath of fresh air. Despite their limitations, the two LGBTQ enclaves of Fire Island have incredible natural beauty and an uncanny quality of queer people being the majority instead of the minority, which, even in this day and age, is uniquely liberatory. But it's complicated because queer people are complicated like all people are complicated, and queer culture is not a utopia. Joel was tapping into exactly what is relevant to me about Fire Island.
What was the greatest challenge of putting it together?
Kates: Finding the musical identity of the film was a challenge that sticks out in my mind, in a positive way. At first, there was a lot of music that was recorded on set as playback. I assumed that the director, Andrew Ahn, and Joel were trying to refer to different eras of gay pop music that show up in the movie to broaden the cultural landscape. So, I tried to go a little deeper with that to suggest that Fire Island has been many fun things to many people over generations—whether it meant adding songs by queer artists like Perfume Genius, or my friend Meagan Rodriguez (QRTR), or some additional disco, or the Willy Wonka song "Pure Imagination," which I hoped captured just the right amount of silliness and campiness, as well as magic and sincere longing. It turned out to be a coup that everyone really liked that track, and it stayed in the cut from the assembly until the finished film. It's rare to put music in at the beginning and have it remain to the end. That's a little bit of Fire Island magic right there. We were especially fortunate to have a great composer, Jay Wadley, who created an awesome summer rom com soundtrack. It features harpsichord, so tips its hat to the film's Jane Austen source material. But it also sounds like a 1960's harpsichord, with echoes of The Partridge Family and The Monkeys, so it's a bit nostalgic and wacky. As soon as Jay started playing Andrew and me those demos, we knew he was onto something great.
You were very young when you started in this space. Was there a voice you found yourself developing? Has it changed over time? 
Kates: It's unnatural for me to think about my editorial voice, because an editor's job is to take our stylistic cues from the director and become one with the material. It's less about finding a voice for myself than about finding a community for myself in which I can experiment with different genres and styles. As I came of age in the industry, all I wanted was for the films that I cared about to have enough of an audience that the directors would continue to make more films and have successful careers, so that I could be part of their artistic community. What I didn't expect was that a film like "Fire Island"—with its explicit sexual content and its honesty about the wonderfully hedonistic aspects of gay culture (that would have been deemed pornographic in the past)—would exist as a studio film financed by Disney. We can get away with a lot more in a studio setting now than I ever thought was possible. But the fact that we have only queer actors playing queer characters—something that used to be rare if not impossible—plus two gay orgies in the film, does not make the film any less of a crowd-pleasing mainstream comedy. We wanted to dutifully fulfil the genre expectations of a rom-com but make it authentically queer. I always knew theoretically that that could exist, but I had to see it to believe it.