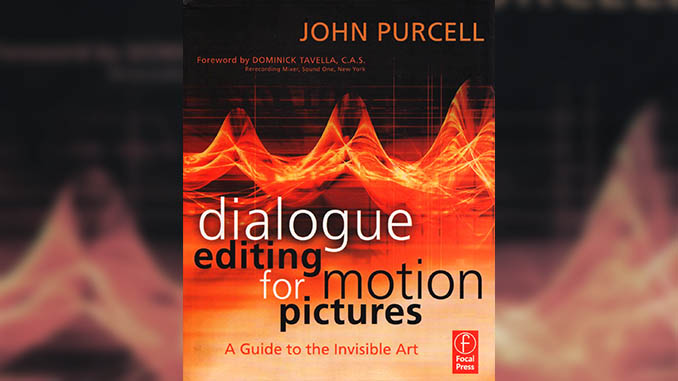 by Ray Zone
Dialogue Editing for Motion Pictures
By John Purcell
Focal Press
365 ppd., paperbound, $44.95
ISBN: 978-0-240-80918-2
For John Purcell, dialogue editing is an invisible art. "Dialogue editors play a vital role in the subterfuge of filmmaking," he writes. "It's up to us to turn the many shots and production sounds into a convincing, coherent scene that even the most skeptical filmgoer will watch without being aware of the filmmaking that went into it. Unlike sound effects editors, background editors or music editors, our magic most certainly goes unseen (or unheard)––if it's performed well. Only our failures attract attention."
Among the many tasks of the dialogue editor are organizing and managing the material; smoothing transitions between shots (so conversations appear to be happening in the same space at the same time); mending articulation problems, overlaps and other language issues; fixing unseemly actor noises like lip smacks, denture clatter and hungry belly noises; enhancing the story by paying attention to changes; removing unwanted external noises (whether crew or dolly noise, unnecessary footsteps or birds chirping during day-for-night scenes); replacing sections of dialogue corrupted by distortion, wind or clothing noise or boom handling; and determining what can and can't be saved through editing and must be re-recorded through post-synchronization or ADR.
A longtime sound editor who lives in Israel, Purcell has real expertise and has stayed up to date in his field. He has written this book for people who need to edit production sound for narrative films but were "never taught how to do it." Unlike music and effects editing, dialogue editing operates under a different set of rules. There are certain fundamental procedures that are absolutely essential to know and, unless one has been fortunate enough to work with an experienced editor in different situations, the information is not available. Purcell's book will fill in the gaps.
The book serves as an inspiration to those who are inclined to think that dialogue editing is "boring" or "tedious."
In a brisk chapter titled "No One Works in a Vacuum––How to Know Where You Fit into the Filmmaking Process," Purcell provides an historical overview of motion picture sound production and walks the reader through the transition from optical to digital sound up to the technologies of the present day. He astutely addresses the human factor by identifying different players in the sound department and where the dialogue editor fits into the food chain. The supervising sound editor, Purcell states simply, is the "boss." While bringing the film's sound to life, the supervising sound editor "must be as nimble with Excel as with ProTools."
In the subsequent chapter, Purcell observes, "Much of your success as a dialogue editor hinges on your relationship with the picture department, particularly the assistant picture editor. Simply put, you need materials from them that aren't always convenient to come up with."  This is advice based on real knowledge gained in the trenches of motion picture sound production. Purcell stresses that "understanding, charm, and decency in dealing with the folks in the picture department" can make the difference between "begging" or "strong-arming" to get the elements a dialogue editor needs.
Some essential words are offered about cutting room etiquette and potential traps for the dialogue editor.
When asked by the picture editor after viewing footage in the cutting room if dialogue can be "fixed" or if ADR will be "necessary," Purcell states that the correct answer is almost always: "I can't tell you here now, but give me the track and I'll do some tests with the supervising sound editor and the mixer."  For one thing, you can't hear well in a picture cutting room, you haven't had a chance to look for alternate takes and, most importantly, "You won't be forgiven if you're wrong."
John Purcell wrote this book for people who need to edit production sound for narrative films but were "never taught how to do it."
Acknowledging that he has written a "ProTools-centric" book, Purcell takes the reader through the ins and outs of OMF-1 and 2 (optical media format interchange), AAF (advanced authoring format) and MXF (media exchange format) and thoroughly covers printing and cleaning the EDL (Edit Decision List), auto-assembly, auto-conforming files from a hard-disk recorder and metadata. A separate chapter deals with preparing for and executing successful ADR. The crucial importance of dialogue editing, which is at "centerstage" in documentaries, is covered in a chapter of its own. And, of course, the pre-mix and final mix is also discussed.
"Dialogue Editing in a Nutshell" serves as an appendix to the book and a glossary of terms wraps up Purcell's thorough tutorial on this invisible art. The book also may serve as an inspiration to those who are inclined to think that dialogue editing is "boring" or "tedious."  On the contrary, Purcell observes that "every word" in a motion picture is important and that dialogue editing is the "glue" that holds it all together.