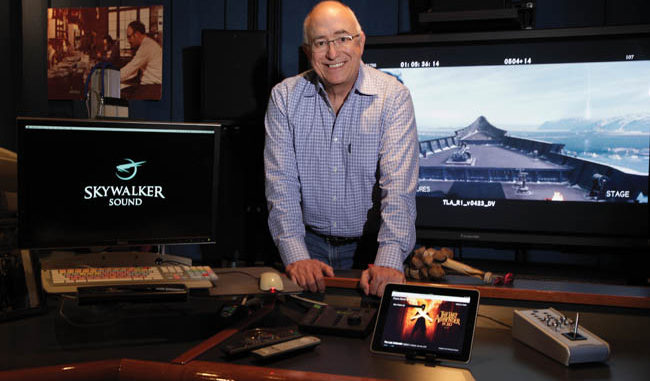 Where are you currently employed?
Skywalker Sound
Current projects?
Recently finished "The Midnight Sky," directed by George Clooney, and "The Witches," directed by Bob Zemeckis.  Currently working on "Vivo," an animated feature directed by Kirk DeMicco.
Describe your job.
I'm a sound designer, supervising sound editor, and re-recording mixer. I work with the director and other colleagues to develop a sound style for each film, to collect and fabricate sounds to aid in storytelling, and to mix all of the sound elements into a cohesive flow.
How did you first become interested in this line of work?
I began sound work as a volunteer at a public radio station. My work in collecting and editing sounds for radio pieces led me to think about doing film sound.
Who gave you your first break?
Walter Murch. I called him, asking about getting into film sound. He invited me to spend a day with him, watching as he remixed the sound of "American Graffiti" into stereo.  At the end of the day he asked me to write an essay about what I had seen and heard. He liked what I wrote, and he hired me to be one of his assistants on "Apocalypse Now."
What was your first union job?
"Apocalypse Now."
What credits or projects are you proudest of, and why?
"The Revenant," "The Incredibles," "Contact," "The Right Stuff," and "Apocalypse Now" are all films in which the sound made a huge difference and I'm proud to have worked on them.  I could name many more, but those are the ones that come to mind first.
What was your biggest challenge in your job (or on a particular project) and how did you overcome/solve it?
On "The Midnight Sky," we had to figure out how to make George Clooney's voice sound 30 years younger. He plays the older version of his character in the movie, and Ethan Peck plays the younger version. Ethan's voice sounded too different from George's voice to be credible. Attempting to solve the problem, we tried all the usual options… pitch-changing George's voice, recording voice-alikes, etc. We were all quite frustrated about not being able to come up with a younger sounding George that also incorporated some of the qualities of Ethan's voice.
We decided to do an experiment with bleeding-edge technology involving artificial intelligence in analyzing the two voices, George's and Ethan's, then melding the two into one voice which would have some of the characteristics of each actor. After lots of tweaking, it worked, and worked amazingly. Everyone breathed a sigh of relief.
What was the most fun you've had at work?
It would be hard to beat my first film job, "Apocalypse Now." I worked on the film for a year and a half, and it was like the film school I never had. In the trenches, literally (we dug six-foot-deep trenches outdoors to record soldier foley in), and metaphorically, it was an exhausting and deeply rewarding project. We all felt like we had been to war together.
Jobwise, what do you hope to be doing five years from now?
I will probably be retired, but I could still be working on the occasional special movie.
What are your outside activities, hobbies, passions?
I'm a landscape painter, and I'm fiddling with writing screenplays, ones that use sound to its full potential.
Favorite movie(s)? Why?
"Dr. Strangelove" is one of the best ever. "The Conversation."
Favorite TV program(s)?  Why?
I don't watch TV.
Do you have an industry mentor?
Walter Murch, Ben Burtt, and Alan Splet were all my mentors.
What advice would you offer to someone interested in pursuing your line of work?
First, figure out how to be a good person, a nice person, and one who knows how to communicate well, because those things are what will get you hired again and again more than any other "skills" you have. Then pursue it passionately and resiliently, because frustration and failure on many levels will be with you throughout your career, along will success.
Was there ever a circumstance when you had to rely on the Guild for help or assistance?
No.
Is there anything you'd like to say to your fellow Guild members, some words of encouragement?
One thing we as a Guild need to do is to make our profession more diverse, racially and in terms of gender. One of the things that prevents us from making progress in this effort is the idea (the myth) that only the "most highly qualified" applicant should be hired for any job.
First, it has never been the case that the most highly qualified person was always going to be the person who got the job. Most often, it has been the most highly qualified person who is also similar to, or previously known to, the person doing the hiring… same race, gender, background, etc.
Second, given the current lack of diversity among those doing the hiring, and the lack of diversity in the pool of job applicants, the likelihood that the most qualified person for the job is going to be a white male is extremely high, so the lack of diversity is self-perpetuating.
I encourage anyone doing hiring to not always do the lazy thing and the "safest" thing, which is to automatically hire someone with the most impressive resume who you also happen to "click" with personally. Look deeper, for potential in job applicants, not just obvious qualifications. That's what Walter Murch did when he hired me. I was far from the most qualified person for the job.
If you do look deeper, and search more widely, I guarantee that there will be more women and more people of color out there who have the potential to succeed way beyond what their resumes might suggest.
–Compiled by Jeff Burman 
Interested in being featured? Email Scott Collins at scollins@editorsguild.com.