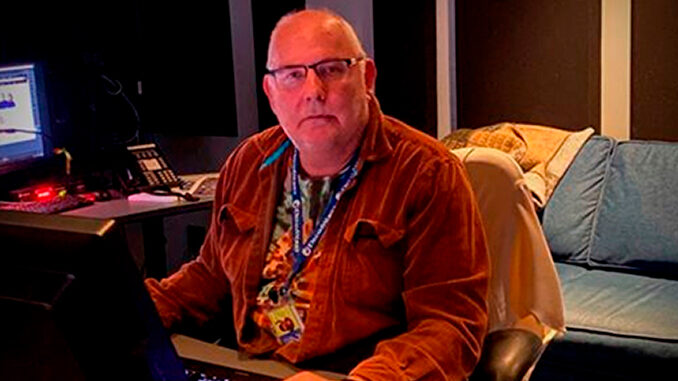 Where are you currently employed?
DreamWorks/NBCUniversal.
 Current Project?
"Trolls World Tour," which is the sequel to "Trolls" (2016). This is a computer-animated musical comedy theatrical feature scheduled for wide release in April 2020. Voice talent includes Anna Kendrick, Justin Timberlake, James Corden, Ozzy Osborne, and a lot of other recognizable names from today's music and comedy worlds.
Describe Your Job.
I'm responsible for final color correction and mastering for all delivery formats, including theatrical, 3D, Home Blu-ray, streaming 2K SDR and 4K HDR (aka UHD), and I'm learning about Dolby Vision.
 How did you first become interested in this line of work?
I worked in a film laboratory as a film/print timer for over 15 years prior to working with digital media. I also had a photography studio that specialized in photographing original art for print, reproduction, and advertising. Color had to be perfect, so I knew then I had an eye for color accuracy.
Who gave you your first break?
A visual effects supervisor and producer, Ralph Maiers, gave me a chance to color-correct film scans for compositing and to learn computer skills (mainly UNIX and complicated systems that were used at the time in VFX work) that helped me get to the position I'm in today. Fortunately, he overlooked my lack of computer skills and hired me for my film background and keen eye for color.
What was your first union job?
Pacific Title & Art Studio in Hollywood.
What credits or projects are you proudest of, and why?
Mainly all the animated projects I have been on for the past 12 years because all these images are generated from scratch, not photographed. They start in people's minds rather than as photographed reality. Of the live action projects I've worked on – and there are many – "Pirates of the Caribbean: The Curse of the Black Pearl" stands out for me because I love that time in history. I was able to have a huge impact on the last "Narnia" film ["The Voyage of the Dawn Treader" (2010)]. We were the first project/crew to build a pipeline for color-corrected dailies on set, and we created looks for the final picture with the DoP, Dante Spinotti. Now all films shot digitally are doing this process, so it was cool to be on the forefront of that. I also enjoyed working on "American Beauty" because it was director Sam Mendes' first award winning film, and it was brilliant. He was also a truly nice guy.
What was your biggest challenge in your job (or on a particular project) and how did you overcome/solve it?
Since I work only on animation now, I would have to say it's in the final days of a schedule when we get shots that are done by various artists or need to be lit differently than originally intended. During final color correction, we have to make them look correct and consistent. One of the most challenging animation projects had to be "Penguins of Madagascar." The lighting had been done in India at our other studio. I was changing colors of clothing and sometimes completely relighting sets and characters so they would match as closely as possible the creatives' vision for the finished movie.
What was the most fun you've had at work?
Typically the wrap parties, especially seeing the crew finally cut loose after working on a film over several years. We actually have fun most of the time, even in crunch. I work with a terrific group of talented and kind people.
Jobwise, what do you hope to be doing five years from now?
Just what I do now. Maybe also get more involved in setting cameras and generating look development for future projects. I love my job and work environment. I work for an excellent team in Post and a wonderfully talented crew of artists. Also, as I get closer to retirement age, I'd like to start selling some of my own photography.
What are your outside activities, hobbies, passions?
Besides photography, I like travel, golf, scuba diving, photography, skiing, and river rafting. I am also passionate about giving back to my community when I can and mentoring younger people to follow their dreams. Many younger people today seem a bit lost and can use that guidance.
Favorite movie(s)? Why?
"The Big Lebowski" (that's me), "Jaws," "Goodfellas," "Office Space," "Fargo"– because they are awesome. I have too many to mention. Additionally, two of those were shot by one of my favorite cinematographers, Roger Deakins. I have had the pleasure to work with him here at DreamWorks on the "How to Train Your Dragon" franchise. He was our visual consultant.
Favorite TV program(s)? Why?
"The Sopranos," because most of my family grew up in Brooklyn, and I heard many stories about the Mob and how they took care of their neighbors. My parents and grandparents lived in the same apartment building as the drivers and bodyguards of some famous mobsters, including Lucky Luciano. Another show that relates to my family's New York connection is "Seinfeld," a "show about nothing" that's both brilliant and stupidly funny. And of course, "Breaking Bad," which I have watched three times for its fantastic writing and cinematography. There were definitely some camera moves that were one of a kind.
Do you have an industry mentor?
My father was a huge influence on me. He was a very hardworking cinematographer/director who did mostly training and commercial films. He retired from Local 600 in the 1990s. I learned from him how perseverance would most of the time get you where you wanted to go and the jobs you would enjoy working on. He also taught me everything I know about cameras, film types, exposure, and shooting in tricky lighting. He was an extremely talented individual who always had a workaround for any challenge that came before him. That must have come from his being in the Navy in World War II. He was one of six men in the first landing party to place the light beacon on the beach for the invasion of Iwo Jima.
Another mentor was Roger Deakins. After working with him, I realized how he visualizes each scene and is not afraid to go bold. He always wants to push the envelope when it comes to contrast and saturation, which many in animation have been apprehensive to do. This is changing, though, as I'm now able to encourage creatives to consider that kind of thinking in order to make prettier images.
Some noteworthy DoPs are reluctant to consider the work of colorists as at least equally important to the original photography, sometimes more so. There are award-winning films that would neither look the same nor work as well story-wise without the work of experienced color-finishing artists. In my opinion, these artists deserve more credit and awards.
What advice would you offer to someone interested in pursuing your line of work?
Start early and remember that being a colorist isn't something you can learn from a book or college. Also, it requires a lot of patience and a given talent.
Is there anything you'd like to say to your fellow Guild members, some words of encouragement?
As I would tell anybody, everyone is born with a special skill and talent. I urge people to search for that in their soul. The ones who do not end up at college or are just working to get by, make a living. The ones who find their talent in their hearts love their work and live to work, not just collect a paycheck.
Compiled by David Bruskin. Want to be featured or know another Guild member who should be? Email CineMontage@editorsguild.com.