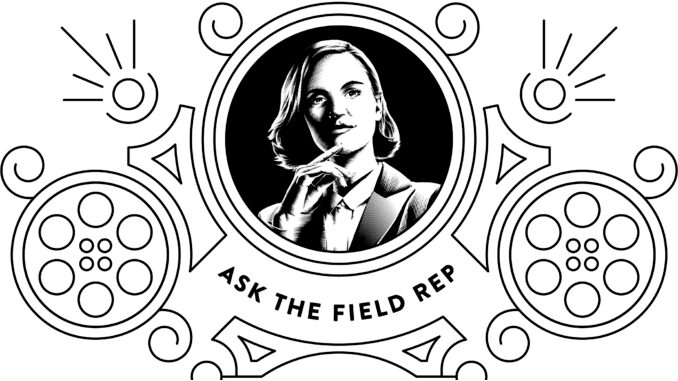 Every day, our tireless MPEG Field Reps work hard to get you answers to your workplace questions.
And every quarter, they do it right here at CineMontage. So let's get to a burning question!
Q. I'M WORKING SUNDAY THROUGH SATURDAY. I UNDERSTAND WE ARE SUPPOSED TO GET PAID AT A HIGHER RATE FOR WORKING A SEVENTH STRAIGHT DAY. AND YET, SOMEHOW I'M NOT BEING PAID AT THE HIGHER RATE FOR THAT SEVENTH DAY, SATURDAY. WHAT AM I MISSING? IS MY MATH OFF? ISN'T SUNDAY THROUGH SATURDAY SEVEN STRAIGHT DAYS?
Ah, the timeless seventh-day question. Mad coincidence: Cathy Repola, our National Executive Director, has a podcast on this very subject. You can find it archived on editorsguild.com.
But in case your smartphone is recharging, we can take care of this right now.
First, your math is fine. But the issues involved can get confusing. So bear with us here!
It might be helpful to look at a calendar and use a finger on each hand to point to the days in question when you think about this. Seriously. We Field Reps do it all the time. No shame.
Basically, the payroll week in the majority of contracts runs from midnight Saturday to midnight Saturday. The workweek however, can be any five consecutive days out of seven.
The majority of the time, an individual's work week runs Monday through Friday with their regularly scheduled days off as Saturday and Sunday.
For all weekly or regularly scheduled daily employees, if your work week is Monday through Friday, Monday is your Day 1. Please note that Monday is your Day 1 even if you worked Saturday. It is your Day 1 even if you worked Sunday. If you work both Saturday and Sunday, Monday is still your Day 1.
Let's say you have Saturday off, but the project dictates that you must come in on Sunday. You then work your following normally scheduled Monday through Friday week and find out that you have to come in on Saturday. Although you have now worked 7 days in a row, this Saturday is actually your 6th Day. (Remember, Monday is still your Day 1.) On this particular weeks' timecard, you would write:
[Date] – 6th day from previous week (This is your Sunday)
Date] – 6th day from current week (This is your Saturday)
Let's say that you now have to work the following day, Sunday. Although this is now your 8th consecutive day worked, it is the 7th day in your workweek. It goes on next weeks' timecard as:
[Date] – 7th day from previous week (This is your 2nd Sunday)
This is sometimes the point where members can get frustrated, especially if that 2nd Sunday wasn't worked, but actually, this is a good thing. Here's why:
Let's say you just started a project and your rst day is on a Friday. The contract you're working under allows a prorated start week, with Monday as Day 1, and your regularly scheduled days off are Saturday and Sunday. Something goes wrong and you immediately have to work the weekend. Saturday is your 2nd day worked, but it must be paid as a 6th day. Sunday is your 3rd day worked, but it must be paid as a 7th day. That's because … you guessed it: Monday is Your Day 1.
Let's say the producer doesn't understand the above and thinks that they can pay you straight time for Saturday and Sunday. Did you make an agreement to be on a Friday through Tuesday work week? They're ne to employ you that way, but then they have to give you Wednesday and Thursday off (or pay your 6th and 7th days).
There is also shifted workweek language in many of the contracts. If an employer wants to shift your week from a Monday through Friday to a Tuesday through Saturday, they can. But they have to play by the rules. Because your Day 1 is set, an employer can't change it on a whim, just to avoid paying you for a 6th or 7th day.
For those of you that are non-regularly scheduled daily employees, your Day 1 will be your first day of employment. You should get paid for any 6th or 7th day worked in a 7-day period. Additionally, it is possible for your Day 1 to shift based on dates employed. Even as a non-regularly scheduled daily employee, you may end up in the situations described above.
Ok, that's enough math for now. Put your fingers down! ■
Got a burning question? Reach out to publications@editorsguild.com Remember, answers are general and cannot possibly cover all situations. Always call a Field Rep to discuss your specifics when needed. The Guild's main number is (323) 876-4770.