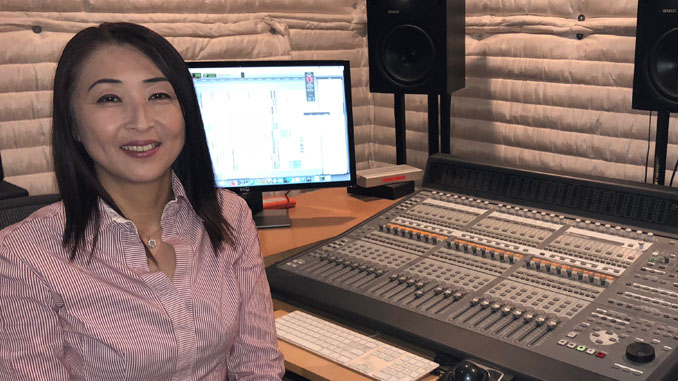 Where are you currently employed?
Sony Pictures Studios, where I usually do sound effects and design work for TV. During hiatus, and time permitting, I pick up freelance sound editing work. 
Current Project?
With Sony in hiatus, I am working a freelance job as a dialogue editor; I also cued and cut ADR and groups for a feature. Back at Sony, I will work on Empire and The Blacklist.
Describe Your Job.
Sound Editors are responsible for creating all the sounds in a movie or TV show (excluding music). Usually sound editing is divided into specific specialized tasks: dialogue, sound effects and design, Foley and music editing. All these editors prepare sounds for the final mix.
How did you first become interested in this line of work?
Intending to be a music studio mixer, I went to Boston's Berklee College of Music, where I took a required class in synchronizing and creating sound for moving pictures. After graduation, I wanted to stay in the US to gain experience before returning to Japan, and Berklee sponsored a "practical training" visa to stay another year and, as with a work visa, have a paid job.
Advised that the West Coast had more work, I moved to LA. A mixer from when I was an intern recommended me to a music studio there, where I had to be an intern again…at minimum wage! I could not qualify later for a work visa at that salary. Then I looked for jobs in post-production sound. I was hired at Bouquet Multimedia, a post house, and worked as an assistant mixer and sound editor.
Who gave you your first break?
Wanting to work as a sound effects (SFX) editor, I applied for work at Nancy and John Ross' Digital Sound and Picture (DSP), which had a cutting-edge way to edit SFX using music software. My first job at DSP was Hercules: The Legendary Journeys. Later, I worked on Xena: Warrior Princess and some features. Nancy and John helped me get a work visa and I worked there three years, developing the creative mind necessary for SFX editing.
What was your first union job?
Sound effects editor on the TV series Early Edition at Sony Pictures Studios.
Which of your credits or projects have made you the most proud and why? 
I'm proud of developing my fundamental editing skills on Hercules and Xena. More than proud, I am honored to have worked on Deadwood, for which I received a Primetime Emmy Award. Later, I realized that I was one of only a few Japanese to have received an Emmy, and the first to receive one in post-production sound. My family and friends seemed impressed that I was surviving as a woman working in this country and had received such a prestigious award.
What was your biggest challenge in your job (or on a particular project) and how did you overcome/solve it?
Balancing the demands of motherhood and work. Juggling work, household management with my husband (with his own demanding work schedule), and raising a child was overwhelming. As she grew and developed a full life, coordinating three schedules grew increasingly challenging. To avoid dropping the ball in work or family life requires a lot of planning. Often during my lunch, I became my daughter's limo driver. I enjoyed it because we could talk and catch up. Of course, this applies to my husband, too.
What was the most fun you've had at work?
I was sound designing a show. It was supposed to be funny, but I wasn't laughing. Then I edited and added the sound. I played it back and, the moment it hit me, I laughed so hard I fell off the chair, rolling on the floor in tears. All day when I played that spot, I laughed. The show got me.
Job wise, what do you hope to be doing five years from now?
As a rare Japanese sound editor here, I hope I will survive in this industry with few female sound editors in general and even fewer female SFX editors. I like to work with people who can bring the best out of me, but I've had some unpleasant experiences, especially when trying for a different or higher position. I experienced harassment and discrimination. I felt being a woman held me back and sometimes my English abilities were pointed out as a barrier.
In these very emotional situations, I learned to be strong. Bullies take away my sword and expect me to fight without a sword? I can still fight with a bamboo stick, moving forward with many small, light footsteps. I fight for those who follow who also refuse to succumb to injustice and abuse.
"I was sound designing a show. It was supposed to be funny, but I wasn't laughing. Then I edited and added the sound. I played it back and, the moment it hit me, I laughed so hard I fell off the chair."
What are your outside activities, hobbies, passions?
It's all about my daughter and her activities. I've sort of forgotten my own hobbies and passions, but I like gardening, and I plan to travel many places after my daughter goes to college. When I was young, I was a good volleyball player and maybe I'd like to join a team. And maybe I will create music again.
Favorite movie(s)? Why?
Since childhood, fantasy movies were my favorite. My most favorite is Lord of the Rings. I am drawn to stories of loyalty and friendship. Movies often make you realize what is important. I love The Avengers! I love all superhero movies. I can relate to their struggles. With difficulty, heroes overcome bad people and encourage the innocent. That gives me power to do the same, not going to the dark side and not turning to greed. Every day is training day for when I can become what I'm supposed to be.
Favorite TV program(s)?  Why?
Monty Python's Flying Circus and Fawlty Towers, because they are just so funny! Laughing is such a good and joyful feeling. I wish I could join Monty Python; maybe I should apply for a job at the Ministry of Silly Walks…
Do you have an industry mentor?
I worked with many supervisors; some taught me to see outside of the box when cutting SFX —nutrition for my creativity. I've met many talented sound designers that are simply nice people who share the way they do things. All of these are mentor moments.
What advice would you offer to someone interested in pursuing your line of work?
If I can do it, then you can do it. Work hard to show the best you've got. Talented people see what you are capable of and what you will become. Don't be afraid to say, "I don't know" — that's how you learn. Be a reliable person, not just a talented sound editor. I'd rather work with a good person than with the best editor who is a jerk. Plus, you have fun working. One more thing: Sound editing is all subjective. Sometimes what you think is your best work is not accepted, so don't get too attached. Don't take criticism too personally. Be professional. You are cutting a sound for the client to hear.
Was there ever a circumstance when you had to rely on the Guild for help or assistance?
Once. I consulted the Guild about the relevant rules and regulations after working fewer than five days a week for several consecutive weeks.
Is there anything you'd like to say to your fellow Guild members, some words of encouragement?
We are in this together, so we understand what it's like to work in this industry. When I feel stressed, I think I should express my feelings to trusted colleagues. Probably they have had a similar experience. Find a good trustworthy colleague who may have helpful advice or at least can ease your feelings and help you keep moving forward.
Compiled by Edward Landler      
Editor's Note: To recommend a member (including yourself) to be featured on CineMontage.org, and the home page of the Editors Guild website, please contact edlandler@roadrunner.com.