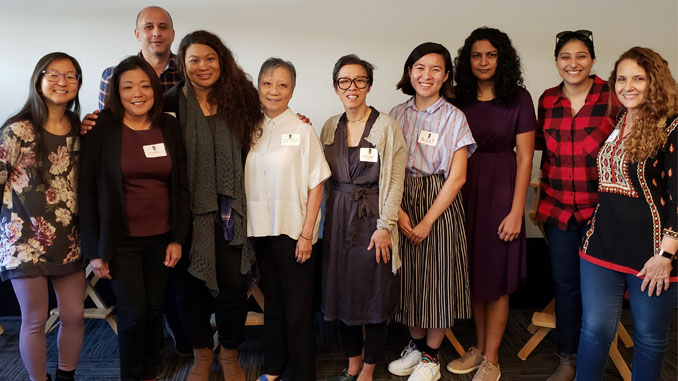 by Stephanie Lowry • photos by Sharon Smith Holley
On a Saturday in early November, around three-dozen enthusiastic MPEG members gathered in the Editors Guild's Dede Allen Seminar Room in Los Angeles to celebrate the careers of five members of Pan Pacific and Asian descent who were nominated for Emmy Awards in 2018. The event was sponsored by the Guild's Pan Pacific and Asian American Steering Committee.
The feted panel members were C. Chi-yoon Chung (Korean-American), who was nominated for her editing on American Crime Story: The Assassination of Gianni Versace; George Haddad, MPSE (Lebanese/Canadian/American), nominated for sound editing on Vice Principals; Omega Hsu, ACE (Chinese-American from Hong Kong), nominated for editing on The Voice; Tricia Rodrigo (Filipina-American), nominated for editing on The Amazing Race; and Jackie! Zhou (Chinese-American from immigrant parents), nominated for sound editing on Godless.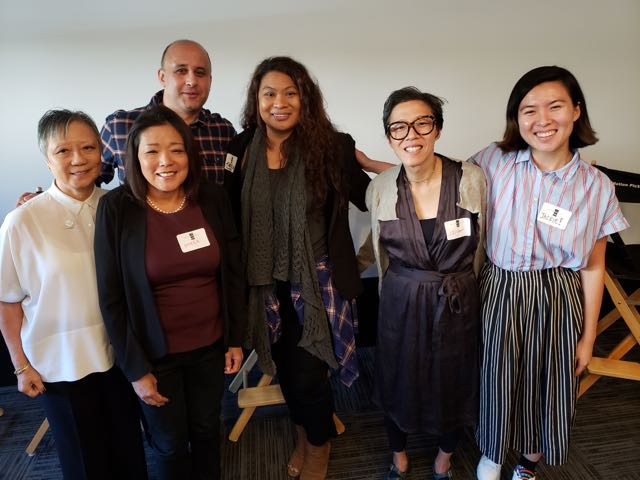 Steering Committee chair Ceci Hyoun gave opening remarks and introduced Diversity Committee chair Maysie Hoy, ACE, who moderated the event.
One thing all of the panelists shared in common was a background playing musical instruments. They spoke about their parents and their parents' expectations for them, which boiled down to: Whatever they ended up doing, they had to do it the best. Asian Pacific parents insist on quantifiable success. Zhou said that her parents finally realized she was a success when she worked on the film Warcraft(2016),which was big in China. Chung's parents came around when she first won an Emmy on American Crime Story: The People v. O.J. Simpson (2016).
Rodrigo has a creative father, and started making animated films in the fourth grade, but went to school for Computer Science and Engineering. She eventually earned two degrees — one in Sociology and the other in Visual Arts, before going on to graduate studies at Cal Arts. She worked her way up to editing after landing a job as a transcriber. Rodrigo then moved up by asking for anopportunity anddevoting a lot of her own free time to edit as an assistant. She stressed that if you show initiative, it will get noticed.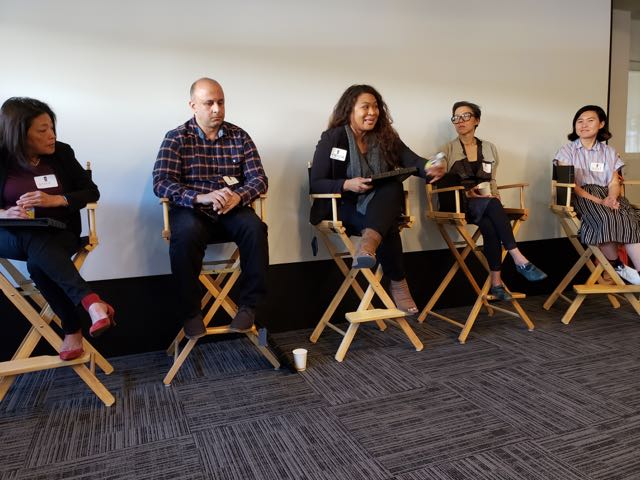 Hsu, who grew up in Hawaii, established residency in California to attend UCLA, as her parents told her she would have to pay her own way through college. She ended up in the graduate film program (after starting in psychology), where she learned that "You need to be nice to everybody." Haddad attended Berklee School of Music as a drummer where he was introduced to computer sound design. Connections from Berklee helped him in his transition to Los Angeles.
Zhou spoke about working on Godless,creating a language of snorts and snickers with different attitudes for the horses, and different winds to establish mood. Chung spoke about working with executive producer Ryan Murphy and the importance of music and sound to his process. Haddad related the challenges of working in sound for TV vs. features, how "dialogue is king," and how there is always a war between budget/time constraints and artistry.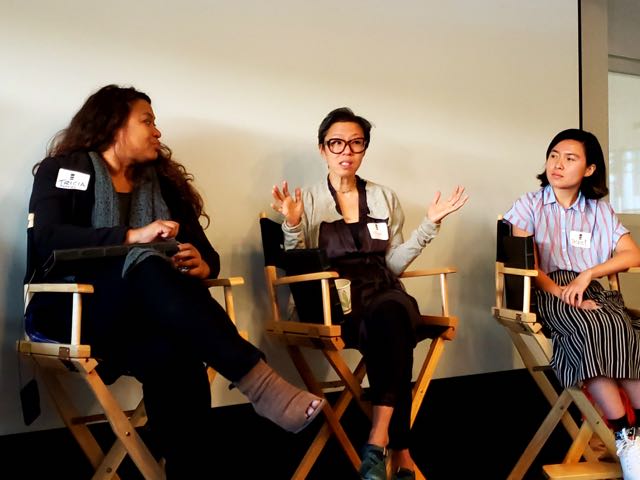 Hsu discussed how she handles the tons of material she receives in non-scripted TV. Rodrigo discussed her process on The Amazing Race, putting locators on everything and asking herself if she is being entertained by the footage. She commented that ultimately it is the tail that wags the dog. You start with where you need to end up and build to that. She also said that learning the geography of the space is important, and that she loves the puzzle aspect of editing.
Hoy asked the panel about their strategies for landing jobs. Hsu commented that it all goes back to being nice to everyone, but furthermore that you have to make a point to engage with people around you, be interested in them and help build a sense of camaraderie. She strongly believes that we should never dismiss someone because they are not in a position of power…yet. That has certainly helped her. She recalls that she was once hired for a show because an assistant editor who had worked with her in the past told the producer that she is really nice, and that made the difference. She also commented that employers these days want you to already have experience in a specific format.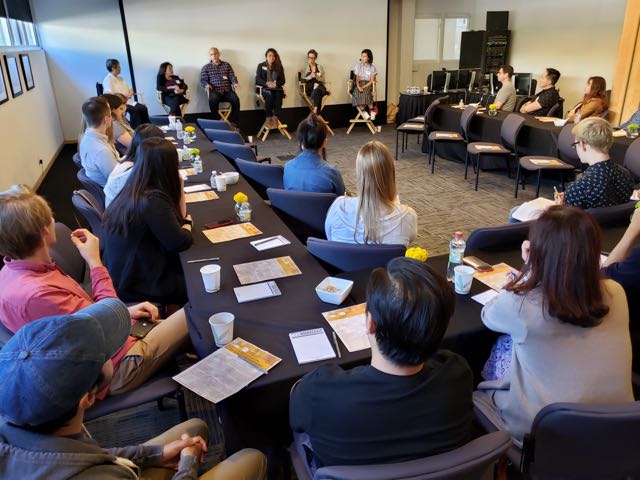 Haddad said that networking and showing enthusiasm was crucial. He decided to take the first job he was offered to get his foot in the door, knowing that within a few months, someone would leave and open up a new opportunity. Rodrigo actually got her job on Amazing Race through Staff Me Up, but reflected that you have to be nice — but you also have to have the goods. At the start of her career, she was surrounded predominantly by male editors and learned to be tough, but soon figured out that way of being did not always serve her and so re-trained herself to be more collaborative.
Hsu talked abut the challenge of being both a woman and a minority. She reflected that being a woman was more of a hurdle in this business than being Asian. Zhou said that most of the time, she finds that she is the only woman and person of color on the sound crew. All of the panelists discussed the importance of increasing diversity in the cutting room.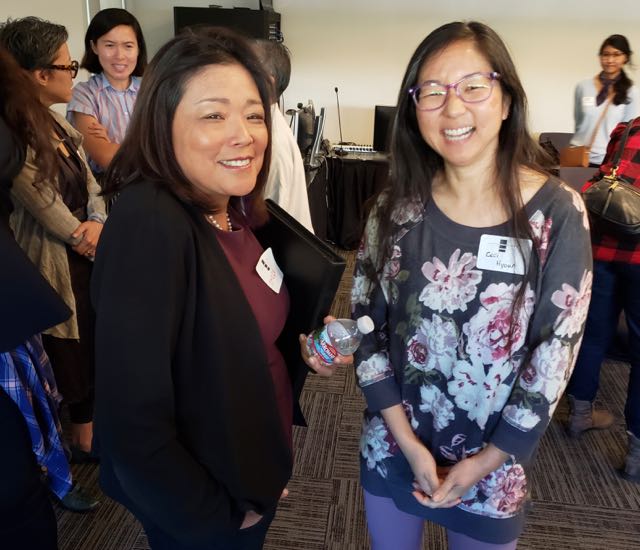 On the subject of family life, the panel discussed the difficulty in standing up for oneself to make time for family obligations. Chung pointed out that as the breadwinner or single mother, you don't have a choice; your kids have to understand when you have to work long hours — but you can reassure them that they come first. Haddad talked about bringing his kids to work so they could see what he does.
Rodrigo stressed the importance of checking your ego at the door, while also speaking up for your needs, realizing that you are there to contribute, but you are ultimately there to serve the project. Attendees were able to ask their own questions of the panelists.
Following the panel, guests enjoyed a sumptuous meal of dim sum and Lebanese and Filipino treats.