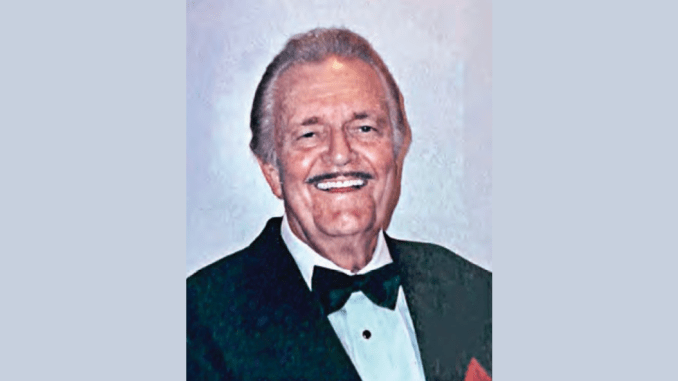 OCTOBER 6, 1938 – SEPTEMBER 10, 2022
Ken Dufva was a consummate Foley artist and a happy, exceptional man.
He was born on October 6, 1938, and began his industry career almost immediately, typecast in the role of Infant #1 in a 1939 film called "Everybody's Baby." Ken came into this world cinema-ready.
After graduating high school, he quickly found employment as a projectionist. He worked first at Technicolor, then, starting in 1963, at MGM.
His story in sound artistry begins in the mid-1970s. The three MGM Foley artists were each nearing retirement. They wanted to choose their successors, in whose hands (and feet) they could leave the stage with total confidence. So they vetted people for more than two years. And in that time of tryouts, they rejected all hopefuls.
Ken was the Foley projectionist. One day, the crew, reasoning that he had for years observed the workings of the stage, asked him to give it a try.
Probably nervous, definitely determined, he stepped to the mic. The film played. Ken walked the character. One take. Perfectly. A revelation for the crew, especially for Ken.
They loaded another scene. Ken walked. Same result. And the Foley guys, smiling, told him, "Ken, looks like you'll be carrying on what we started here."
A month later, I came in, auditioned successfully, and began a Foley partnership with Ken that endured for more than 20 years. His career, and our friendship, spanned six decades.
Ken created sounds for motion pictures and television shows. Many hundreds of titles, including "Raging Bull," "Speed," "Robocop," "The Hunt For Red October," "Black Rain," "Red Dawn," "Being There," "Days Of Thunder," "Deerhunter," "Ghost," "Clear And Present Danger," "Dragonheart," "Ghostbusters," "Patriot Games," the "Rocky" franchise, the "Star Trek" franchise, "Little House on the Prairie," "CHiPs," "Fame," "Charmed," and "Highway To Heaven."
He was a pioneer in the modern evolution of Foley that began in the 1970s and continues today — the redefining and expanding of the scope of sounds that a Foley team can create. He gave classes at Chapman University and demonstrated for students from UCLA, USC, Pepperdine, and Loyola Marymount University. He delivered Foley seminars at the Sedona, Ft. Lauderdale, and San Luis Obispo Film Festivals. He received a Certificate of Commendation from the City of Los Angeles.
He appeared in several media, including the Wall Street Journal, National Geographic, and NBC Dateline. He worked with disadvantaged youth to produce live sound effects for in-the-park performances of Shakespeare. He designed the layout of the Foley stage at Paramount Studios. He created the interactive Foley stage for visitors to the Hollywood Entertainment Museum.
He was a member of AMPAS, the Television Academy (Emmy nominated), the Editors Guild, and MPSE (officer, multiple Golden Reel nomination and awards), and an officer and lifetime member of the Order of Elks.
In later years, he returned to his infanthood place in front of the cameras, working as an extra, and became a member of SAG/AFTRA.
Ken brought care and intelligence to every aspect of his life – as husband, father, friend, artist. He solved problems with an agile creativity, figuratively and literally thinking on his feet. He had a down-to-earth honesty, wit, and welcoming nature. He mined human kindness with his own easy grace, and all were made richer.
The legacy of his work resides in the art of his sound that resonates across borders and time. His spirit lives on in the hearts of those fortunate to have known him.
"Into each life, some rain must fall." It storms when a cherished one passes. But then I see this vision of Ken, up there, carrying on with the work he loves, creating sounds for the rain, the wind through the trees, the footsteps of people hurrying home.
Soon enough the rain will fade, the wind will travel on. What abides are the undying memories of the ones we love who have never truly left us. Bringing to each life sun that must shine.
Partner, dear friend, you lit up our stages. You radiated brilliance. My most profound and endless gratitude for the work we shared, the times we had. And the joy.
– David Fein