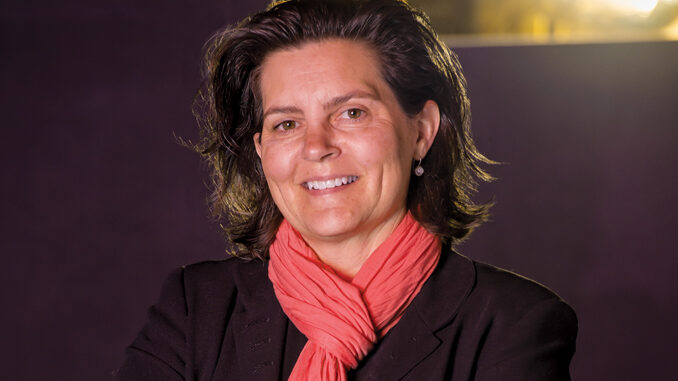 by Peter Tonguette • portraits by Wm. Stetz
When Tatiana S. Riegel, ACE, set her mind to become a film editor, she went about it with the methodical planning to be expected from the daughter of an astronomy professor. Starting with a handful of friends of friends, she amassed a chart of names of those in the business. She wrote letters and made phone calls, hoping that someone in her constellation of contacts would give her a break.
"I look back at my little chart," she says, "and it was nine generations down of people who knew people who knew people who knew people who knew people before I found that job."
No one can doubt that Riegel's patience and planning paid off. This spring sees the release of her two latest efforts. On May 16, Disney will release Million Dollar Arm, Riegel's latest collaboration with director Craig Gillespie, with whom she first worked on the hipster-doll romance Lars and the Real Girl (2007). The film stars Jon Hamm as a hapless sports agent, who sets off to India to identify cricket bowlers who might be Major League Baseball pitcher material. "It's a true story," Riegel says. "He traveled all over India, and did these tryouts with something like 30,000 different kids, ranging from horrible to trainable, and found two kids and brought them back."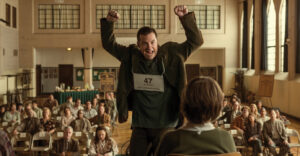 While Million Dollar Arm is a family-friendly departure from some of Riegel's edgier work, her other, more imminent, new film, Bad Words, represents more familiar ground. In his directorial debut, Jason Bateman stars as a past-his-prime miscreant who makes use of a loophole in a children's spelling bee, thereby permitting him to take part. "He develops a friendship with this little 10-year-old boy," Riegel says. "They couldn't be more different. The kid is this little, nerdy, stereotypical spelling-bee geek, and Jason's character is just heinous." Focus Features will release the film March 14.
She adds, "It's a buddy movie with a lot of heart — and a lot of bad words."
For her part, however, Riegel has nothing but good words to say about the course of her career. "I am really, really very proud of almost everything that I've worked on," she says. "I wouldn't exchange the experiences for anything else."
That includes her first effort — the fruit borne of those nine generations of contacts. Riegel spent eight months as an apprentice editor on Tim Hunter's cult favorite River's Edge (1986), edited by Howard Smith, A.C.E., and Sonya Sones. She had found a job she loved. "It suited my personality in every aspect," Riegel says. "Almost 28 years later, I still love it."
While Riegel grew up in Los Angeles, both of her parents were educators and no one in her family was involved in Hollywood. In fact, her proximity to filmmaking left her more jaded than enthralled by what she glimpsed of it. She would sneak onto the Fox lot to watch episodes of The Love Boat being shot, but she came away wondering what was so exciting about the process — unless you were the director or cinematographer. "But I loved movies, and I knew that I wanted to do something," she recalls. "I had no idea what it was."
"I think music is unbelievably important and crucial. Adding that element in too soon does a disservice to both the picture and the music."
True to her brainy pedigree, in her mind Riegel worked her way through the various departments methodically. She had no desire to act and did not think of herself as a writer. And those fleeting glimpses of the making of The Love Boat convinced her she did not want to be on set. "It sort of left editorial," she says. "It's a perfect combination for my personality of something that's very, very creative, but also very technical, logical."
After getting her feet wet on River's Edge, Riegel plotted her next moves equally carefully. From the beginning, she wanted to be in a position to work on projects that spoke to her, even if they were off the beaten path. She began cutting as a first assistant editor on Alan Rudolph's unorthodox detective tale, Love at Large (1990). As editor Lisa Zeno Churgin, A.C.E., worked in the main editing room, Rudolph moseyed into the assistant's room, where his own KEM was housed. "It started with something so basic as he'd say, 'Can you tape that together? I'll be back in a minute,'" Riegel remembers.
A few years later, even though she had already made her debut as a film editor, with Doppelganger (1993), Riegel felt she could benefit from assisting on a film being cut electronically. She took a step back to work as the first assistant editor on Quentin Tarantino's iconic Pulp Fiction (1994). This led to several years during which she juggled her collaboration with Tarantino and editor Sally Menke, A.C.E., with an ever-increasing load of solo projects.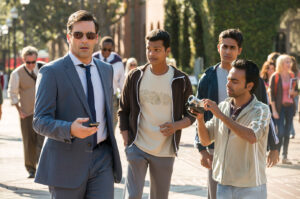 By the time she left assisting for good, however, she was ready for a solo career. Her choice of projects remains unique. The editor who broke in with the idiosyncratic River's Edge still has a taste for the out of the ordinary. Her recent films include The Men Who Stare at Goats (2009) and The Way Way Back (2012). "I seem to be doing a fair amount of these sort of smaller, indie comedies — maybe black comedies, offbeat comedies — which I really enjoy," she comments. "It's the sort of film I like going to see."
On the eve of the debut of Bad Words, CineMontage spoke with the editor.
CineMontage: You have two very different films about to come out.
Tatiana S. Riegel: Truthfully, I like working on all different types of films. I think it's challenging and it makes it interesting. Believe me, Million Dollar Arm could not be any more different than Bad Words. That's one of the great things about our job. I've had an opportunity to work with a lot of different directors and have gotten to work with them over and over again sometimes. It ultimately comes down to two things. One, you read the script, you respond to it. And then, you have the interview and you respond to the director.
CM: Tell me about Bad Words director Jason Bateman.
TR: Well, he's a doll. He's fun and funny and lovely to work with. But most importantly, I could tell he was outstandingly prepared for his directorial debut. He had years of production experience, but not any post experience. I think he really went to great efforts to surround himself with people who knew what they were doing and could help him in the areas that he wasn't as clear about. He was really good about saying, "I've never done this before. Tell me what to do. How does this work? What point in the schedule are we? What do we want to do next? Are we doing this right?"
CM: What do you think you can offer first-time directors?
TR: Guiding them through the process, protecting them, warning them about what's coming down the pike, letting them know this is normal. If you go through the preview process, or schedules changing or this happening or that happening, I'm like, "No, no, no. This happens all the time."
CM: On the other side of the spectrum, Million Dollar Arm is your third film with Craig Gillespie.
TR: I love working with Craig. It's just such a pleasure. He called me and said that he thought this thing was going to go. It worked out wonderfully timing-wise, which is always the big fear when you have directors that you like working with. First of all, will they be kind enough to hire you again? And secondly, will you be available? Schedules are always so difficult.
"I meet up with a lot of people who want to get into editorial and grab a coffee because people were always so nice to me when I started."
CM: What sort of things do you have the strongest opinions about in the cutting room?
TR: Sometimes it just comes down to a matter of judgment and taste. Some people like one thing, some another. But the interesting thing about editorial is that it's always this long process. You pick a particular line reading for this part of the scene, and it means something completely different if you have a performance earlier in the scene that does this. It's all the moving pieces. You may feel very strongly about a particular thing. But
things three lines earlier change, and you no longer feel strongly about that line. You have to always be able to step back, to keep your perspective about it.
CM: Why does the technical side of the job appeal to you?
TR: I don't want to label myself as a techno geek. My assistants will jump all over me, and say, "Oh my God!" Thankfully they know all that stuff. But I do enjoy knowing how and why, and expanding the possibilities. All of the digital stuff just gives you so many more things you can do just with the image, crazy things: Split screens to get rid of something, or delay one actor's performance versus what's happening on the other side of the screen, or all these different things that you can do now to manipulate it even more.
Pulp Fiction was actually the first nonlinear film I worked on. It was one of the main reasons I took it. I had already begun to edit at that point, and really wanted to move away from assisting on to editing. But this new thing was happening, and I thought, "Well, I really should do at least one more show from the beginning as an assistant, and really learn it from the ground up." This was Lightworks. I met Sally Menke, and she needed an
assistant. Amazingly, she hired me, because she knew that I knew nothing about it. But at that point, nobody knew anything about it.
CM: Why did you continue assisting even after you started editing yourself?
TR: When I first started editing, I was not making any sort of income that I could actually survive on, so I bounced back and forth. I cut a movie, and then went back and assisted, and then cut and assisted. It was great for me. I think there's a certain amount of being an editor that is talent, and there's a certain amount that is luck, and there's a certain amount that's just practice.
One of the best things that happened to me was when I decided not to do Kill Bill (2003). I began doing television and started working on a series called American Dreams, which I was on for three seasons. I had done almost exclusively features prior to that. I loved the show. The experience was incredible. It was a great show — and it was just brutal. They shot so much. It was musical sequences and a huge cast; dinner scenes with everybody talking on top of each other, and then small dialogue scenes between two people. I ended up doing 22 episodes of that show in probably less than two and a half years. It was just fantastic practice.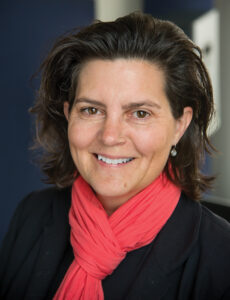 CM: What do you like about doing features?
TR: One of the things that I really like to do in features is during the shooting process; I try to put a scene together and show it to the director as soon as possible. No music, as few sound effects as possible — none of that stuff. I want to do a couple of things. I want them to see what they have, to give them confidence that everything they are doing is right — that they have all of the coverage and performances they want. They can make adjustments in anything that they're not seeing, either on the set or with me.
It also gets them used to looking at it in its new form. Every step of the way is very different. What's in a writer's head and what ends up on the paper is very different. As they go through rewrites, it's different. And then, when you actually are shooting it with the actors that you hired, as opposed to what's in your mind, it becomes this new, different thing. I think it's important for everybody to get used to looking at it that way. Again, otherwise the first assembly is still shocking and disturbing, if they haven't seen anything before — even if it's fantastic. Another big thing that I've become a little bit adamant about is not putting music in for a long time.
CM: Why is that something you feel strongly about?
TR: I think music is unbelievably important and crucial. Adding that element in too soon does a disservice to both the picture and the music. It would be like buying furniture for a house before you've set foot in it. Directors obviously can have a good idea of what they like musically. If they can guide you, like, "I like this composer. I'm thinking of this sort of thing," that always helps. But for me to take a stab at it without any sort of guidance that early in the process is presumptuous and potentially disastrous.
CM: Do you have many people asking you about working as an editor?
TR: I meet up with a lot of people who want to get into editorial and grab a coffee because people were always so nice to me when I started. One of the things that I always tell them, and this is the practical side — my mom's voice — of me speaking, is to try to get yourself in a position where you can pick and choose. That means financially. We're not all lucky to be able to have a ton of options that way, but if you feel the financial freedom to be able to say, "You know what? I think I'm going to hold out for a better job," it can make all the difference in your career, as opposed to doing a job because you need a paycheck.