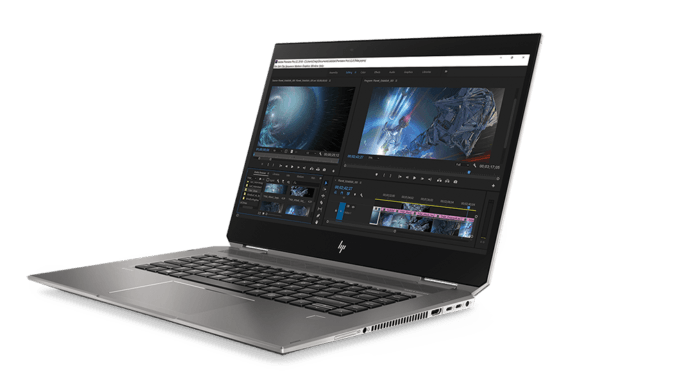 by Joseph Herman
It's amazing how far mobile computers have come. The first laptops were more luggable than portable, and severely limited compared to the desktop. That was especially true for graphics work or other demanding tasks such as video editing. They might have been okay for general office work, but if you were a media creator, you pretty much had to rely on the big iron to do your work — desktop workstations that included muscular builds by Hewlett-Packard, as well as other computer manufacturers.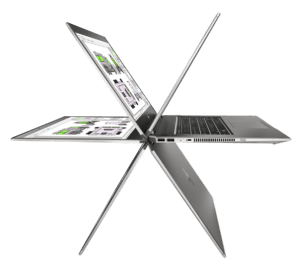 Sometime in the mid-2000s, a new breed of mobile computer emerged: the mobile workstation. These machines boasted more powerful components, which made them able to handle graphics better and opened the door for video editing and 3D modeling.
While the first generation of mobile workstations was impressive and allowed for creatives to do more ambitious projects on the road, once the layers and effects started building up in Photoshop or After Effects, or you started rendering sequences, it wasn't long before you headed back for the power of the desktop.
Fast-forward to the present. Sure, workstation towers will always be more powerful than a portable computer. But nowadays, with their ability to handle gobs of memory, speedy solid-state storage, powerful graphics chips and high-resolution 4K displays, mobile workstations provide more than enough power for most projects. No longer are they something to tide you over until you can get back to your desktop machine. Mobile workstations, in many cases, are all you really need.
A Special Machine
I have seen and reviewed many workstations over the years, including desktops and mobile computers. However, the HP ZBook Studio x360 immediately struck me as something special (see Figure 1). Before we get into the details of what makes it so, let's talk briefly about where it fits into HP's family of workstations.
HP's Z series is perhaps the leading brand of workstations, specifically made for high-end, demanding, industrial-strength applications. On the desktop side are the Z workstation towers, led by the mighty Z8, perhaps the most advanced and powerful workstation in the world.
HP's line of mobile workstations is called ZBooks. The biggest and most expandable are the ZBook 17 and 15, both very powerful mobile machines. For those seeking a lighter machine but still need a workstation, there are the ZBook 14u and 15u — easy-to-carry machines, but lacking the level of power of the rest of the ZBook line.
Then there are the ZBook Studios. These machines pack a powerful punch but are still light enough to take with you anywhere. They are in many ways my favorite ZBooks because they represent the right balance between power and portability. There are two Studio models, the ZBook Studio and the ZBook Studio x360, the latter of which is the subject of this column.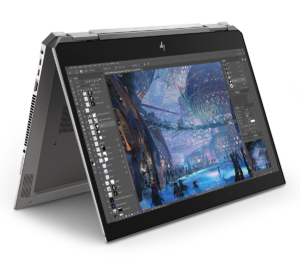 It's a Convertible!
While both ZBook Studios are very powerful, what makes the Studio x360 different from its sibling is the fact that it's a convertible — an incredibly versatile machine, especially if you are a creative artist.
This chameleon-like machine can assume different forms besides the classic clamshell laptop form, in which the screen is perpendicular to the keyboard (see Figures 2, 3 and 4).
However, it is folding the screen fully back 360 degrees into tablet mode that proves most useful, especially for creative artists.
Stylin' with the Stylus
The ZBook Studio x360's tablet mode offers a lot more than simply being able to swipe through apps with your finger on the included touchscreen. That's because it ships with a sophisticated Wacom AES pen for painting directly on the screen. That's what makes this convertible such a useful tool for artists, and much more than just another mobile workstation (see Figure 5).
The AES pen has a built-in rechargeable battery and communicates with the system via Bluetooth. It has a great feel and, with its 4,096 levels of pressure sensitivity and tilt-support, is a professional tool capable of accomplishing sophisticated brushwork in software such as Photoshop or ZBrush — whether it be retouching, painting pictures or developing concept art.
I couldn't wait to try out some digital painting, so I installed Adobe's Creative Cloud on the machine and started painting in Photoshop. Thanks to the workstation-level power of the machine, everything ran super-smoothly. The pen slides fluidly across the surface and the application seamlessly registered its pressure and tilt (see Figure 6).
In addition, since the ZBook Studio x360's display is also a touchscreen, it also recognizes multi-touch gestures. Therefore, while I was painting with the pen in my right hand, I was conveniently using my left hand to navigate through the picture by pinching, scrolling and zooming around the image, as well as rotating it at various angles in order to more easily lay down my strokes. That was very useful. I was very impressed by how natural the overall painting experience was. If your work requires pen-based input of any kind, this is unquestionably the ZBook to get (see Figure 7).
Real Workstation Power
As great as the convertible and painting/inking features of the ZBook Studio x360 are, the machine is much more than a nice tablet on which to paint. It sports some of the best production-ready hardware that can be found on any mobile workstation in this class.
Let's start with the display. Obviously, a machine that is designed to be attractive to creative artists — especially a machine with which you can paint — must have a nice display, and the ZBook Studio x360 certainly delivers. The unit I reviewed came with a lovely 15.6-inch 4K diagonal UHD (3840 x 2160) IPS eDP LED-backlit touchscreen with Corning Gorilla Glass 4 and an ambient light sensor.
However, if you want the utmost in color fidelity, the machine is also available with a DreamColor display at an even brighter 600 nits. DreamColor displays are specifically designed for color-critical applications with 100 percent support of Adobe RGB, so if you are involved with image making, DreamColor is the option you want. This version also includes an ambient light sensor.
The convertible workstation's main processor is an Intel Xeon E-2186M. This muscular chip sports six physical cores (12 threads) at a maximum turbo frequency of 4.89 GHz and a 12 MB SmartCache. Xeon is Intel's line of industrial-strength CPUs and, with six (or more) cores, that's enough to power through the most demanding of tasks. Other CPU options include Intel Core i5, i7 and i9.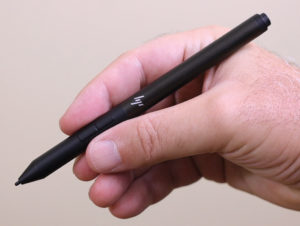 In the Cards
Naturally, if you are involved in media — especially if your work involves 3D — you'll want to have a good graphics card. Once again, the ZBook Studio x360 delivers with an industry-certified NVIDIA Quadro P1000 GPU that sports 4 GB of GDDR5 memory. In my tests, the P1000 was able to handle almost anything I threw at it without any noticeable slowdown.
Of course, desktops will always have a GPU advantage, but the P1000, while not the top-of-the-line mobile GPU, is very powerful and does a great job of 3D rendering with popular renderers such as Redshift and Octane. That's another appealing attribute of the ZBook Studio x360: Aside from its painting and inking capabilities, its powerful CPU and GPU combination make it a great 3D workstation as well.
While the ZBook I reviewed contained 32 GB of DDR4 ECC 2666 memory, which is generous enough for most work, the machine supports up to a whopping 64 GB, which used to be more than enough RAM for most projects — even on the desktop.
When it comes to storage, the ZBook Studio x360 continues to impress. The unit I reviewed came with a 1 TB NVMe M.2 SSD. These solid-state drives plug directly into the PCI bus through an M.2 connection, so they are blazingly fast, leaving spinning HDDs in the dust and even outperforming SATA SSDs. There are actually two M.2 ports in the ZBook Studio x360, each capable of supporting up to 2 TB NVMe drives. And if that isn't enough for you, you can also install a 2.5-inch SATA SSD for an impressive total of 6 TB in the system.
That's enough storage to contain the high-resolution footage for lots of editing projects. However, if you require more —say, you are editing several large documentaries with loads of source material — you can always connect extra hard drives or large-scale RAIDs to the machine via the two speedy Thunderbolt 3 ports, an absolute necessity these days for connecting peripherals. An HDMI port and three USB 3.0 ports are also included.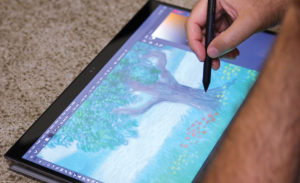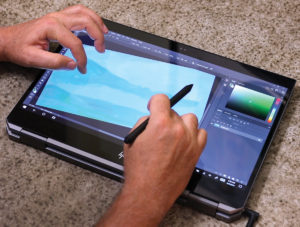 Final Thoughts
Aside from being a total workhorse for production and post work, as well as a great tool for digital painting and inking, the ZBook x360 has a lot of other things going for it. To start, its chic-yet-sturdy metal case has undergone over 120,000 hours of testing, including 14 extreme MIL-STD-810G3 (military standard) tests such as include drop, vibration, freeze/thaw, altitude, temperature, dust, sand, shock and humidity, making it one tough machine.
The ZBook x360's keyboard feels great, and it's the first mobile workstation with collaboration keys as well as a noise-cancelling, world-facing microphone. That should help when conducting conferences with your colleagues. Audio, as usual, is designed by Bang & Olufsen and features four large speakers. In addition, the large clickpad feels nice to the touch, is tap-enabled and recognizes multi-touch gestures.
For those who are interested in benchmarks for comparison, the ZBook x360 received impressive scores of 3425 cb on CineBench R20 and 31.54 on OctaneBench 4.
There is a lot more to like about HP's ZBook Studio x360 convertible, a machine I find fun, useful, professional, practical, creative, sturdy and innovative all at the same time. It might even be the best mobile workstation I have yet had the pleasure to use.
More information about the ZBook Studio x360 can be found on www.hpe.com. Oh, and while you're there, don't forget to check out the new Thunderbolt Dock G2, a terrific companion product to the ZBook Studio x360 that offers docking, networking, expanded ports and optional audio features. f