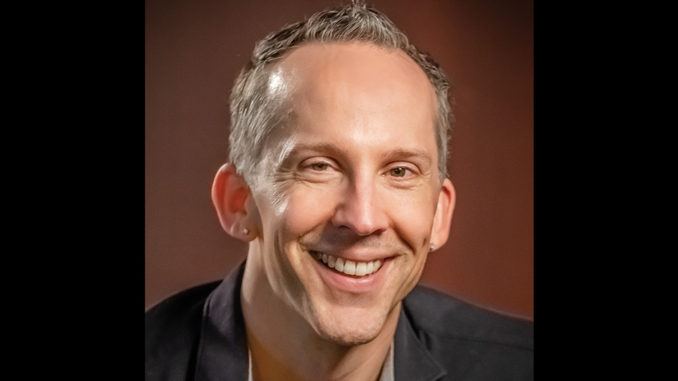 by Edward Landler • portraits by Wm. Stetz
Since 2012, Walt Bost, MPSE, has been working steadily with Technicolor Sound Services and, this year, it is very easy to tune into a TV or web series on which he has worked as supervising sound editor.
In January, the fifth season of Grace and Frankie (2015-present), the comedy starring Jane Fonda and Lily Tomlin, dropped on Netflix. Since May 2, Season 5 of Rob Thomas and Diane Ruggiero's iZombie (2015-present) with Rose McIver as a medical examiner zombie helping the police solve murders has been running on the CW Network. On June 17, ABC debuted Grand Hotel, a dramatic series about a family-run luxury hotel in multi-ethnic Miami Beach, with Eva Longoria as one of its executive producers.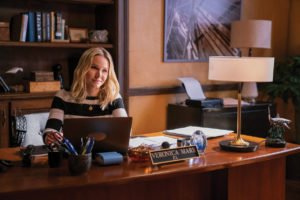 On July 26, though, Hulu started streaming a series closer to Bost's heart: show creator Thomas' eight-episode reboot of Veronica Mars, which originally aired on UPN, renamed CW during its run from 2004 to 2007. Kristen Bell returns as the title character, now well more than 10 years since graduating from Neptune High School and still investigating crimes in the California beachfront town. Like Bell and much of the show's cast and crew, Bost is returning to familiar territory, with the current series officially airing as Season 4.
Recalling his start on the first episode of Veronica Mars, Season 1 late in 2003 , the supervising sound editor says, "Someone else did the pilot; I came on as supervising sound editor just to do the pilot conform, and stayed all three seasons. I just loved the type of show it was. It was not a normal network show. It was ingeniously constructed with dynamic characters."
A cult following grew around the series' first three seasons depicting Veronica in high school and then nearby Hearst College. These fans responded strongly when creator Thomas and actress Bell launched a Kickstarter fundraising campaign in March 2013 to produce a theatrical feature continuing the story. Eventually raising $5.7 million online from over 91,000 backers, the movie Veronica Mars was released in March 2014.
Bost both contributed to the campaign and worked on the film as ADR editor and supervising sound editor. "Rob wanted to get everybody back together," he says. "It's like a family." Later in 2014, he rejoined the Mars community again for a one-season digital web series spin-off that streamed on Warner Bros.' CW Seed. Titled Play It Again, Dick, it revolved around Mars actor Ryan Hansen trying to put together a series spin-off about the character he played.
In the current show, Veronica is a professional detective, seeking to solve a series of student murders during the spring vacation break. "It feels like the old Veronica, but a very adult Veronica…a darker, grown up Veronica," as the sound editor sees it.
Late in May, CineMontage visited Bost on a sound stage in the Technicolor Sound building on the Paramount lot to observe a mix of one of the later episodes. Working from picture editor Jacquelyn Herbert's notes, dialogue and ADR mixer Vicki Lemar, Foley and effects editor Ken Kobett, music editor Jenny Leite and stage recordist Eric Huezo were with the sound editor to make the incremental modifications of music and sounds carrying the picture from scene to scene. "I really just sit here and watch," Bost jokes. "They do all the real work."
Later, he explains, "I already expect it to be right when I get on the mix stage. I will tell the dialogue and effects editors the producers' thoughts and give them my notes but they're artists themselves. They are not just people on a keyboard. I give them a show; then I let them do it and be creative in their work. I want them to feel as involved as I do.  For example, I pay attention to producers' notes about music, but I rely upon the music editor who works with composer Josh Kramon."
A major concern for Bost throughout the new series is using sound to make the background environments as detailed and realistic as possible. "One of the biggest challenges was to get the appropriate amount of group walla to suggest spring break in a beach town," he points out. "I have to balance on-camera and off-camera action and create off-screen parties and atmospheres that don't interfere with on-screen dialogue."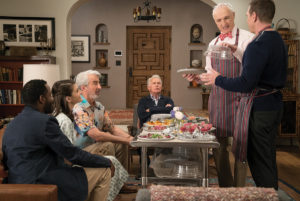 All of this, of course, has to be prepared in advance of the mix session. With a hectic schedule, Bost states, "I spend most of my time doing what has to be ready for the next day." When he is juggling work on different shows, his thorough preparation allows him to leave the stage and check up on other projects. During this mix, he stepped out to check in on an ADR session for the psychological romantic thriller You (2018-present) going on in the same building.
"It's really about organization and planning," he stresses. "Mix dates, turnovers, spotting sessions, ADR times change all the time. Sometimes they change what they're shooting and, for ADR sessions, you have to wait for the actors; they can't schedule around you."
On most shows, the supervising sound editor generally works with about eight to 12 people in his post sound crew, including two assistant editors, dialogue editor, sound effects editor, Foley artist and mixer, ADR recordist, two stage re-recording mixers and the stage recordist. While he sees himself as "hands on" throughout the post sound process, he says, "I'm not a micro-manager, but I give notes. and prefer to have the same lead editors on all the shows I do." Recently, Bost has worked with sound effects editor Dan Hegeman on the Mars reboot, sound effects editor Danny Salas on Grace and Frankie and dialogue editor John Green on both shows.
Over all, he considers spotting and cuing ADR, and making dialogue, Foley, effects and mix his wheelhouse. On Mars especially, the sound editor stresses, "I am the sole director of the ADR sessions and grateful for that responsibility. I've known these characters since 2003 and I get the performances Rob Thomas wants. We don't want you to know it's ADR."
With more than 60 credits over 20 years, including a host of multi-episode series, Bost has been able to experience a broad range of working situations.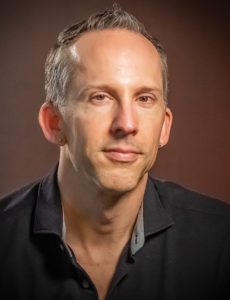 "On pilots, so much is riding on it being picked up, you really have to be on your toes and organized," he observes. "There's often a lot of pressure with a truncated post schedule. " Grand Hotel was a pilot he did that was picked up by a network, but the sound editor's schedule had become too busy for him to do the rest of the season.
Season 5 of Grace and Frankie was his first stint on that show. "That was an established show," he explains. "My job was not to drop the ball…just make it go exactly how it had gone for the previous seasons." Currently he is also supervising sound editor on Season 6, which will air in 2020.
Regarding his constantly crowded work schedule, Bost comments, "I'm just lucky, but I work very hard at my job. I have great clients and they like having me back. Rob Thomas is very loyal to people. He's not a micro-manager; he knows what he wants but is open to people's ideas. The original Veronica Mars is still my favorite show."
Originally from Winston-Salem, North Carolina, Bost got his BA at the University of North Carolina, Chapel Hill, in Radio/TV/Motion Pictures and minored in Business Administration. Right after graduation, he and a co-worker at an art house movie theatre, wrote, produced, directed and edited Immortal (1995), a low-budget independent horror film.
While working on Immortal, Bost reveals, " I fell in love with sound. We even did all the Foley work ourselves in my buddy's kitchen."
He continued to work on indie features in North Carolina for a short time, but moved to Los Angeles to find work in the industry and joined the Guild in 1998. As supervising sound editor on ABC's two-part Anne Frank: The Whole Story (2001), he was nominated with the show's sound crew for a Primetime Emmy for Outstanding Sound Editing for a Miniseries, Movie or Special.
The lead supervising sound editor on Anne Frank was John Benson, MPSE, whom Bost considers his mentor. "John really took me under his wing and taught me everything," the sound editor notes. He credits the sound man with instilling in him the importance of organization, underscored by the veteran's motto: "If you're not 15 minutes early, you're late."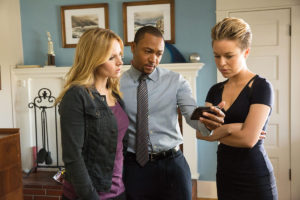 Working with Todd-AO consistently as a supervising sound editor, Bost built up numerous credits on both TV movies and series, including JJ Abrams and Matt Reeves' Felicity (2000-2002) on Warner Bros. TV and the CBS police comedy/drama The District (2003-2004).
Soon after, moving on to Westwind Media, he began his long relationship with Veronica Mars.
While still at Westwind, he also was supervising sound editor on showrunner Shonda Rhimes' Private Practice (2007-2013), a spin-off of Grey's Anatomy (2005-present), as well as both seasons of Mars creator Thomas' comedy Party Down (2009-2010).
Coming to Technicolor Sound Services, Bost began work on writer/creator Kevin Williamson's The Following (2013-2015) on Fox, with Kevin Bacon as an FBI agent tracking a cult of serial killers. As with Mars, he was supervising sound editor on all but one episode.
Apart from steady employment, the sound man is grateful to Technicolor Sound for supporting the creation of a show of his own. "I was able to make The New 30 only because of Technicolor support,." he acknowledges. "Doug Kent [then executive vice president of Technicolor Sound Services] and Mark Kaplan [VP of Sales] were a big help in allowing me to use their services to post the show."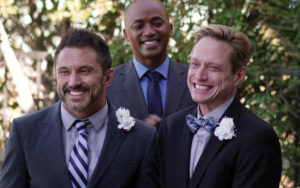 Produced in 2017 and released on YouTube in March 2018, The New 30 is a six-episode web series, with each episode about 10 minutes long. Bost recounts, "I  didn't see my life or my friends' lives represented in shows. I wanted to focus on gay men in their 40s as people going through real human situations and emotions."
A big fan of thirtysomething (1987-1991) growing up, Bost wanted to approach personal growth in his own life and his friends' lives in a similar way. Writing the show with fellow filmmaker John Sobrack, he explains, "It poured out of me. The themes are universal; anybody can watch it and relate to something in this."
Bost and Sobrack funded the first episode themselves but, following Thomas and Bell's example with the Veronica Mars feature four years earlier, they used Kickstarter to raise money for the other five episodes. Bost  directed all but one episode, noting, "I love writing and I love directing. I learned so much from working with Rob Thomas and with all the other series I've worked on."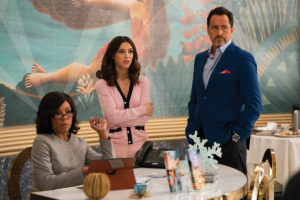 In July 2018, The New 30 won the Los Angeles Independent Film Festival Award for Best Web Series/New Media (Live Action) and, in May, 2019, won for Best Digital Drama Series at West Hollywood's QueerX Film Festival. The filmmaker is most proud, however, of its Daytime Emmy nomination for Outstanding Digital Daytime Drama Series. Bost is now on Kickstarter again, seeking funds for a second season of the show.
Meanwhile, he is back at work at Technicolor as supervising sound editor on Season 6 of Grace and Frankie and the second season of You. "The landscape of the industry is changing so rapidly," Bost observes. "Streaming is huge and they're doing pilots and season orders all the time now. There's more work than ever and I try to soak up everything I can."
Asked how he finds the energy and time to do so much, he responds, "It's really built out of passion and love. I work with some amazing folks — and I never feel like I'm doing enough. You have to pick what's most important to you."