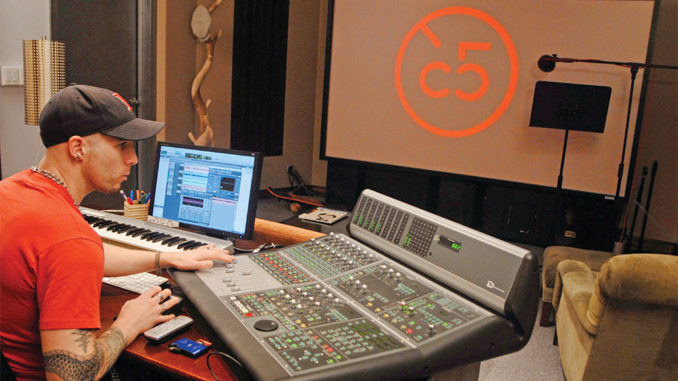 by Dan Ochiva • photos by John Clifford
A mainstay in New York's bustling Chelsea photo and arts district, C5's 20-year history as one of the top houses for feature film post in the city continues to grow.  Current and recent projects show the depth of talent that comes its way, including directors such as Sam Mendes (Away We Go), Ang Lee (Taking Woodstock), John Patrick Shanley (Doubt), Martin Scorsese (Shutter Island), Dito Montiel (Fighting), Mike Nichols (Charlie Wilson's War), Spike Lee (Miracle at St. Anna), Michel Gondry (segment of the Tokyo! trilogy) and Nora Ephron (Julie and Julia).
The company––named for its original five partners and the Chelsea district it has called home since opening the doors––recently moved into its new space, a floor of an old but renovated industrial building on West 25th Street.  Design for the Dolby 5.1 certified rooms came via the respected architect and acoustician Francis Manzella.
C5's current partners—Ron Bochar, Paul Hsu and Phil Stockton—made a point in keeping the space's original tin ceilings and oak floors, which bear the scars (now lovingly buffed and top-coated) left by the building's original businesses.  In New York, that sort of historical consciousness helps keep things in perspective, since the current recession looks as severe as the one at the company's founding, when city businesses faced a steep economic downturn from 1989-1992.
Twenty years can speed by quickly, though, especially when it comes to technology.  "It's been fast," says Bochar, whose compact but comfortable Studio B room prominently features a Digidesign C|24 control surface.  "It's gone from where I used to cut 35mm mag all the time to having an assistant who's never touched it."
That's no understatement, considering that the original 15,000-square-foot facility was stuffed with upright Moviolas, rewind tables, rows of mag dubbers and storage for all those bulky 35mm reels of mag stock.  Fitted out with the latest gear, today's 3,500-square-foot house does more, says Bochar.  The capabilities of digital technology is key, of course, here centering around Digidesign's top-of-the-line ProTools|HD3 system, supported by a limited, carefully chosen line-up (including Xmon and Blue Sky monitoring, JBL speakers, Hafler amplifiers, Klark Technik EQ, Apple computers) strung together over a high-speed Ethernet-based SAN.
The idea behind C5, a facility developed for and by sound editors for the New York film market, came about when Stockton and Skip Lievsay had grown tired of moving their equipment in and out of various sound facilities at the beginning and end of jobs.  They were also beginning to experiment with more sophisticated digital editing equipment and needed a permanent place to house it.
The two union editors, who had handled sound for films including Scorsese's The Last Temptation of Christ and Spike Lee's Do the Right Thing, tapped Bochar, an up-and-coming sound supervisor, asking him to join them in starting the facility.  With only one major investor in place, like many start-ups, the editors sold shares of company stock to friends and family to raise enough capital.
Keeping up with the latest digital technology as it became available has been a mark of the facility, according to Bochar.  The reality of prices of that early digital gear came to the forefront when C5 found itself as the only willing post audio investor in the city for the first digital audio editing workstation, the Synclavier from New England Digital.  "Other facilities were asking us why they should buy into this," says Bochar, as C5 tried to find other facilities willing to put up money towards the Synclavier II's $150,000 price tag.  "'What's the point,' they said.  'We already have Moviolas and flatbeds, so why would we spend money on such new technology?'"
"It's an audio-visual experience; audio is still half of the whole." – Ron Bochar
That initial purchase set the tone; the company would stay abreast of each new wave of digital audio post technology.  C5 ended up with two of New England Digital's refrigerator-sized units, as well as two of its Post Pros––the first hard disc editing setup to emulate a multi-track tape recorder.  Other gear important to the editor's goals—they wanted to be able to work more quickly and fluidly so that they could offer directors the ability to more easily change their minds and try different approaches—included Sonic Solutions workstations and finally, after "great improvements from the original product," a full move of the facility to Digidesign's ProTools family some eight years ago.
"I must have worked with 13 different operating systems in the first five years of the company," says Bochar.  "I'm glad I only have to know one now."
The comfortable feel of the new facility didn't come about by chance.  "That's probably one of the key differences between the first facility we were in and this one," explains Stockton.  "Our original space wasn't very client-friendly, simply because we never really planned on having clients come in to work directly with us.  In those days, we did most of our editing, Foley recording and sound design in our editing rooms based on sound spotting sessions with the director and picture editor.  They rarely saw the results until the final mix."  Bochar adds, "When we had a chance to design this facility from the ground up, we wanted to make a place that directors and picture editors felt comfortable coming to, whether they were working on a whole mix, or just dropping by to screen things and talk."
Now, the results of decades of experience and the minimal nature of digital technology allows each of them to follow their house mantra: "The edit is the mix, the mix is the edit."  That's not a nonsense phrase, but reflects the leveraging of years spent honing digital technology.
"When we first began C5 20 years ago, we had the notion that we wanted to be able to combine sound effect tracks together," says Bochar.  "Instead of bringing individual sound elements to a session, we realized that this would allow us to streamline our preparation for the final mix."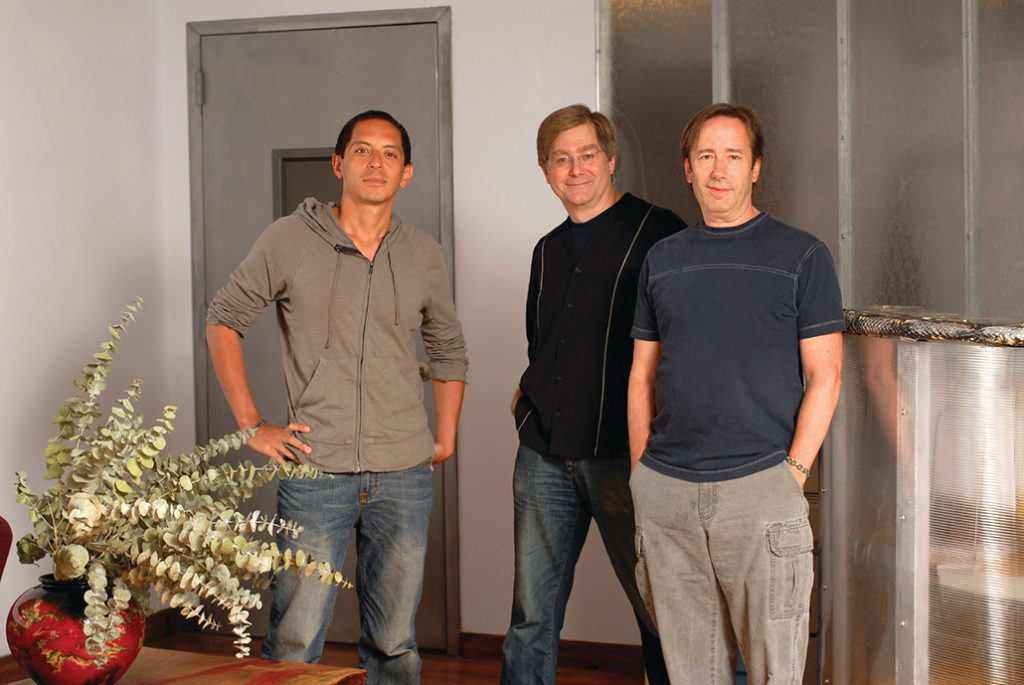 Pulling those tracks together not only sped mixes over the years, but also meant that productions do not have to put off decisions until the last moment, according to Hsu.  "Historically, there had been a lot of sound supervisors telling the director, 'Now imagine how this is going to sound' early in the editing," he says.  "But now, this process is moving earlier and earlier in post.  The goal is for everyone to live with the sounds as much as possible, to know if it is going to work, to know if it is going to serve the film."
Hsu, who recently completed supervising sound editor duties on Fighting, points out another trend that was enabled by technology: the blurring of once traditional editing and mixing boundaries.  "Directors now want to be involved earlier and earlier in audio post, because they want preview screenings to have as much fully realized sound as possible," says Hsu, who pointed to Montiel's early preview screening of Fighting.  The audience's responses to the pounding in the fight scenes convinced Montiel that they were using the right approach for the sound effects, he says.
That seems like a natural way of doing sound, but it's actually more recent than one realizes, according to Bochar.  "The business was segmented 20 years ago––you had ADR, you had time allocated to Foley, and the rest of the time was allocated to pre-mixing after the editing was done," he explains.  More complex movies would take even more time in the pre-mix phase, Bochar notes, while most directors didn't want to sit around "when you're trying to equalize a chunk of dialogue or fit in an ADR."
But waiting until the final mix often presented a host of problems.  "At that final mix, the directors are now presented with new sound effects they haven't heard before, more likely in some 5.1 array they haven't experienced," Bochar continues.  "The dialogue has been cleaned up, new Foley has been added here and there, and the score shows up.  All that, and they have only 10 to 15 days to make all the decisions in the world.  That's not a situation that made directors and sound supervisors very happy."
"We're flexible enough that we can bring our editors on and off a job as needed, and continually supply the folks in the picture department with things they can try in their temp mixes," adds Stockton.  "By the time we get to the final mix, they'll know what they have to work with to a degree that we just couldn't have achieved before.  We would have had to play them 80 rolls of mag film at one point to accomplish what we now just send over the Internet to be incorporated within seconds into their editing systems."
Keeping up with the latest digital technology as it became available has been a mark of the facility.
The C5 partners point with pride to one other capability they feel sets them apart: the largest Foley stage on the East Coast.  That might seem a bit counterintuitive, especially in this age of digital everything.  Sophisticated digital sound libraries, for example, are easily available, whether for download or on a CD.  Instead, the company keeps a large warehouse across the Hudson River in New Jersey that they've converted to a sound stage, complete with the requisite variety of surfaces, as well as water, mud and sand pits, and room enough to accommodate cars, boats and other oversized props.
"It comes down to artistic choice," says Stockton.  "Of course, you can pull things out of a sound library when you need it.  But for every film project, we will go out and record something new.  We might record eight hours of material and decide that 10 minutes are good or even think that something we recorded last year would work better.  But the idea remains that you hope to bump into something new, something fresh and great that you weren't expecting."
Bochar adds, "In Foley, the human element is important too.  Sure, a library would provide a basic footstep, but it wouldn't necessarily have anything to do with what's happening on the screen.  I'm not talking sync, I'm talking about how it relates to the distance from the camera to the scene you're trying to re-create, how it builds with the mood the director wants.  The reason you have Foley artists is that they are performing those footsteps, they are performing the action with those props, they're deciding which props to use to give the sound that you, the sound designer, need."
Personal histories show the diverse paths of the principals who have built such a stable house.  Bochar, who started his career as a picture editor, got his epiphany to become a sound editor after a three-month stint in Pittsburgh finishing sound for George Romero's Creepshow.  "I realized that for every picture editor, a production needed four or five sound editors, and I didn't want to go the starving-artist route," he reveals.  "Besides, it's an audio-visual experience; audio is still half of the whole."
Stockton learned every angle of production and post after spending a few years at Simon Nuchtern's August Films, an equally freewheeling East Coast version of Roger Corman's wham-bam school of filmmaking.  Hsu, the newest of the partners, worked his way up through the ranks of 40-hour mix sessions at one of New York's top hip-hop and music video houses, acknowledging that he proved his worth in the early days by "knowing where to go at 3:00 a.m." to pick up dinner for those sitting in at those long sessions.
Maybe it's all about the right mix—people, technology, facility––that makes a stable sound house.