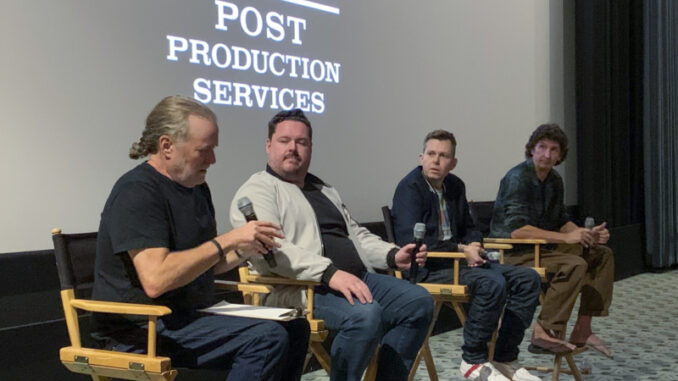 By Mel Lambert
The ninth annual MIX Sound for Film & TV conference was held last Saturday at its regular venue, Sony Pictures Studios in Culver City. Organized by Future PLC, the all-day event attracted a sell-out attendance in excess of 500 sound professionals; it marked the first live gathering since 2019, before the Covid pandemic. Prior to a keynote session, Tom Kenny from MIX thanked the primary hardware sponsors, Avid, Focusrite and Meyer Sound, before introducing Tommy McCarthy, who later this year retires as EVP of Post Production Facilities at Sony Pictures Entertainment, and announcing that Kimberly Jimenez has been promoted to SVP of post-production services to take his place. As we learned, during a 32-year career at SPE, McCarthy led the studio's sound editorial and mixing departments, while creating an environment where creative talent thrived.
Moderated by Kenny, the keynote panel addressed pivotal sound changes within the post community, including the rise of streaming services, emergent technologies and formats, plus evolution of the sound designer/re-recording mixer. Panelists comprised Will Files, MPSE, CAS, and Craig Henighan, MPSE, CAS, from Pacific Standard Sound, with Julian Slater, MPSE, CAS, from Warner Bros. Studios. In support of the combined role of sound editor and mixer, Files stated that "directors often like to communicate with one person; we can also retain creative control of all sound dimensions." Slater, who relocated to the West Coast nine years ago from his native London, offered that "back then there was more resistance to the sound designer/mixer role in the US than in the UK. This constant thread is super-useful" during soundtrack production. "But a fresh perspective on the mix stage can also be crucial," he argued. "Having cut my own SFX tracks, I will then mix music and dialog, knowing that my elements are okay."
"It's definitely a team approach," Henighan said. "During the mix I try and step out of my sound-design role to maintain a perspective on a project." "Current technology makes that process possible," Slater added, "since we stay in [Avid] Pro Tools from editorial to the mix, often using similar control surfaces." "Yes," Files said, "Pro Tools makes the edit/mix transition so much easier, as well as moving from one dubstage to another." "But it's easy to get caught up in the technology," Slater warned. "We need to remember to step back and look at the project as cinema … as art. While you cannot truly mix in a cutting room, it's the start of the creative process."
A subsequent panel discussion in the Cary Grant Theater detailed post-production for Warner Bros. Pictures' recent offering, "The Batman," co-written and directed by Matt Reeves. Moderated by Jeff Komar from Avid, participants comprised Will Files, who served as sound designer, supervising sound editor and re-recording mixer on the project, with dialog editor Jacob Riehle and sound designer Lee Gilmore, MPSE. "Matt [Reeves] likes his soundtracks gritty, gripping and real," Files said. "He doesn't like anything 'shiny' in the mix." "The Batman" marks Files' fifth project with the director since "Cloverfield."
"Because I came later to the project," Riehle said, "my role was to shape the dialog and just clean up in any problem areas. The tracks we got from production, including lines recorded in the bat suit, were very good; the sound crew had laid microphones cables into special troughs cut into the suit's surface."
In term of creating immersive environments, "Gotham is a pretty shitty place," Files said. "We elected to use messy and not too-cool sounds – this isn't a normal Superhero Movie!" In terms of processing, Files turned to the Avid Pro Tools HEAT plug-in – standing for Harmonically Enhanced Algorithm Technology – to provide saturation and other algorithms that enables an element to sound more impactful, even at lower playback levels. "We used HEAT on pretty much everything," the re-recording mixer said. "It creates tasteful distortion and non-linear saturation that make the tracks sound like they are coming off analog tape." "I used the [Soundtoys] Radiator plug-in to achieve much the same effect on all the gun tracks," Gilmore added. "These are the 'Make Bigger' plug-ins," Files stated.
A key sound for The Batmobile came from a naturally aspirated, large-block V8. "We recorded a number of motors," Files recalled, "before finally settling on a Seventies-era Ford engine, which had an irregular firing order that was perfect for what we were after. The Batmobile chase was the first sequence that we worked on for the film." Reportedly, the supercharger SFX came from a reversed World War II Jeep recording. Files worked closely with co-supervisor Douglas Murray and re-recording mixer Andy Nelson.
'We explored the basements and other reverberant spaces, while recording Batman's footsteps and other sounds.'
When COVID-19 shut down production in March 2020, Files and his team found themselves on a virtually empty Warner Lot and went on a guerrilla Foley hunt. "We explored the basements and other reverberant spaces, while recording Batman's footsteps and other sounds. I wore a very large pair of snow boots that added a distinctive, resonant 'pneumatic' sound."
Having shown a key sequence from director Denis Villeneuves' Oscar-winning movie "Dune," in which a Spice Harvester is attacked by The Worm, dialog/music re-recording mixer Ron Bartlett, CAS, admitted "that's my favorite scene in the movie – it's real story telling with sound, which [in Dolby Atmos] is coming from all around the room." "We were after fake documentary realism," added sound designer/supervising sound editor Mark Mangini. "We're proud of the sounds we developed for the worm sucking down the harvester." He revealed that he recorded his own voice, which was slowed down and pitch-altered to provide a collapsing-sand effect. "Dune" won a Best Sound Oscar earlier this year.
A later session focused on sound for "The Orville," a sci-fi comedy-drama series currently steaming on Hulu. Panelists comprised executive producer/picture editor Tom Costantino, supervising sound editor/sound designer/re-recording mixer Jon Greasley, MPSE, re-recording mixer Tom Ozanich, MPSE, ADR supervisor Joel Shryack, MPSE, and Mike McKone. Acknowledging that producing an Atmos immersive soundtrack for the series is a complex process, Greasley explained that "while a feature film might have weeks for editorial and re-recording, we have days. To compliment the show's new sets and extra CGI added for Season Three, particularly the Machine Room [of the starship USS Orville], we added Atmos to fill out the soundtrack and make it more immersive." "Because it is shot on a soundstage, we can capture clean dialog," added Shryack, "which is key for following multiple communications between crew members."
Greasley also revealed that the show's creator, lead actor and executive producer, Seth MacFarlane, likes to use a large 100-piece orchestra for the score, "which gives us a lot of options for the Atmos soundtrack, particularly with the full-range loudspeakers" used around and above the room. "Seth also likes a high level of sonic detail to enhance the viewer's level of expectation. He often refers to the show as 'Star Trek on Steroids'."
Also notable: "Sound Editing: The Interplay of Sound Design and Music," including creative inspiration that emerges when sound design and music feed off of each other, with Robert Stambler, MPSE, Becky Sullivan from Sony Pictures Studios plus Mark Stoeckinger and Danika Wikke, MPSE, from Formosa Group; "Sound Mixing: 10 Years of Immersive Re-Recording – What We've Learned," with Tim Hoogenakker, CAS, from Signature Post, Gregory King, CAS, from King Soundworks, Tony Lamberti from Sony Pictures Studios and Mathew Waters, CAS, from Formosa Group; "Sound Technology: The Versatile, Mid-Sized, Multipurpose Mix Room," with Bruce Black from MediaRooms Technology, Lane Burch from Sony Pictures Entertainment, Tom Davis from SeisMic Sound and Peter Grueneisen from Nonzero Architecture.; and "Sound Design Behind Animated Feature Film 'Luck'" with Gary A. Rizzo, CAS, and Devon Kelley.
The day ended with the popular Sound Reel, during which key scenes from seven recent films showcased their Dolby Atmos soundtracks. The films comprised "Bullet Train" from Universal, re-recorded by Frank A. Montano and Jon Taylor, CAS, with supervising sound editor Mark P. Stoeckinger and sound designer Luke Gibleon; "The Batman" from Warner Bros, re-recorded by Will Files, with supervising sound editor Douglas Murray, MPSE, sound designers Craig Henighan, Lee Gilmore and Chris Terhune, plus scoring mixer Peter Cobbin; "Billy Joel: Live at Yankee Stadium" from Sony Entertainment, re-recorded by Tom Davis, with a music mix from Jay Vicari; "The Woman King" from Sony/TriStar, re-recorded by Tony Lamberti and Kevin O'Connell, CAS, with supervising sound editor Becky Sullivan and scoring mixer Greg Hayes; "The Orville" from 20th Television, re-recorded by John Greasley, Tom Ozanich and Shawn Murphy, with supervising sound editor/sound designer Jon Greasly, and scoring mixer Shawn Murphy; "Nope" from Universal, re-recorded by Johnnie Burn, with supervising sound editor/sound designer Johnnie Burn, MPSE, and scoring mixer John Rodda, CAS; and "Luck" from Apple TV+, re-recorded by Gary A. Rizzo and Tony Villaflor, with supervising sound editors Steve Slanec and Gwendolyn Vates Whittle, sound designers Pete Horner and Josh Gold, plus scoring mixer Shawn Murphy.
The funniest anecdote of the day came from Julian Slater, who supervised and mixed writer/director Edgar Wright's psychological horror, "Last Night in Soho," released in 2021. As Slater explained: "I needed some ambiences for key scenes in London, so I assigned a recordist to capture its nightlife sounds. During the day, Sixties Soho was a regular part of the city, with offices, stores and cafes; in fact, Wardour Street remains the center of the UK's film industry. But, at night, Soho became the capitols' vice center – a bit like Times Square before they cleaned it up.
"When the recordist returned, I asked him how he had gotten on. 'It was interesting,' he said. 'One evening I was offered five grams of coke, the services of three hookers and almost got into fight in one of the pubs. But I did get some great material!' And he had!"