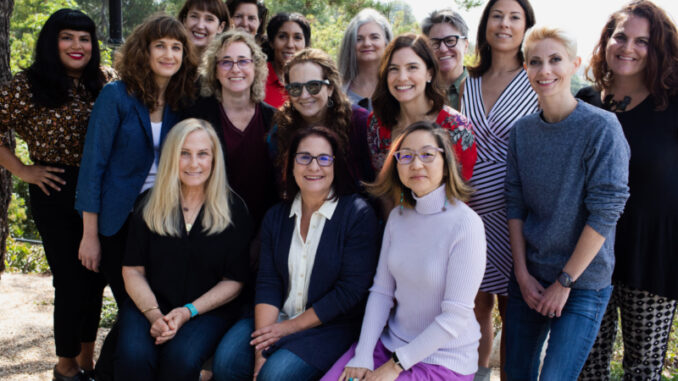 By Kristin Marguerite Doidge
In racing, a "photo finish" refers to the moment when multiple competitors reach the finish line at the same time, but for the Guild's Women's Steering Committee (WSC), a recent photo event actually helped mark a new beginning.
New WSC Co-chairs Diana Fishman and Aimee Jennings organized a long-planned "picture day" brunch for members to get together in Los Angeles for new professional headshots (photographed by fellow Guild member Kaylee Colton) and networking in a relaxing and supportive environment. Around 30 members attended the Sept. 18 event—and many attendees felt it was the perfect occasion to celebrate, reconnect, and socialize as the pandemic seems to have largely loosened its grip.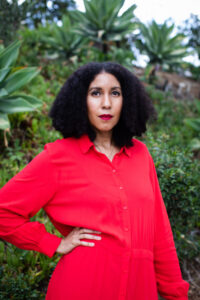 "It was a great idea to have a picture day since, in our industry, it's so important to be visible," said editor Lucy Donaldson. "Editors tend not to be glory seekers (with exceptions), and particularly as females in a below-the-line profession, it was great to have a safe space to get pictures done. There were people there I had worked with six years ago and hadn't seen in person since. Those sorts of relationships are invaluable for navigating the ups and downs of our business."
The event was long overdue, Fishman explained, after outgoing WSC Co-chairs Dorian Harris, ACE, and Josie Azzam had floated the idea in previous years.
"Dorian and Josie had planned an event to 'pass the baton' to us," Fishman said. "But it was canceled because it was during a COVID surge. When we rescheduled it, Tatiana [Riegel, ACE] was really excited about hosting it. Rather than be in a studio, we were in her beautiful front yard amongst her succulents and trees, and it just felt a lot cozier that way."
Fishman is a film and television editor whose recent tv credits include "Grace and Frankie" (Netflix) and "South Side" (HBO Max).  She is currently editing the feature film Buddy Games 2 (Paramount). Jennings is a television editor and experimental filmmaker who has worked on both unscripted and scripted programs. Her recent work includes season four of "Grown-ish" (Freeform) and the CBS action drama, "S.W.A.T."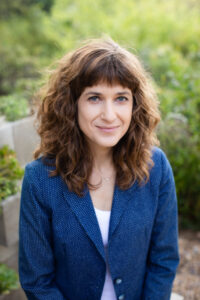 They both extended the invitation to other diversity committee members as well, something LGBTQIA+ steering committee member and sound editor/re-recording mixer Nicole Fletcher was grateful for. "Working entirely in post-production, I've occasionally needed a photo of myself, but never thought to get professional headshots done," she said. "I was a little nervous since I didn't know many people there, but everyone was so welcoming and friendly, I quickly felt at ease."
Stepping into the spotlight
Although nerve-wracking for some, Jennings stressed how important it was for those who are usually more comfortable behind the camera to step into the spotlight—at least for the afternoon. "A picture that you feel comfortable with and that represents you is so important for freelance and contract workers," she said. "We hope we could someday make it this a bigger event so the entire Guild could participate."
For now, the new WSC co-chairs are focused on planning their next big project: starting a mentorship program for mid-career Guild members. "It's part of why I joined WSC—to be around women with more experience, and to have people to talk to and look up to," Fishman said. "There's a point in our careers when we keep learning, but we don't necessarily have a teacher or a mentor. That's the goal of the program: to support members who are mid-career with a mentor who's much more experienced."
Jennings agreed, adding that being seen is really the first step. "I identify as a female editor first, and then African-American," she said. "I joined the WSC during COVID because I missed the networking atmosphere and felt isolated working from home."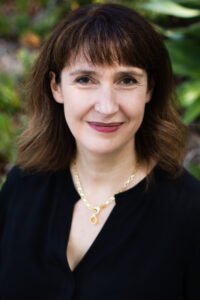 For Fletcher, the picture day event helped her feel supported as she's "usually the only woman sound person on a project."
"It was great to get to speak with Aimee and Diana and hear about the WSC and what they hope to accomplish," she said. "It's incredible to know there's an entire committee looking to help women break into the industry and further their careers in it."
Riegel, who helped co-found the Diversity Committee along with Harris, Joan Sobel, ACE, and Maysie Hoy, ACE, said that's just what the steering committees were designed to do—and shared how thrilled the founders are to see a new chapter beginning with young people and fresh ideas leading the way.
"Women understand other women's stories," Riegel said. "It's so important to share those stories and experiences with friends and colleagues. Our biggest hope is that events like this one will help members expand their networks and encourage others to do the same."
If you're a Guild member interested in learning more about joining the WSC, please click here or email diversity@editorsguild.com. Committee membership is free.
Kristin Marguerite Doidge is a freelance writer based in Los Angeles. Her book "Nora Ephron: A Biography" was published this year. 
# # #